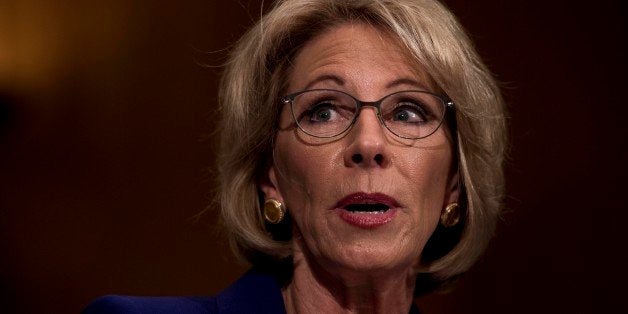 Betsy DeVos's confirmation hearings for Secretary of Education started Tuesday, nearly a week after they were scheduled to occur. The delay, I understand, was at least somewhat because of Democrats' concerns about President-elect Donald Trump's controversial pick.
Sen. Patty Murray of Washington called out DeVos' "extensive financial entanglements and potential conflicts of interest."
Those are serious concerns and I'm glad our leaders are raising them.
But there are other problems with Trump's pick -- and they are equally as troublesome.
DeVos is a myopic, no-holds-barred proponent of school choice and vouchers -- to the detriment of children whose only choice is the school to which they've been assigned.
As chair of the American Federation for Children, she has joined with others who are ardently pro-school-choice with the goal of privatizing education by creating programs and passing laws that direct public funds (vouchers and other programs) to pay for private school tuition. While public school choice is, on its face, not a bad thing -- and I'm including in this definition charter schools, magnet schools, dual credit and similar programs -- it is misguided to divert public funds to private and parochial schools.
There is not enough evidence, after all, that private and parochial schools do much better at educating the young people who populate many struggling public schools: Black, Brown, poor, immigrant, special needs or otherwise. Instead, what we know is that all students do better when schools are populated with a mix of students from all backgrounds, cultures and family situations.
And public schools where students and teachers both come from varied racial and socio-economic backgrounds -- that works even better. In fact, in the NUA's work with the West Metro Education Program, a desegregation initiative with Minneapolis Public Schools, the students who were bused to suburban schools made three times the progress in both reading and math when compared with similar students who were not a part of the busing program. Desegregated districts such as Eden Prairie, Minn., have reduced the "achievement gap" by nearly 60 percent, using culturally responsive strategies, as well as those pedagogies guided by neuroscience. Districts such as Robbinsdale, Minn., and urban schools in districts such as San Francisco, New York City and Bridgeport, Conn., have in elementary grades seen two standard deviations of improvement for their students.
It is true that schooling is not one-size-fits-all, and shouldn't be. Families, such as those involved in the busing programs I just mentioned, should have choices. But the foundation of that choice should be of the "first-do-no-harm" variety. When choice A negatively affects those students who are left with choice B, it's then that I recommend a different choice altogether.
DeVos, if confirmed, should use her platform to find out what's really happening in school choice programs and what specific action steps could be taken in federal, state, and public-private partnerships to use choice to help many more students succeed.
Another issue with Trump's pick for Education Secretary is her record.
Education is slow work, with many ups and downs. All of us who do this difficult, but rewarding, work understand that, and expect imperfections on the march toward improvement. But even the most generous evaluation of DeVos' time contributing to her pet education causes in Michigan indicates major failings.
A New York Times commentary writer said that "as one of the architects of Detroit's charter school system, [DeVos] is partly responsible for what even charter advocates acknowledge is the biggest school reform disaster in the country."
The writer goes on to say that DeVos' hands in the Detroit pot have left the district operating "like the Wild West."
"It's hardly a surprise that the system, which has almost no oversight, has failed," Douglas N. Harris wrote. "Schools there can do poorly and still continue to enroll students. Also, after more than a decade of Ms. DeVos's getting her way on a host of statewide education policies, Michigan has the dubious distinction of being one of five states with declining reading scores."
That's not marching toward improvement at all. Instead, DeVos' work is a case study in backsliding.
It's a stretch in fact to call what DeVos did in Michigan "work." Detroit Free Press editorial page editor Stephen Henderson had this to say about DeVos:
"DeVos isn't an educator, or an education leader. She's not an expert in pedagogy or curriculum or school governance. In fact, she has no relevant credentials or experience for a job setting standards and guiding dollars for the nation's public schools.
She is, in essence, a lobbyist - someone who has used her extraordinary wealth to influence the conversation about education reform, and to bend that conversation to her ideological convictions despite the dearth of evidence supporting them."
How is she now qualified to lead the nation's education agenda?
Some Democratic leaders at Tuesday's hearing asked excellent and tough questions -- and tried valiantly to get to the heart of that truth. But we know, like Trump's other candidates for top positions, she will likely sail through this process.
I have my doubts, clearly, but I am choosing to be optimistic that, once appointed, DeVos will ultimately choose the strategies, programs and philosophies that will enable all of our students to succeed -- not just those who believe in the kind of "choice" she has, to date, espoused.
As I said before in an earlier post -- along with my friend and colleague Joe Nathan, director of the Center for School Change -- we hope she'll choose platforms "that engages all in the democracy we recognize as a global beacon; woven together by the cultural, demographic mosaic that defines us: White, Black, Brown, Asian, Native Americans and recent immigrants from many countries."