Since mid-March, they've been riding bicycles through communities from coast to coast. Perhaps you've heard about their efforts or even saw them roll through your area.
Their aim is noble. Their journey proved to be more difficult than envisioned.
They endured a tragedy halfway through.
And a near tragedy at the start.
And all that is on top of the devastating episode that birthed this whole thing.
The ride is called Heart Across America. It's the brainchild of Sean Maloney, a former Intel executive who overcame a debilitating stroke to resume his life and career.
Since beating those odds, Maloney set his sights even higher, taking on heart disease and stroke. He figured a 5,000-mile, three-month bicycle ride from Palo Alto, California, to New York City would be a great way to raise money and spread awareness.
Riders will reach the finish line Sunday, proudly knowing the event met many of its goals. It wasn't easy -- tougher than anyone expected.
Then again, so is Maloney.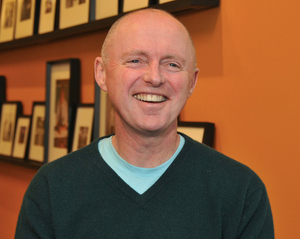 Maloney rose from a free-spirited youth in London to a leading man in Silicon Valley. At 54, he was widely considered next in line to become the CEO of Intel.
Maloney brought the same full-throttle approach to his life away from work. While he loved running and skiing, his real passion was rowing. He could be found most mornings pushing and pulling his boat across the San Francisco Bay.
His world came crashing down on Feb. 22, 2010, when blood stopped flowing to the left side of his brain. It was a stroke, triggered by a clot in his left carotid artery.
By the time doctors got the blood flowing again, the part of the brain that controlled his speech was ruined. His right arm and leg hung limp, potentially sidelining him forever from his beloved physical activities.
Maloney is one of those people who takes what he's not supposed to be able to do and turns it into a goal. Or, rather, a checkpoint on his way to a goal that's another step or two beyond that. So it was only natural that he took that approach to his stroke recovery.
Run around the block? Of course he'd be doing that again.
Run a company? Yeah, he'd be doing that, too.
Maloney steeled himself with this thought: "Tomorrow is going to be better than today. Next month is going to be better than last month. The next six months will be better than the last six months."
His loved ones probably knew that's what he was thinking. If not, they picked up on it quickly. Like the time a doctor at a rehab facility thought Maloney was overdoing it and helped him to his room, encouraging him to rest instead.
Maloney just looked at him and laughed. And laughed and laughed.
The day Maloney left the hospital, a doctor told his wife, Margaret, that Maloney's rowing days were done. Yet on the drive home, Maloney had her drive to his rowing club. He somehow got his scull into the water and climbed board. Using only his left arm, he coerced the boat into action. OK, so it only went in circles. Still, being in motion was both symbolic and a starting point.
His ability to communicate followed a similar path. Teaching himself to talk again by using the other side of his brain, Maloney advanced from grunts of "yes" and "no" to longer phrases.
Maloney resumed his career within a year. Soon after, he took on a new challenge: running Intel's $7 billion enterprise in China.
After growing it to $8 billion in annual revenue, he retired in 2013.
But a guy like Maloney doesn't just ride off into the sunset. He finds new challenges. And his new passion became awareness and research benefiting heart disease (the No. 1 killer of Americans) and stroke (the No. 5 killer).
He put out a wonderful video titled "Anatomy of a Comeback: The Sean Maloney Story." He also became involved with the American Heart Association/American Stroke Association, the nation's largest cardiovascular health organization. Last year, he became chairman of the board of directors for the AHA/ASA in the Silicon Valley.
Last October -- on World Stroke Day -- Maloney announced the plans for Heart Across America. In a promotional video, he said: "Coming back from my stroke was the hardest thing I've ever done. And I fully expect this ride to be the second-hardest. But if it can save just one family from going through the trauma of stroke or heart attacks, it will be worth every mile."
There's an interesting bit of trivia behind this event: Maloney wasn't a rider.
However, seeing as it is impossible to row across the country, a bike seemed like the way to go.
Maloney threw himself into cycling and fell in love with everything about it, from the camaraderie among riders to the views from mountaintops.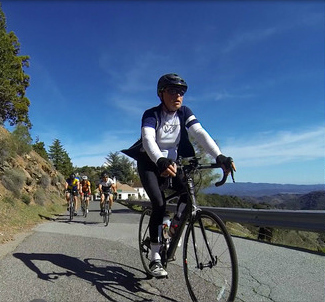 His team shoved off on March 22, heading south from Palo Alto. They cruised through Carmel, lolled through Los Angeles traffic and made their way beyond San Diego. As the terrain climbed and fell, so did the size of their pack, with supporters joining for anywhere from a few miles to a few days.
On April 6, the 15th day of the trek, Maloney buzzed with the thrill of leading his pack of riders down a steep, rocky road. Adrenalin and terrain propelled him.
He was cruising along at 32 mph when he hit a bump.
The crash left him with a broken left hip, three broken ribs, a crushed bicycle helmet, and a variety of cuts and bruises. He was airlifted to a hospital in San Diego, about 100 miles away.
Heart Across America continued a few days later, with mainstays David Fisch and Don Brennen accompanied by a new rider: the police officer who rescued Maloney. He joined for about 30 miles, honoring his new friend and relatives killed by heart disease.
The pack swept eastward, reaching the Dallas area on April 24. It was a giddy time because the next day Maloney was flying in to rejoin the team.
The joy quickly turned to sorrow. Brennen was found dead in his hotel room bed, having apparently died in his sleep.
After discussing whether to continue, Maloney and Fisch (Brennen's brother-in-law) came to the same conclusion they reached after Maloney crashed: There's a greater good to be served by continuing to spread their message.
"Don would've said, 'Keep on going,'" Maloney said two days later, during a visit to the national headquarters of the American Heart Association in Dallas. "Dave is strong. I listened to him. The show must go on."
Upon his return, Maloney shifted into the role of support staff.
Doctors made him promise to stay off a bike for three months, and he has. Well, mostly. He did do a ceremonial ride using a handcycle at an Austin event with Michael Dell, founder and CEO of Dell.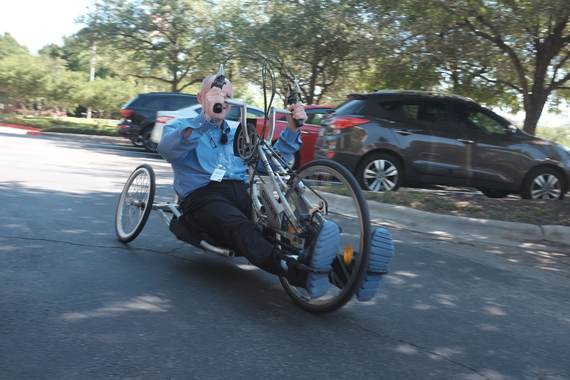 The ride has since visited Houston, Nashville, Chicago and, this past weekend, Pittsburgh. On Sunday, the final legs will roll from Samsung headquarters in Ridgefield Park, New Jersey, to Riverbank State Park to Manhattan, then to the finish line at 34th Street and 9th Ave.
While the long journey will soon be done, its impact will long be felt.
Heart Across America has raised more than $332,000 to fight heart disease and stroke. And there's no telling how many people have learned about warning signs and thought about their risks based on meeting Maloney or learning about his efforts. His core message is the fact that nearly 800,000 Americans die every year due to heart disease and stroke, and nearly 80 percent of all strokes and heart attacks are preventable.
Thus, the real triumph of Maloney's effort is the lives saved and improved... including his own.
"I'm 58 years of age, and I'd like to think I've got another 20 or 25 years to go," Maloney said during the build-up to the event. "If you give up, you're doomed. As a stroke survivor, if I give up, I'm doomed. I've got to pick myself up off the ground and go for it."