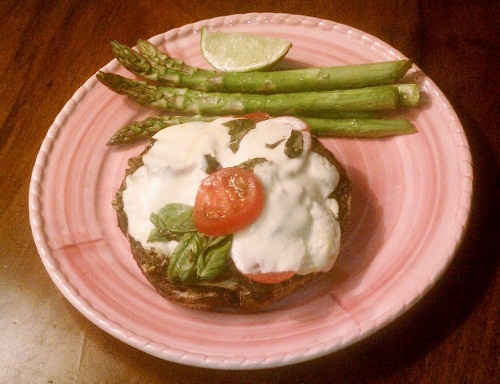 Photo by Suzanne O'Malley
To help save us from a diet of confusion, U.S. News Health recently released its 2012 report on "The Best Diets for Healthy Eating." A panel of 22 nutrition and diet experts assessed the safety and nutritional completeness of 25 popular diets. Among the diets on the list, the vegetarian diet received a "healthiness" score of 4 out of 5 for being nutritionally sound and heart healthy, albeit a bit restrictive.

For people who find it hard to adhere to strict vegetarian guidelines (aka no meat), there is always the part-time vegetarian plan -- Meatless Monday.
Meatless Monday (cut out meat once a week) is a public health awareness campaign focused on preventing diseases that may flourish among people who eat a lot of meat. Presidents Wilson, Truman and Roosevelt galvanized the nation with voluntary meatless days during both world wars and, of course, Catholics used to not eat meat on Fridays. Meatless Monday hopes to revitalize the tradition of a day without meat.
On the menu this Meatless Monday?
Portobello Mushroom Pizzas for Two
- 2 extra-large Portobello mushroom caps -- 406.6mg of potassium, more than in a glass of orange juice. According to researchers at Pennsylvania State University, mushrooms are loaded with a potent disease-fighting antioxidant called ergothioneine.
- 2 small (3.2 oz) tomatoes -- contain carotenoids and lycopene (as good as statins for battling cholesterol) and lower risk of heart attack and strokes. Eaten with olive oil, lycopene absorption increases.
- 2 tablespoons extra virgin olive oil -- mono-unsaturated fatty acids (9.8g per Tbsp) help normalize blood clotting and stabilize insulin and blood sugar levels.
- ½ cup non-fat mozzarella cheese -- linolenic acid (CLA), which may reduce body fat while increasing lean body mass.
- 8-10 spears asparagus -- folic acid and B vitamins critical for healthy blood sugar management and metabolizing sugars and starches.
- fresh basil, one bunch or box, rinsed.
- pepper & salt -- as per your personal heart healthy limits -- no more than 2400mg of sodium recommended per day.
Cut off the stems of the mushroom caps (you can dice them and use as "pizza topping" with the basil).
Don't wash the mushrooms -- brush them off with a paper towel or cloth (it's the Italian way).
Turn the mushrooms bottom-side up -- there's your "pizza crust!"
Add a layer of basil leaves (or your own homemade pesto sauce).
Slice tomatoes and place on top of the basil.
Next, top with a layer of mozzarella cheese. Cook for about 10 minutes in oven at 350 degrees or in a microwave for five minutes until thoroughly warm with cheese as gooey as you like it.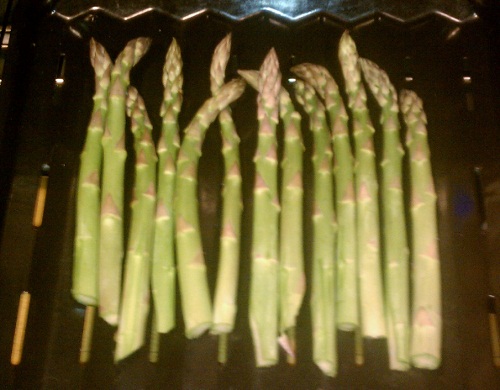 Photo by Suzanne O'Malley
Cut off the tough ends of the asparagus, place them in a pan or on a grill, drizzle or spray with olive oil.
Add pepper and salt (or not, as per your personal salt limits).
Grill in oven at 400 degrees for 10 minutes, or until tender and beginning to brown.
Nutrition Fact: 243 calories, 19g of fat, plenty of fiber. Happy Valentine's Day. See you tomorrow!
Megan Parmenter, Research Associate Yale Heart Study, contributed to reporting this post.
Please take a minute to visit the Yale Heart Study site and complete the heart attack survivors survey or forward it to someone you know who has survived a heart attack.
Disclosure: Suzanne O'Malley is aSenior Research Associate for the non-profit NIH-funded Yale Heart Study. To catch up on Days One through Twelve of 29 American Heart Health Month Posts by Suzanne O'Malley, click here.
For more by Suzanne O'Malley, click here.
For more on personal health, click here.