Imagine working hard to achieve the American Dream to own a store, a farm, or a home. And one day, there's a knock on the door and a government official says you must leave against your will to a concentration camp in the wilderness. You can only take what you can carry.
This didn't just occur in Europe during World War II; it happened in our own country where 120,000 Japanese-American men, women and children were ordered to leave their homes in 1942, solely based on ethnicity. These Issei (first generation Japanese who emigrated to America) and Nisei (American-born second generation) considered themselves Americans and were loyal to our country during the war, but that didn't matter, they were incarcerated like prisoners and lost everything, except for what was in their suitcases.
If you or your family are planning to road trip to Yellowstone, Little Big Horn Battlefield National Monument, Devils Tower, or anywhere in this part of America (the trip so many of us do at least once in our lives), Heart Mountain Interpretive Center in Powell, Wyoming should be on your list American historical sites to visit.
The center, which is run by the Heart Mountain Wyoming Foundation, opened its doors two years ago and it's on the site of what the U.S. government called Heart Mountain Relocation Center in 1942. It was on 46,000 acres of barren wilderness, where up to 14,000 innocent Japanese-Americans were forced to live behind barbed wire and guard towers, in non-insulated wooden barracks.
Heart Mountain was one of 10 U.S. concentration camps where Japanese-Americans were interned from 1942 to 1945. Besides Heart Mountain, you can also visit Manzanar National Historic Site in California, run by the National Park Service. The Topaz Museum in Utah is at the beginning stages of fundraising for their exhibits.
These museums now serve as reminders that this must never happen again, and unfortunately many of us are forgetting or don't even know this part of recent American history.
"It's such an important part of our history, though it's also a black mark on our history," says Brian Liesinger, executive director of the Heart Mountain Wyoming Foundation. "I consider it to be a crucial part of our identity as Americans to know about it and learn from it. This Interpretive Center provides such a unique experience about an oft-overlooked chapter of World War II history that you absolutely should not miss it if you're in the area."
Those who drive from the east to Yellowstone on U.S. Highway 14a will drive by Heart Mountain, but many don't know about it and the lack of prominent signage doesn't help.
On a recent road trip, I left Yellowstone out of the east entrance, driving toward Cody, Wyoming. It's between Yellowstone and the Bighorn Mountains. If you're planning this, you can visit Heart Mountain after Yellowstone, stay in Cody, and for example, go to Little Bighorn Battlefield the next day and then do Devils Tower and Mount Rushmore. It's also just two hours from Billings, Montana.
I stopped for gas in Cody and wanted to spend the maximum amount of time at Heart Mountain, which was about 13 miles north on Highway 14a.
Heart Mountain is located at 1539 Road 19, between Powell and Cody at the Intersection of Highway 14a and Road 19. Since this is run by a private foundation, the signage is small, and it's easy to miss. The old Garmin worked, and the Heart Mountain pamphlet says "turn on Road 19 by the two large trees."
If you're coming from Cody, head north, turn left and you drive over the railroad track (the same ones that brought the internees here) and towards the Museum on the right.
The museum is built in the shape of the old barracks. In fact, everything here was done with meaning behind it, to allow the visitor to really feel what it was like here. None of the original barracks where people lived are still standing here, although many were sold for $1 to old homesteaders after the war and so many of the old wooden shacks do still exist, some even nearby.
As you walk in, the entrance is laid with bricks engraved with donors' names. These commemorative bricks are available for $250, since this center relies on donations for the future exhibits they want to be able to offer the public.
I arrived early on a Tuesday afternoon and being in such a desolate place, was surprised to see five other visitors. As soon as I walked in I felt overcome. I felt like I wanted to start crying, feeling so bad for what happened here. Sure, the residents made the best of it, living their lives with one another, but it was still inhumane what happened to them.
There was a solemn and heavy feeling here, and having known people who spent time in what the Nisei referred to as "camp," the feeling was more pronounced. For the Crow Indians, who named this place Heart Mountain, it has a sacred energy. For Japanese-Americans who had family in America during World War II, this place has a very different meaning.
Admission at the museum is just $7 for adults, $5 for students and seniors and free for those under 12. Members always have free admission. The docent waited for enough of us to gather and then she led us into the movie room, where she gave a short description of the facility, why it was there and what had happened, in case you hadn't read about it in history, which many of us hadn't.
The film was called "All We Could Carry" by Academy Award-winning filmmaker Steven Okazaki and included 12 former internees at Heart Mountain telling their stories of what life was like there, and surprisingly to me, how bad life was after they got out of camp.
The discrimination they faced when they returned "home" was worse, some of them said. Some people were spit on, and people wouldn't hire them or sell goods to them. To be incarcerated in the wilderness for doing no wrong, and then to return to what was once their home on the West Coast and deal with outright racism, is unimaginable. It was no wonder the Nisei I knew felt shameful and never talked about "camp," even though none of it was their fault for being the "wrong" ethnicity.
After the film, we toured the detailed exhibits in the museum. It was a timeline of what happened, with stories of what it was like for the FBI to come knocking at your door in 1942, packing their bags, boarding buses, trains and arriving at Heart Mountain.
When you come here, you can feel the arid climate and try to imagine the harsh winters, hot summers of 100 degrees and sand storms. That first winter was negative 20 degrees. For many of the people used to a mild West Coast climate, this weather and arid climate was quite a change.
The museum has interactive video displays that allowed you to push a button, hear a story and watch a brief portion of an interview. You can look at artifacts such as suitcases, clothing and things brought to camp. It shows people getting on trains and packing bags as well as what the barracks life was like.
There were two adjoined rooms that showed an empty barrack, what it would have been like upon arrival at Heart Mountain. It was just a big wooden shack and cots, basically four walls and a window. There was no insulation nor privacy. Next to it was another room that showed what that same room looked like after the occupants moved in. If there was a family, they would have a sheet hung from the ceiling between the beds for privacy.
I was awestruck at how resourceful they were, making the best of this inhumane awful living nightmare. They using any scraps they found as well as the wood from fruit crates to build up the barracks and make life more comfortable.
The main room of the museum showed how they adjusted to life here, with Boy Scout troops, football teams and farming and more interactive exhibits where you could hear from internees. They even had fashion shows to pass the time. One internee, who was a photographer, dug a secret dark room below his barrack.
All these video testimonies of the internees reminded me of Steven Spielberg's Shoah Foundation work, where they recorded testimonies of those who were in Nazi concentration camps. The many Nisei left are quickly leaving us, dying of old age and it's valuable to be able to see and hear these World War II-era Japanese American experiences.
One exhibit allowed you to move "virtually" throughout the camp. It was a good way to show you how big the facility was. After walking through the museum, you can go into the reflection room and leave your thoughts on a numbered ID tag just like the ones given to the internees. I had not known they were issued an ID tag with a number on it. The internees were relegated down to a number.
If you use the restroom here, they are made to allow you to feel the lack of privacy the internees had. The men's restroom has no wall and the women's restroom had partitions for the stalls. But in the showers, you could see everyone. So visitors using the bathrooms see a stall with mirrors to replicate the feeling of the lack of privacy.
"Anyone could take a look" as one elderly internee recalled on the video. It served one purpose, which was to strip them of their dignity.
I left the museum to walk to the hill, which is where the barracks were located, as well as the hospital complex. Today all that is left here is the hospital complex, which was once 17 buildings, but now only three still stand. The internees helped staff the hospital themselves back then.
The weather that day was in the 90s, but it wasn't as hot as it can get here. The air is dry and uncomfortable.
Each internee walked up this hill also, when they exited the train to their new "home." The train tracks still exist. You must drive over them to go to the museum. You can imagine what it was like for them to walk up the hill carrying their heavy suitcases and back down hill to get to train when they left.
On the top of the hill is the memorial, a flag and "Honor Roll" memorial wall with the names of all the men and women from Heart Mountain who served in WW II.
There is a circular walking trail with several stations that lead visitors through key moments in Heart Mountain history. It was hard to believe that 14,000 people were locked up here and it made this the third largest city in Wyoming at that time.
It felt desolate but peaceful, the wind was blowing and it was very quiet except for the insects buzzing or chirping. There were quite a few large red ants and it made you wonder if the internees had to look out for these ants and the bees, in addition to dealing with the unpleasant temperature extremes.
It was late in the day, the operations manager drove up and I saw her lower the flag and take it in for the night. I then walked over to what's left of the hospital complex and the boiler house. There is a giant chimney attached to the boiler house, which provided steam heat to the hospital buildings.
Visitors can't go inside what's left of the hospital complex because it's on the federal government's Bureau of Reclamation land. While there are no barracks left here, the original foundations are still in the ground. As we left, I thought about what it was like for the prisoners to leave, to walk down that hill toward the train, wondering what they'd go home to.
Annually, former internees make the pilgrimage here in the summer. More than 200 internees, family members and supporters attended this year's two-day event. Next year it will be held in August, and it's open to the public.
The center acquired an original root cellar that was dug in the ground, which is about 135 feet long, lined with hay bales with vents built on top. It provided internees with vegetables all year. They were recently awarded a grant so that the center can hire a structural engineer to look at the cellar to determine what could be done to preserve it and shown to the public.
In a piece on KABC-TV, it was mentioned that Judge Lance Ito's parents met at Heart Mountain. His father had recently gotten an agriculture degree and taught other internees how to plant vegetables, so that they were able to have fresh vegetables at meals in the mess hall. He worked on the root cellar plan and was very proud of that achievement, since it was so large you could drive a truck through it.
After they were released and moved back home, racial prejudice against these former internees was apparent. Ito's maternal grandfather found no one would hire him and he committed suicide, and his maternal grandmother had to travel far, to Chinatown, to buy groceries because her grocer wouldn't sell to her.
But the Kito family, who owned Fugetso-Do in Los Angeles' Little Tokyo, were able to return to the shop they owned since 1903. Today it's owned by Brian, whose grandfather was the shop owner during World War II, and if you're ever in Los Angeles, stop by this lovely little store that still makes mochi.
The Kito family left their business behind to go to Heart Mountain, and when fellow internees found out Brian's grandfather and father made this delectable dessert, they saved the sugar rations they were given and gave it to them to make mochi. Mochi is a sweet confection made of rice, traditionally pounded and eaten on special events.
When you're here, it's apparent that this older generation of Japanese-Americans were brave to not only endure lives behind barbed wire, never having the right to due process as Americans, but they flourished and made the best of what must've been a living nightmare.
On Oct. 18, 2013 at 7 p.m., there will be an event in Jackson Hole, Wyoming that is open to the public called "Building Community for Heart Mountain" where former U.S. Secretary of Commerce and Transportation Norman Mineta, a former Heart Mountain internee and former U.S. Senator Alan Simpson, a Cody resident, will share their story of an unbreakable and lifelong friendship formed at Heart Mountain.
Their lifelong friendship is a touching story. The two met when Simpson's Boy Scout troop came to Heart Mountain to visit Mineta's troop. They are committed to protecting and preserving this place and the legacy of the Japanese-Americans whose lives were changed forever.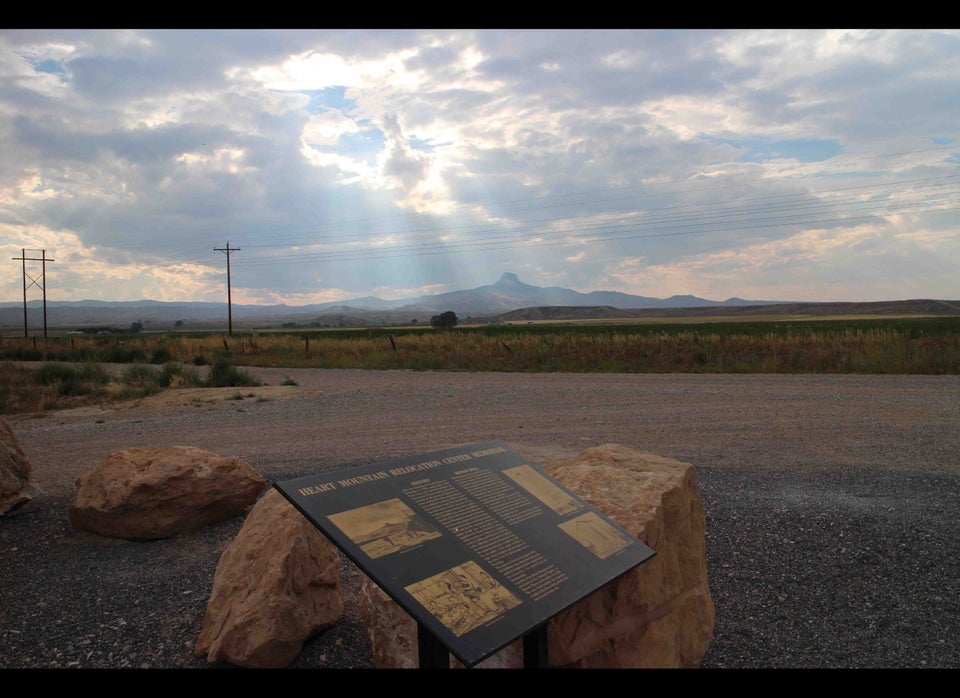 Explore America: A Day at Heart Mountain Interpretive Center
Related