Where does generosity come from?
Lynne Twist, a philanthropist and author of The Soul of Money, believes that generosity flows out of gratitude, as she explains in this short film by acclaimed filmmaker Louie Schwartzberg. This is one of 16 videos in Schwartzberg's "Gratitude Revealed" series, which explores the meaning of gratitude, why it's important and what we can do to live more gracious lives.
"Generosity and gratitude are linked," Twist says. "It's part of what I call the well of being, that's infinite. And when we're in touch with that, we're naturally generous, and when we're naturally generous, we're naturally grateful because gratefulness is the experience of the great fullness of our lives, the great fullness of the gifts and talents we have, the great fullness of the blessing that it is to be alive, the great fullness that it is to be able to see, to be able to speak, to be able to breathe."
When we experience this immense fullness, Twist says, we can express true generosity. It's a quality Twist says she sees all over the world. "I've learned so much about generosity from people in villages, and it's when they're not connected with a modern world that you see this is beautiful tribal ceremonies that are all about the interconnected nature of life."
The mindset of scarcity, she says, is a toxic illusion. When you clear that away, you realize the universe is spiritually abundant. "When you're in touch with 'enough,' it overflows into natural abundance. Not excess, not waste, but natural abundance, out of which generosity is a normal, flowing way of being because you feel totally interconnected to everyone else."
What's the source of this abundance? Gratitude. Gratitude, she says, is the reason we have generosity, prosperity, gratefulness, fulfillment and love.
"It's one of those places where we express love, and there's nothing quite like love because that's what it's all about."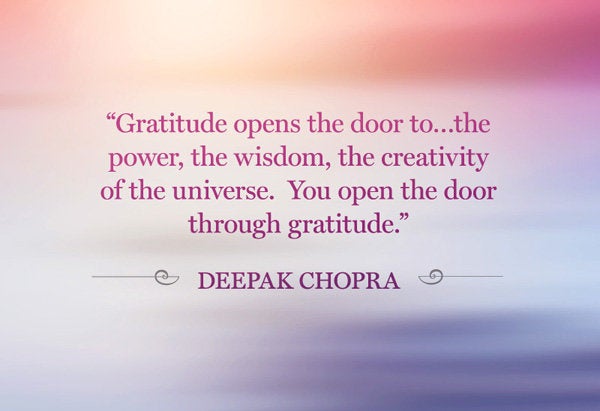 14 Reasons To Be Grateful Today
Related
Popular in the Community