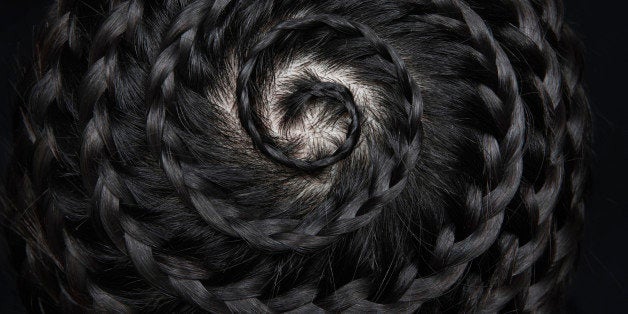 Working in retail for many years six days a week I spent little to no time taking good care of my hair.It was my regular practice to go to the hairdresser and get the latest perm or chemical straightening treatment in order to be able to make it to the next appointment.My schedule was rediculous and hectic then I suffered a SILENT heart attack in 2006.Suffering with what I thought was back pain I finally went to the hospital ER only to be informed that I had a heart attack six weeks prior.Thus began two years of monthly and sometimes weekly treatment for heart disease.Who cared about hair?
Two years of cardiac treatment with little to no hair care took its toll on me. Finally after all local avenues of cardiac care were exhausted in June of 2008 I was sent to NYC for advanced cardiac care only to learn that one day soon I was going to need a new heart.Evaluation of my heart disease left me immediately placed on the transplant list to begin the "WAIT".At the start of that June 2008 I was weighing 155lbs. and by April 2010 I was hospitalized at 95lbs. dying.Who cared about hair?
In April of 2010 I was confined to bed in Advanced Cardiac Care Unit at Montefiore Medical Center in the Bronx .My hair situation then involved a hospital fashionable mesh blue cap covering up totally uncombable short broken hair when a girlfriend came by and said you know you may feel better if I braid your hair.My answer "Whatever!!"Who cared about hair?
She braided my hair while I was laying in the bed dying. After she finished I thanked her but didn't even look in the mirror because I was too sick to really care. All of a sudden doctors ,nurses and visitors started complimenting me on my hair and and I started feeling better about myself. It absolutely did not change my heart situation but hell I felt better about myself and thought maybe I should care a little more about my natural hair.
Seventy eight days after waiting in the hospital I Received the gift of life in the form of a beautiful new heart on July 16th 2010.I had the great honor to meet my donors family on Oprah eleven months later you can believe my hair was perfect for that.Its been naturally braided since then and is down to my shoulders now without one trace of chemical anything.
New life New Me who cares about their natural hair now?ME!!. I will never go back to any type of chemical again.I will live my life out in a natural state including my hair and embrace the gift of life and love given.I have no worries about what others may think of natural chemical free hair. I'm just saying natural hair is just another choice. I don't judge to each her own its just the way I want to be. Roxanne Watson
This post is part of HuffPost's My Natural Hair Journey blog series. Embracing one's natural hair -- especially after years of heavily styling it -- can be a truly liberating and exciting experience. It's more than just a "trend." It's a way of life! If you have a story you'd like to share, please email us at MyNaturalHairJourney@huffingtonpost.com.
REAL LIFE. REAL NEWS. REAL VOICES.
Help us tell more of the stories that matter from voices that too often remain unheard.