Diane Kurtyka considers herself fortunate to have such a close-knit family. Counting kids, spouses and grandkids, there are 12 of them, and they live within 20 minutes of each other. You can usually find them together, maybe at a youth baseball game, a restaurant or enjoying the water behind the home Diane shares with Carey, her husband of 40 years, in Newport News, Virginia.
Their favorite times together are the holidays, with Thanksgiving and Christmas topping the list.
Three years ago, the family celebrated a Thanksgiving none of them will ever forget. A big reason was the setting: a visitor's lounge at the Virginia Commonwealth University Medical Center in Richmond, Virginia, where Diane had been living since September.
Congestive heart failure had slowed her for nearly 18 years, and in the fall of 2011, her life was in jeopardy. She'd received an artificial heart and was waiting for a transplant. Since she was confined to the hospital nearly 1½ hours from home, her husband, kids and grandkids came to her, letting Cracker Barrel do the cooking.
"It was really awesome," she said. "We did not have to miss Thanksgiving dinner. We were there together."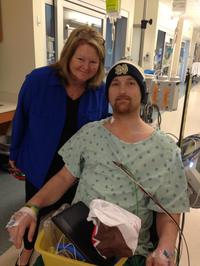 The fact Diane received a new heart on Jan. 1, 2012, is part of what makes it such a happy memory. Yet that turns out to be only part of what makes this family's story so incredible.
By Thanksgiving 2013, Diane's middle child -- 34-year-old Albert -- was dying of heart disease.
A condition called cardiomyopathy had enlarged his heart, and blood clots were wracking his body -- 28 in all. Doctors cleared the most dangerous clots, then put a filter into Albert's waist to prevent any stragglers from traveling up his legs and into his diseased heart.
He showed up at his parents' house last Thanksgiving about a week removed from a long hospital stay. He was connected to an IV drip and wearing a vest that served as an external defibrillator. While it was great being with everyone -- especially his wife, Leora, and their kids Trey (then 15), Tyler (11) and Ava (3) -- he knew his condition brought down the festive mood.
"I did a lot of laying around on the couch, pretty much watching everybody else interact," he said.
They all eventually sat down for dinner, and got to talking. At one point, someone said what they were most thankful for. Then someone else said it. And so it went, all the way around the table. While many families do this every Thanksgiving, the Kurtykas never had.
Diane spoke about how much she appreciates everyone and everything more than ever. She also thought about the family of her heart donor; she thinks about them every day, actually, and on this day she thought about the empty seat at their table. Thinking about that now still makes her voice crack and eyes water.
When it was Albert's turn, he started by saying how great it was being surrounded by family. He was thankful that his mom had overcome her medical ordeal, and he was thankful that his fight was going well enough that he was able to be there that night.
He finished with a promise: "Everything is going to work out. This time next year, we're going to look back at this and be so thankful."
Albert's vow was meant to be inspirational -- to lift the spirits of those who were lifting his -- but there was more to it. He truly believed everything was going to work out for the best.
A strong faith and a born-optimist persona were part of it. So were the facts.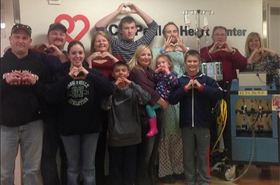 He'd seen his mom go through it all, and he took confidence from that; "If she can handle it, I know I can do it." Plus, a colleague at the Ross Store where he was the manager had been through a heart transplant. Ross also was a corporate fundraiser for the American Heart Association. So, for years, Albert helped generate money that went toward the research for groundbreaking, lifesaving treatments like those that helped his mother and would help him.
"I realized, 'Wow, this is the real deal,'" he said.
Albert's health took a turn for the worse shortly after Thanksgiving. He received an artificial heart on Dec. 20 and went on the transplant waiting list. Just 40 days later, he received a new heart. Recovery was swift. He was out of the hospital just 12 days later and was back at work in four months.
His new heart remains at full strength, although he returns to VCU every month for check-ups. Diane goes with him, giving her a chance to visit the doctors and nurses that she considers her second family. Every three months, she gets examined, too, scheduling back-to-back appointments with Albert.
"My daughter says that Albert always was my favorite kid," Diane said, laughing. "Yeah -- so that's why I gave him my heart problems!"
This Thursday, all 12 Kurtykas will be back at Diane and Carey's waterfront home. Cracker Barrel will again handle the catering. And at some point during the meal, they will go around the table and talk about what they're thankful for.
Diane and Albert will think about the two families with empty chairs. Then they'll look into the eyes of their loved ones and realize how fortunate they are that their family has a full table.
"That's going to be a cool moment," Albert said. "We're really looking forward to it."