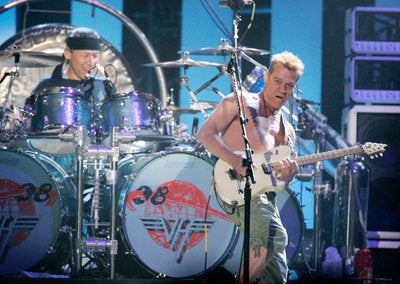 This campaign season, Republicans have been using a lot of songs from artists who wouldn't have given permission if asked, and some who have spoken up to ask that their songs not be used in the future.
Here's the No-Thanks-GOP playlist so far:
"The saddest thing about this is that `My Hero' was written as a celebration of the common man and his extraordinary potential," the band said in a statement. "To have it appropriated without our knowledge and used in a manner that perverts the original sentiment of the lyric just tarnishes the song."
If the whole episode strikes a nostalgic tone, it's because famous musical artists and Republican presidential candidates have butted heads in the past. Bruce Springsteen publicly complained when Ronald Reagan used "Born in the U.S.A" during his campaign in 1984.
...the Wilsons condemned the usage, adding that Universal Music Publishing and Sony BMG have sent a cease-and-desist notice to the McCain-Palin campaign, according to CNN. "We have asked the Republican campaign publicly not to use our music,'' the group said in a statement.
Frankie Valli - Can't Take My Eyes Off Of You
Warner Music Group (WMG) appears to have demanded that YouTube remove "Obama Love," a montage of press fawning over Sen. Barack Obama that had been posted on Sen. John McCain's official YouTube channel. "This video is no longer available due to a copyright claim by Warner Music Group," says a message on YouTube.
Popular in the Community