 The bombings in Gaza and Israel remind us how violent our world still is. Yet look beyond the bombs, the guns, the blood and the crying on both sides and you will find something very surprising -- the unrelenting effort of Israelis and Palestinians building peace from the ground up.
You will not find it looking at national governments or militaries or reading the news. In spite of efforts by political leaders on all sides, these institutions continue to find themselves entrenched in the same story of war and violence that has been told and retold for years.
Rather, today's progress towards peace is happening at an individual level on a scale never seen before.
It's inevitable, really. With the advent of technology, people can talk to one another and collaborate across borders in ways previously impossible. These conversations are not always easy. But one by one, people are discovering that despite what their governments and mainstream media tell them, a silent majority of citizens are ready to do the work to become partners for peace.
Heartbeat is one group bringing together young Israelis and Palestinians in Jerusalem to create music as a tool to build trust and inspire peace. (A recent video can be found here). Their efforts are powerful and compelling... and they are not alone. Hundreds of collective groups in Israel and Palestine have emerged engaging the "other side" in dialogue, sports, art, music and other projects that help build bonds across borders. Peace talks in civil society have always been present, but never before at this scale.
Thanks to social media, there are now new levels of accessibility to cross-cultural dialogues. Anyone can do it. People can reach out to each other online without approval of specific authorities or getting lost in the red tape of developing organizational status. They can simply write a letter to people of another country declaring love and good will, and it can be reciprocated. And, much more often than not, positivity is overwhelmingly reciprocated.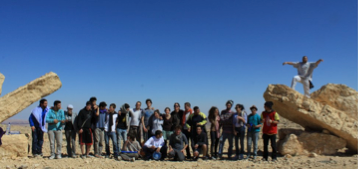 Heartbeat Desert Dialogues (Photo by Nihad Awidat)
One example is Israel Loves Iran and Iran Loves Israel. In March of this year, Israeli graphic designer Ronny Edry wrote an open letter on Facebook to the people of Iran and coupled it with a set of images of everyday Israelis with a message: "We will never bomb your country. We love you." Almost immediately, he received an outpouring of support from Iranians, mirroring his message of individual resolve towards reconciliation. The theme was simple and universal: Those who seek or do violence do not represent us.
This meme has gained global attention, built tens of thousands of followers and has now moved into a movement spreading out to areas around the world. From Iceland to Indonesia, and all parts in between we hear a resounding: ENOUGH! If our governments will not find peace across borders, let us find peace with one another.
These movements are building steam, but as evidenced by the bombings and rockets in Gaza and Israel, they have not yet fully transformed the policies and practices of governments. It seems that those who incite violence still tend to dominate our media and influence our politics, in spite of the best intentions of many enlightened political leaders.
It is becoming increasingly clear (though it has always seemed true) that people want peace. But now, more than ever before, people are taking action in masses to create peace. It is only time before a tipping point is reached, and the will of the people outstrips the will of the governments. But before that tipping point can occur, there must be trust between people.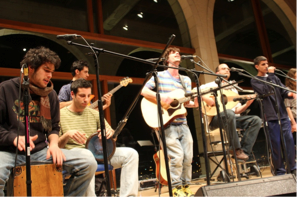 Heartbeat performance in Jerusalem.

On December 20th, A Big Project is joining up with Push4Peace and the Shift Network to help create this tipping point. On this day, the world will seek do something which has never been achieved before. Unprecedented numbers of organizations, companies, spiritual groups, artists, celebrities and individuals around the planet will come together seeking to get one billion people to each make a personal commitment to help us move towards a culture of peace. From established and emerging musicians to spiritual leaders, CEO's to grassroots roots activists -- individuals everywhere are coming together to help life change.
This event is part of the Birth 2012- Three Days of Love campaign -- a collaboration of organizations worldwide seeking to inspire global change. This epic event will be shared online in a live multimedia broadcast and shown on more than 3000 websites in 150 countries.
Thanks to a partnership with Bambuser, viewers can use their cellphones to record and submit inspiring art projects, activities or comments during the broadcast without having to leave the comfort of their living room. These images will then be shared online almost instantaneously with millions around the globe.
This is the first time technology like this is available. It's allowing us to connect and do things that before were just dreams.
The Birth 2012 - Three Days of Love will be happening on December 20, 21 and 22. These are the dates surrounding the Mayan calendar prediction that the world is entering a more humane and peaceful era. While A Big Project does not endorse the prediction, we do believe that a better world is possible. We believe that we can use this historical moment in time to help us re-envision and recreate that better world. We believe that through art, music, creativity and individual action, we have the collective power to help life change.
Thanks to all of the individuals who contributed to this blog post including: Rebecca Tobias, Frank Dominguez, Aaron Shneyer, Dot Maver, Sheila Colleen Reagen, and Mel & Elaine Barlin.
Related
Popular in the Community