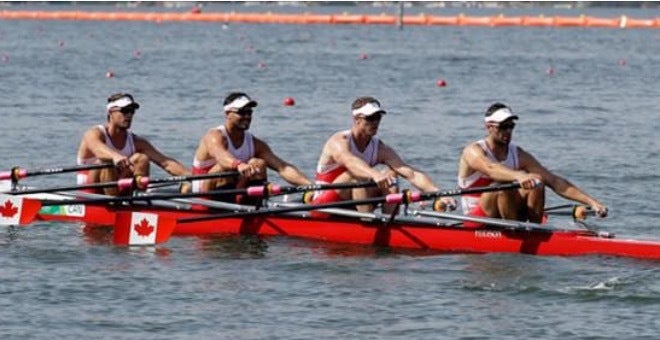 The Olympic Games are heart wrenching; if it wasn't for the many triumphant moments, comeback kids and golden glory there surely would be no games, as there is an equal, if not more, amount of pain, despair and loss.
Olympians truly love the sport with every ounce of their being. They train year round, with the Olympic Rings plastered on their walls, and when they dream, it's of the national anthem being played while their flag is being raised. The sport comes first, it has to. It's chosen over attending weddings of lifelong friends and even the birth of new family members. 'For Love of the Sport' takes on new meaning when you're an Olympian - they don't do this for the pay check.
The games are coming to a close and the past two weeks did not disappoint; in terms of moments that will make you get out of your seat and cheer, or hold your head down in dismay.
French gymnast Samir Ait Said was set to compete on the vault in men's gymnastics qualifying, and when he landed; his left leg folded beneath him and started swinging below the knee, an injury so severe there was no rebound for him at these games. As he looked at his leg in shock, I gasped in pain for him.
Belgian tennis player, Kirsten Flipkens caused a big upset. She eliminated former American Olympic champion, Venus Williams. A true underdog story - I cheered in delight for Flipkens knowing this moment will be lifelong for her, a stellar performance, so very well deserved. However, I also felt the pang of sorrow for Williams, as I've been a fan for so many years; SHE embodies the sport of Tennis.
In the women's 5,000-meter semi-finals, Nikki Hamblin of New Zealand tripped and fell, and in a jaw-dropping moment, she took down American, Abbey D'Agostino, with her. Hamblin assisted D'Agostino off the ground with encouraging words, instead of bolting to the finish line, like one would expect during the biggest race of their lives. A level of true sportsmanship, and what the Olympics exemplify.
Canadian rower Rob Gibson, in the men's quadruple sculls had a solid start in his first race despite rocky waters. The crew really began to put on the pressure nearing the finish line. In a blink of an eye it all went terribly wrong; Gibson's oar flipped, he had caught a 'crab', causing his boat to stop – with only meters to go. It was devastating to watch, and as his twin sister, it was heartbreaking.
I've shared my brother with his sport for over 10 years now. It hasn't been easy to watch, the highs have been high (London, 2012 - Silver Medalist) and the lows have been low (Rio, 2016). These past two weeks have truly been emotional, yet Robbie has managed to make me more proud in Rio, more than I ever imagined possible. To all the Olympians from Afghanistan to Zimbabwe, whether the games left you beaming from the podium, recovering from an injury, or filled with a pit of grief, know that your family, country and this twin sister are so very proud of you and your extraordinary accomplishments to get to Rio.
'Citius, Altius, Fortius'
REAL LIFE. REAL NEWS. REAL VOICES.
Help us tell more of the stories that matter from voices that too often remain unheard.