Heartbreaking. That is how a UN World Food Programme (WFP) officer describes the living conditions of displaced Iraqis who have fled the violence in Fallujah.
A major offensive by Iraq's military has reclaimed the city from the ISIS terrorists. But the humanitarian tragedy continues as people have lost their homes, livelihoods and food supplies. Around 85,000 Iraqi civilians have sought refuge in overcrowded camps, schools and mosques. And some are left without shelter in the brutal desert heat.
Nikki Gamer of Catholic Relief Services, whose agency is helping thousands of Iraqi families, says, "With temperatures soaring and families out in the open, there is an urgent need for shelter."
Iraqi mothers and children are the most vulnerable. WFP Iraq official Maha Ahmed says, "We met a young mother this week who escaped the violence in Fallujah with her new born baby in her arms - he was only 4-days-old when they fled."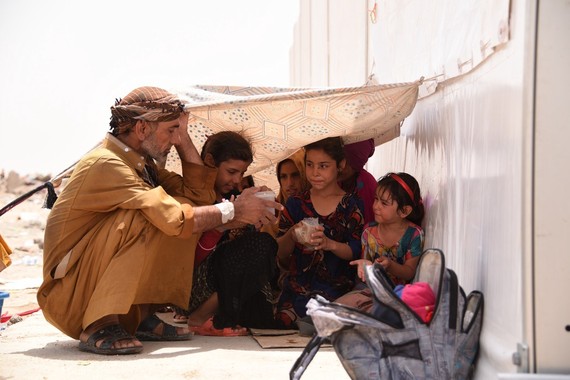 Saleh and his six children have been waiting for five days under the blazing sun with no shelter. (photo courtesy of the Norwegian Refugee Council)
More than 3 million Iraqis have been displaced since ISIS began its assault on the country. Each person has their own story of horror to tell. Even those who have fled the brutality of ISIS cannot escape the hunger and the thirst.
The WFP is reporting an urgent shortage of US $34 million in funds for emergency food aid. Even more is needed to help longer-term recovery.
This is why the United States Food for Peace program is so crucial during time of war. Food for Peace is the biggest supporter of the hunger relief mission by WFP in Iraq. Bur right now much more help is needed.
The Congress should double the funding of the Food for Peace program. This is crucial because displacement is at an all time high globally. Iraq is just one of the emergencies.
There is also extreme hunger and suffering in Syria, South Sudan, Yemen and countries affected by Boko Haram violence. Many crisis areas don't even make the news. But the hunger is there, silently killing people.
With displacement comes food shortages. Whole systems of farming have broken down in these nations.
We have to save lives and give war and disaster torn countries a chance at rebuilding. Food is the first of the many necessities.
Ahmed says, "The people of Fallujah have been suffering under siege for many months without access to food or medical care. Reaching them now with life-saving food and other humanitarian assistance is the absolute top priority."
WFP, which relies on voluntary donations, rushes immediate response rations to Iraqis displaced by the ISIS war. They need funding to provide these rations along with their partners including UNICEF, Norwegian Refugee Council, Qatar Red Crescent, Save the Children, Catholic Relief Services and others.
This is where Congress can do its part by increasing the Food for Peace funding so more aid can reach Iraqis in need. The U.S. has to show global leadership in responding to this level of humanitarian emergencies, unseen since World War II.
The Fallujah offensive may be over. But we should heed this warning from Save the Children's Iraq director Maurizio Crivellaro, who says, "We can expect to see the awful scenes we are witnessing in Fallujah repeated on a much larger scale if, as is expected, there is a military offensive on Mosul. Tens of thousands of children are already crammed in overcrowded camps in the searing summer heat. If and when there is another influx of displaced families from Mosul, the situation could be catastrophic."
With war comes hunger. And the hunger and other humanitarian needs long outlast the fighting. It can take years to recover basic services including food production. That is the situation we face in Iraq and other nations. We have to respond with urgency.
Calling all HuffPost superfans!
Sign up for membership to become a founding member and help shape HuffPost's next chapter