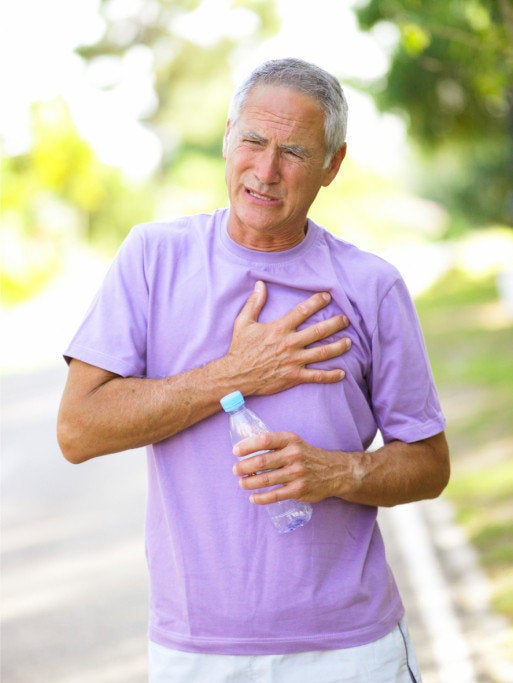 For most Americans, heartburn is just an occasional problem. Sixty million people get it at least once a month.
But for the 19 million people who have a chronic form of heartburn known as gastroesophageal reflux disease (GERD), untreated symptoms can lead to a variety of health complications.
If you experience frequent or extended heartburn (twice a week on a regular basis), see your doctor. Here are nine reasons why you shouldn't ignore signs of GERD.
Esophagitis
In GERD, food, acid and digestive juices flow back into the esophagus, the tube that connects the throat to the stomach. Over time, this causes irritation and swelling, known as esophagitis. "If you have acid exposure in the esophagus for even as little as a few weeks, you can develop inflammation of the lining," says Anish Sheth, M.D., assistant professor of digestive diseases at Yale School of Medicine, in New Haven Conn. "It can be very uncomfortable, even painful, and can leave the esophagus vulnerable to even more harmful erosion or scarring."
Esophageal stricture
If esophagitis goes on too long, scar tissue can narrow the esophagus. Called a stricture, this can make it hard or painful to swallow. Large pieces of food can get stuck and may require endoscopy to remove them. You may also be at risk of choking, and you can lose too much weight if you avoid food and drinks because of a stricture.
A stricture is treated with a dilation, or stretching, of the esophagus. This may need repeating, but acid-blocking meds such as proton pump inhibitors (PPIs) may prevent it from returning.
Throat and voice problems
The main GERD symptom is heartburn, but not all people get it. They may have other, harder-to-diagnose symptoms. "We call them cases of 'silent reflux,'" says Dr. Sheth. "The patient may not have heartburn as it's classically described, but they can have a variety of other issues that are happening outside of the esophagus -- like hoarseness, voice changes, sore throat or chronic cough. They have this sensation that there's a lump in their throat, or that they constantly have to clear their throat."
Breathing problems
If stomach acid is inhaled after it's regurgitated, GERD can worsen asthma or pneumonia. Even without lung problems, GERD can cause shortness of breath and difficulty breathing.
Treatment can be a double-edged sword. GERD meds like PPIs can actually increase pneumonia risk, according to several studies. (They may promote bacterial growth, researchers hypothesize, or suppress coughing that can help clear the lungs.)
Work with your doctor, who may consider lung function when treating reflux.
Tooth decay
When stomach acid and digestive juices make their way back up the esophagus and into the mouth, it can cause a sour taste and, if it happens frequently enough, wear away tooth enamel and promote tooth decay.
People with acid-reflux-induced erosion are often unaware of the damage until it reaches an advanced stage.
In a University of Alabama study, 40 percent of GERD patients had significant tooth decay (as did 70 percent of those whose reflux reached the upper esophagus), compared to only 10 percent of those with no reflux.
Esophageal ulcers
Stomach acid can wear away the esophageal lining, causing sores or ulcers. (Esophageal ulcers are different than stomach ulcers, which are usually due to bacteria.) People with ulcers may spit up or vomit blood, or see it in stool. "It can be red or even darker, coffee-ground-like particulate," says Dr. Sheth.
Tell your doctor immediately if you have such symptoms. An endoscopy -- a long, flexible tube inserted in the mouth to view the GI tract -- can spot esophageal ulcers and acid-blocking or acid-reducing meds can treat them.
Barrett's esophagus
If left untreated for many years, constant acid reflux can cause precancerous changes in cells, a condition known as Barrett's esophagus. The condition does not cause symptoms, but a doctor can diagnose it is by performing an endoscopy.
A small fraction of people with Barrett's esophagus develop esophageal cancer, which is often deadly.
"If you have heartburn more than twice a week for a long time, or if you have symptoms that are getting worse or you've developed new ones you haven't had before, those are all reasons to get checked out," says Dr. Sheth.
Esophageal cancer
In very serious cases, untreated GERD (and subsequent Barrett's esophagus) can lead to cancer of the esophagus. In 2010, 16,640 new cases of esophageal cancer were diagnosed in the U.S. The main risk factors are smoking, drinking alcohol, poor diet and chronic reflux disease.
Symptoms include weight loss, trouble swallowing or gastrointestinal bleeding, says Dr. Sheth. "It's something that happens over decades of reflux damage, so for someone who's 30 and otherwise healthy, we probably won't consider cancer," says Dr. Sheth. "But if you're over 50 and you've had heartburn for many years and you're suddenly losing weight, for example, it's definitely something we want to test for."
Lower quality of life
In addition to health risks, GERD symptoms can impact a person's health and happiness.
In a 2003 German study of more than 6,000 GERD patients, most reported that their quality of life had been compromised because of problems with food, drink, and sleep, as well as social and physical limitations. (There are also financial repercussions due to buying so many heartburn meds.)
Quality of life for the GERD patients was similar to heart-attack patients, and in some cases, even lower than those for cancer and diabetes.
Related