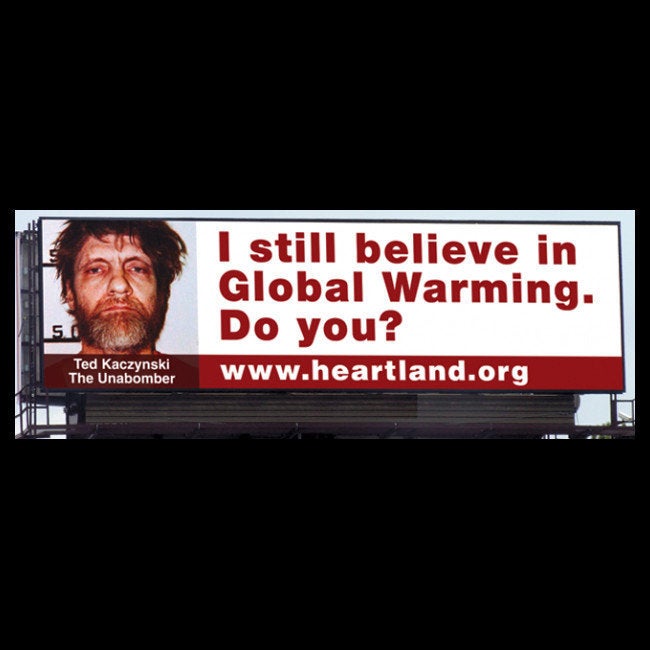 The Heartland Institute is out with what is quite possibly its most ill-considered publicity stunt to date: a poster ad campaign comparing a belief in global warming to the psychology of mass murder.
The Chicago-based think tank notorious for denying the basic facts about global warming on Thursday launched billboards in Chicago featuring the likes of Ted Kaczynski (better known as the Unabomber) and convicted murderer and cult leader Charles Manson, saying these notorious criminals "still believe in global warming" and asking viewers if they do, too.
The first billboard appeared on Thursday over the Eisenhower Expressway, the interstate freeway running west from the Chicago Loop.
"Of course, not all global warming alarmists are murderers or tyrants," notes Heartland in its press release (some killers also simply think puppies are cute, breathe air and tie their shoes one at a time).
It isn't the first anti-environmental campaign to draw such outlandishly false connections, though it is probably the most prominent. The website Vegetarians Are Evil, for instance, makes such meaningless revelations as identifying Genghis Khan as a vegetarian.
HuffPost has compiled a slideshow parodying Heartland's ploy for media attention, because it seems like the only rational response. We make some equally empty observations -- Kim Kardashian still believes in marriage; Donald Trump still believes in great hair; Charlie Sheen still believes in winning -- and we ask our readers: Do you?
UPDATE: 5:40 p.m. -- The Heartland Institute has pulled its digital billboard featuring Ted Kaczynski, which ran for just 24 hours before going dark. In a statement issued late Friday afternoon, Heartland Institute President Joseph Bast said the billboard was "always intended to be an experiment" and acknowledged having disappointed even defenders of the Institute.
"We know that our billboard angered and disappointed many of Heartland's friends and supporters," he said, "but we hope they understand what we were trying to do with this experiment. We do not apologize for running the ad, and we will continue to experiment with ways to communicate the 'realist' message on the climate."
The retraction comes after the ad campaign was widely criticized, receiving censure even from leading climate skeptic Rep. James Sensenbrenner (R-Wisc.), who indicated Friday in a statement to The Washington Post that he would not participate in the upcoming Climate Change Conference if the Heartland Institute continued its ad campaign.
Support HuffPost
The Stakes Have Never Been Higher
Related
Before You Go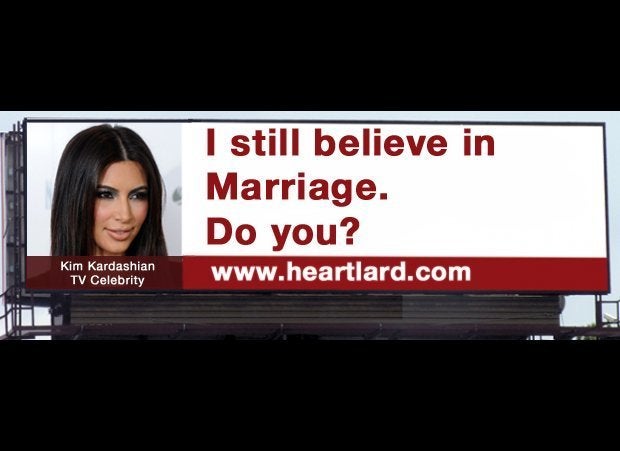 Heartlard.com Billboard Ads
Popular in the Community