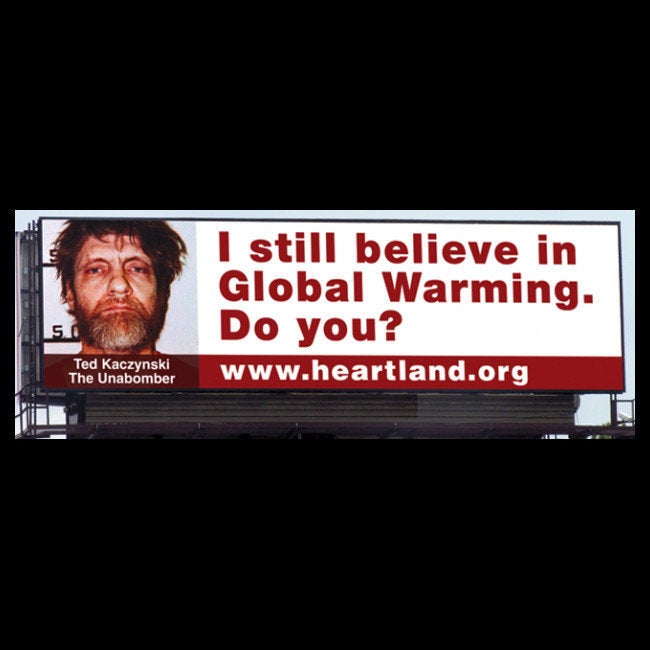 Six days after the Heartland Institute launched an ad campaign comparing a belief in global warming to the psychology of mass murder, corporate sponsors are still exiting in droves.
On Wednesday Heartland -- a nonprofit research group that focuses primarily on anti-environmental regulation, according to its website -- was dropped by the United Services Automobile Association. The USAA is a Fortune-500 financial services company that serves 8.8 million U.S. military members and their families. "In light of recent personnel departures at Heartland, we decided to end our support for the organization," the USAA said in a statement on Facebook.
Brad Johnson, campaign manager for Forecast the Facts, a group that advocates for global-warming awareness, responded to the move in a statement: "Since the U.S. military has recognized climate change as a key national security threat, it's fitting that USAA has pulled their support for an organization that uses Osama bin Laden as the poster child for belief in global warming."
The USAA's withdrawal is the latest in what has become a small-scale defection from Heartland after it launched a billboard in Chicago featuring Ted Kaczynski (better known as the Unabomber) along with the words, "Do you still believe in global warming? I do."
Climate Progress' Joe Romm reports that two top partners of Heartland have split with the organization over the ad campaign. Forecast the Facts and Greenpeace pressured insurers to stop funding Eli Lehrer, Heartland's Washington, D.C., vice president, Romm reports, and Heartland was dropped from the websites of the following green coalitions:
The Smarter Safer Coalition, an effort to reform the National Flood Insurance Program by top insurers, environmental organizations including American Rivers, the Sierra Club, National Wildlife Federation, Environmental Defense Fund, Defenders of Wildlife, Ceres, and the Nature Conservancy, alongside conservative groups such as the Competitive Enterprise Institute, American Conservative Union, and Americans for Tax Reform.

The Green Scissors Campaign, an initiative to reduce anti-environmental government spending with Friends of the Earth and Taxpayers for Common Sense.
Other organizations to abandon the Institute include beverage giant Diageo, the parent organziation to Guinness, Smirnoff, Johnnie Walker and Moet & Chandon, and automobile insurance company State Farm, which said in a simple statement on Tuesday, "State Farm is ending its association with the Heartland Institute. This is because of a recent billboard campaign launched by the Institute."
While Heartland has taken its billboard down, it has not apologized for the ad campaign, and the language is still featured on its website. In a statement issued Friday Heartland says that it will "continue to experiment with ways to communicate the 'realist' message on the climate."
Heartland's seventh International Conference on Climate Change, featuring Czech President Vaclav Klaus and Rep. Jim Sensenbrenner (R-Wis.) -- who indicated Friday in a statement to the Washington Post that he would not participate in the conference if Heartland continued its ad campaign -- is scheduled to take place in Chicago in two weeks, and already two speakers have withdrawn.
Author Donna Laframboise has announced her withdrawal from the conference, noting on her blog, nofrakkingconsensus.org, that she fears her reputation could be "harmed."
Economist Ross McKitrick has also withdrawn, the Los Angeles Times reports, stating in a Friday letter to Heartland, "You cannot simultaneously say that you want to promote a debate while equating the other side to terrorists and mass murderers."
Related
Popular in the Community