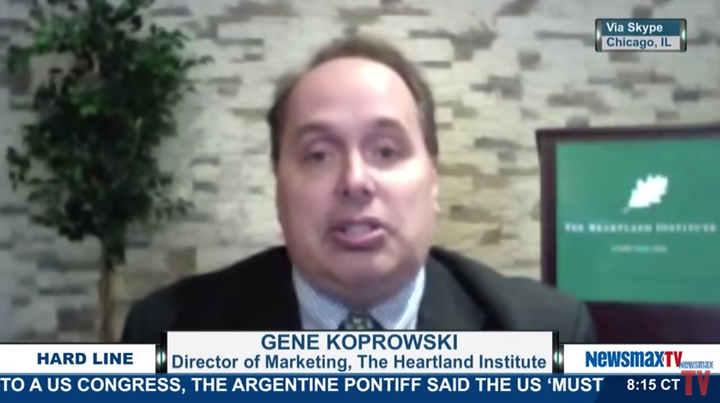 Eugene Koprowski's temper earned him a reputation around the office pretty quickly.
Koprowski started work as the marketing director at the Heartland Institute, a right-wing think tank based outside Chicago, in July 2015. Former colleagues say he frequently raised his voice and threw tantrums if they questioned him. One described him as "violent generally." He sent condescending emails to a female colleague, reprimanding her in almost comically sinister terms: "We will have no more insubordination."
Despite these outbursts, former colleagues say Koprowski enjoyed protected status in the office because of his friendship with Joseph Morris, a conservative Chicago lawyer who is also a major fundraiser for Heartland and a close ally to its chief executive, Joseph Bast.
HuffPost spoke to three former staffers who confirmed these accounts, but requested anonymity for fear of retribution or jeopardizing future employment in the libertarian policy community.
Heartland, they said, fostered a culture that allowed Koprowski, 52, to relentlessly harass a female subordinate half his age ― to the point where she took out a restraining order against him in October 2015. And though Koprowski was apparently fired sometime after the woman complained to human resources, her former colleagues say his termination came in response to other misbehavior ― not his repeated, undesired romantic pursuit of the woman who reported to him.
Even after he was allegedly fired, Heartland kept the former executive in its protective orbit, former staffers say. Morris, who is listed on Heartland's website as a policy adviser, is defending Koprowski in court against charges racked up when he contacted the woman over and over again, violating the protective order. Some of those charges were dropped in December, days after the Illinois Supreme Court ruled that a cyberstalking law used to charge Koprowski was unconstitutional, but the case is ongoing.
The previously-unreported case of alleged stalking comes to light just as Heartland has become more powerful than ever. The think tank transformed itself over the past two decades from a defender of the tobacco industry ― under the banner of "smokers rights" ― to a leading proponent of climate change denial and champion of fossil fuels. Since the Trump administration came to power, Heartland has enjoyed unprecedented influence at the Environmental Protection Agency, and works closely with hard-line science skeptics in Congress such as Rep. Lamar Smith (R-Texas) and Sen. Jim Inhofe (R-Okla.). EPA Administrator Scott Pruitt joined the members of Congress in November to speak at Heartland's America First Energy Conference in Houston.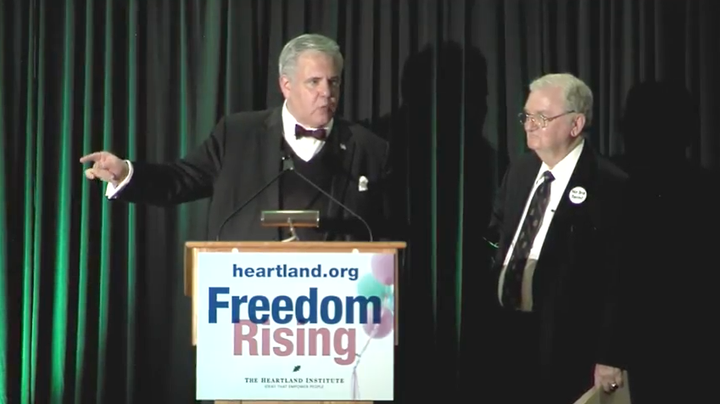 Heartland's contrarian skepticism on policy issues has extended to sexual harassment itself. In 2011, the organization posted a blog defending Republican presidential hopeful Herman Cain against harassment accusations under the headline: "Women Crying 'Sexual Harassment' Should 'Man Up.'" In May 2017, the group republished an op-ed from Newsmax accusing female Fox News employees of making "disingenuous" sexual harassment allegations "seeking monetary 'compensation' into the millions of dollars." Fox News hosts who dressed "sexily" in "short, short skirts and high, high heels with skimpy, skimpy tops," it said, had "no standing to complain about male advances."
Heartland categorically denied any wrongdoing in a statement posted to its website in response to a list of questions from HuffPost.
"The Heartland Institute is being targeted because our mission is fighting for a smaller, less-intrusive government and advancing free markets and greater individual liberty," Bast said in the statement. "Our opponents in this debate cannot win on the merits of their arguments, so they stoop to circulate lies about our dedicated staff. Shame on them, and no, we will not stop until freedom is rising again."
The woman, whose name HuffPost is withholding to protect her privacy, repeatedly declined to be interviewed on the record. A former staffer contacted this reporter about Koprowski's case after HuffPost published an article about Heartland putting a convicted child sex offender on a list submitted to the EPA. HuffPost corroborated the employee's account with two other former staffers, internal emails provided by the tipster, and by obtaining hundreds of pages of court filings and police reports.
The documents paint a disturbing picture of a man's unabated obsession and how it terrified a younger woman who worked under him. Koprowski's attorney has defended the relationship in court as misunderstood courtship.
The alleged harassment began in September 2015. That month, Koprowski started flooding the woman's Facebook and email with messages, mostly related to work and office gossip, according to police reports and court filings that included screenshots of the conversations. He offered her mentorship. She had lunch with him a few times. It was soon clear he wanted more. In October 2015, the woman told Koprowski that she wanted their relationship to remain strictly professional, and keep their conversations focused on work.
But the woman's account to police suggests he didn't listen. He sent her a text message telling her how attractive she looked and how beautiful her eyes were. He emailed her to say the way she phrased a Facebook post about apple picking with her boyfriend suggested she knew, deep down, that Koprowski would be a superior lover to "that boy." He emailed her again to tell her he was trying not to fall in love with her.
"It was just crazy. The whole thing with Gene [Koprowski], to see an organization not take action at all after knowing that someone in their organization was being stalked and harassed, was disappointing to say the least."
The report, filed with the Tinley Park Police Department in Chicago's southwest suburbs, states that she said she had already placed a complaint with Heartland's human resources department on Oct. 19, 2015, and was working from home to avoid the office.
What happened next is not entirely clear. According to the police report, the woman told officers Koprowski was "either terminated or resigned from her company" the next day on Oct. 20. In a company-wide email dated Nov. 21, 2015, and obtained by HuffPost, Bast said Koprowski had departed weeks later: "It didn't work out, and he left in November." The three former staffers say Koprowski was fired sometime that month ― because he lost his temper in front of a human resources executive and a coworker recorded one of his yelling fits, not because of the sexual harassment allegations. Either way, the former employees say Heartland gave Koprowski a week to clear out his desk, allowing him to linger in the office.
"They were very responsive to donors, but very hands off in terms of its employees," a former female staffer, who said she filed complaints about Koprowski's abusive tirades, told HuffPost. "There wasn't a lot of responsiveness if you had a complaint about another employee. It was very much, 'you can deal with it yourself.'"
"There's protected status that is given to people who are friends with people who donate large sums of money," said the former staffer, noting that work culture there made the woman who accused Koprowski of stalking "scared" to report him to higher-ups because she expected them to have his back.
"It was outrageous, the things that happened at Heartland," she added. "It was just crazy. The whole thing with Gene [Koprowski], to see an organization not take action at all after knowing that someone in their organization was being stalked and harassed, was disappointing to say the least."
According to the police report the woman filed, the woman worked from home the day after complaining to human resources, too afraid, a former colleague said, to come into the office. That day, Koprowski sent the woman an early-morning email. "I am worried about your health," he wrote in English. Then, in Polish: "May the Lord heal you from illness." He concluded, in Polish: "You were my joy … my love for you always." The police included a translation in their report.
The next day, Oct. 21, an attorney working for the woman sent Koprowski a cease and desist letter. He responded by calling her a liar and, according to the police report, insisting he hadn't contacted her and that she had been stalking him.
The woman told police she received a Halloween card in her mailbox the next day with a return address that listed a P.O. box in Koprowski's name. "Let's stay in touch! Gene," the card read, with a smiley drawn after his name, according to the police report. The woman and her boyfriend continued to receive bizarre emails and calls that they believed were from Koprowski, including one in which he told the boyfriend he'd had sex with the woman on a work trip.
This led her to file the report with the Tinley Park police on Oct. 26. A Will County judge ordered Koprowski to appear at a hearing the following month, and on Oct. 28 issued an order of protection that barred Koprowski from contacting the woman.
But the police reports show Koprowski continued to contact the woman, sending a series of emails between Nov. 28 and Dec. 6. On Dec. 17, Tinley Park police arrested Koprowski for violating the order. The next day, the Will County State's Attorney's Office charged Koprowski on three counts of violating a stalking no-contact order, a misdemeanor in Illinois. He hired Andy Sotiropoulos, the attorney who represented him before Morris.
While an intentional violation of a no-contact order is a Class A misdemeanor in Illinois, a second or subsequent violation can escalate to a Class 4 felony, according to a legal analysis on the Illinois State Bar Association's website by Lori Levin, a Chicago attorney who handles domestic violence and stalking cases. Thomas Glasgow, founder of the Schaumburg, Illinois-based law firm Glasgow & Olsson, said how someone is charged for violating a stalking no-contact can vary by case.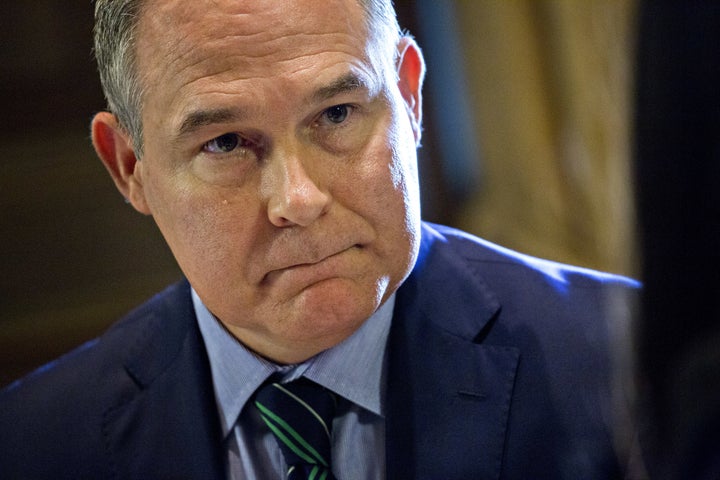 "The person may have violated the order of protection, and in a vacuum, each of those charges is a misdemeanor," Glasgow told HuffPost. "But when you have multiple charges, that enhances it."
Five months after his initial misdemeanor charges, a grand jury indicted Koprowski on two felony charges of stalking, arguing that, under an existing cyberstalking statute, his repeated contact with the woman knowingly caused her emotional distress.
On May 23, 2016, Sotiropoulos appeared in court and said he would no longer work for Koprowski. Reached by phone, Sotiropoulos declined to comment, citing "attorney-client privilege."
"I know where this is going and I don't want it either way," he said after asking from which outlet the reporter was calling. "It's done and over."
It's unclear when Morris took over the case. But in September 2017, he filed a motion to dismiss the felony charges, arguing that an appeals court ruling that found the cyberstalking law unconstitutional and that "ordinary, daily life consists of a series of encounters, events, conduct and speech that cause emotional distress," makes "such a standard … nonsensical."
"If wooing a potential friend, lover, or romantic partner who is not interested in the wooer is a criminal act, then every human on the planet, male and female, runs the risk at one time or another in life of being a criminal under such a standard," Morris wrote in the court filing.
In December, the Will County State's Attorney's Office dropped two felony charges against him. That same month, Morris filed a motion to dismiss misdemeanor charges of violating the no-contact order, and a Will County Circuit Court judge declined to renew the woman's order of protection. Koprowski is due back in court on Feb. 1 for another hearing.
After HuffPost emailed Heartland spokesman Jim Lakely more than a dozen detailed questions, the organization responded by posting the aforementioned statement on its website, denying what it described as "false allegations" by a former employee.
"We understand HuffPost may be writing an article based on a disgruntled former employee's false allegations that The Heartland Institute has tolerated sexual harassment in the past. The accusation is completely false," Bast said in the statement. "Heartland always has had policies and procedures in place to ensure a professional and safe environment for its employees."
Heartland then linked to a 2014 Gawker article that detailed sexual harassment allegations made against a former managing editor at HuffPost, and a recent Gizmodo story that accused the site's former editor-in-chief, Arianna Huffington, of ignoring the alleged sexual misconduct.
After this story published, Heartland reposted its statement on its website under the headline: "HUFFPOST ATTEMPTS TO SMEAR HEARTLAND AGAIN."
Heartland did not respond to questions about where the organization stands on Morris' decision to represent its former employee. Neither Morris nor Koprowski returned calls and emails requesting comment.
This article was updated to include the latest statement from Heartland.
Before You Go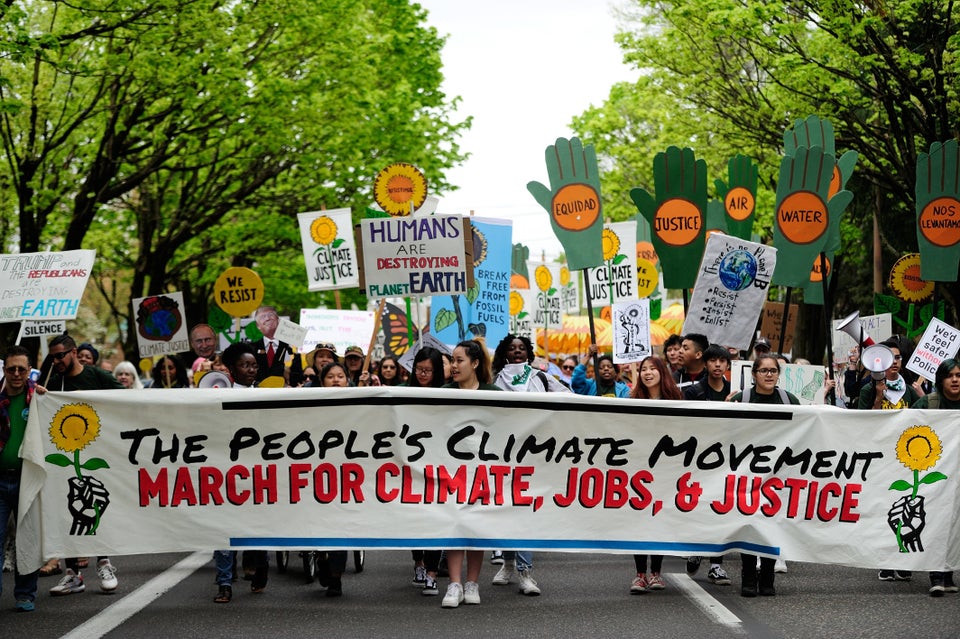 Climate Marches Across The U.S.
Popular in the Community