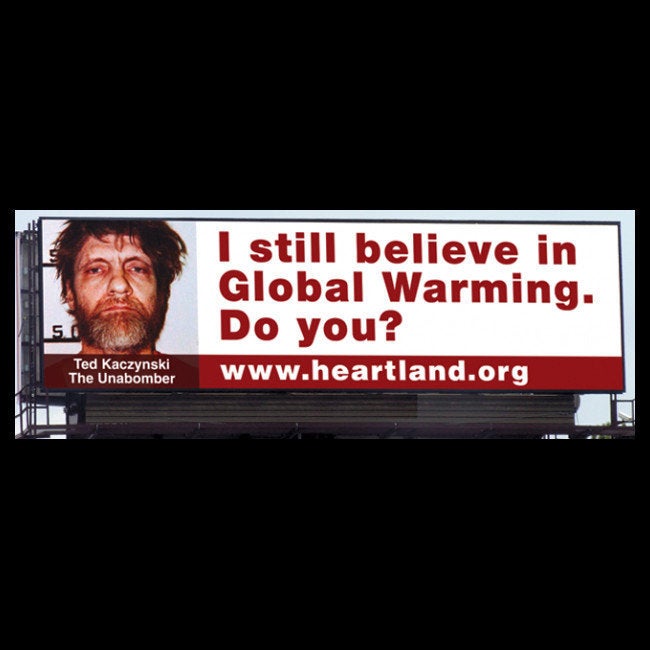 WASHINGTON -- The Heartland Institute announced Friday the spin-off of its insurance research project, effective May 31. The departure comes just a week after the institute launched a controversial ad campaign that compared the belief in global warming to the psychology of mass murder.
"Separating our project from Heartland will allow us to focus on the issues that we are best known for and good at," said Eli Lehrer, director of the Center on Finance, Insurance, and Real Estate, who will continue to serve as head of Heartland's Washington, D.C., office until May 31. "I have worked with The Heartland Institute for many years, and now under a new name, my team and I will continue to ally ourselves with Heartland where we can both work to advance the cause of freedom and free markets."
After the groups separate, the Center plans to remain in its Washington offices where it will continue to focus on financial services and property insurance.
Lehrer appeared to try to temper the sting of the separation by adding, "We thank everyone at Heartland, from Joe Bast, its dynamic CEO, on down for their support and friendship over the years. We look forward to working together for many, many years on our common goals."
The announcement is part of a larger defection from Heartland that kicked off following the launch of its Chicago billboard and mounting pressure from organizations like Forecast the Facts, a group that advocates for global-warming awareness.
The billboard featured Ted Kaczynski, aka the Unabomber, along with the words, "Do you still believe in global warming? I do." Among the sponsors that have jumped ship are the United Services Automobile Association, beverage giant Diageo (the parent organization to Guinness, Smirnoff, Johnnie Walker and Moet & Chandon) and automobile insurance company State Farm, which said in a simple statement on Tuesday, "State Farm is ending its association with the Heartland Institute. This is because of a recent billboard campaign launched by the Institute."
E&E News has reported that the institute's board of directors was not consulted before the group launched the explosive campaign. Evan Lehmann reports:
According to three people with knowledge of Heartland's campaign, the surprise ad comparing Unabomber Ted Kaczynski to advocates of reducing greenhouse gases prompted a sudden conference call last Friday between the board and the group's president, Joe Bast. The call occurred hours after the electronic billboard became active Thursday afternoon. The ad was canceled before rush hour Friday.

One director on the 14-member board disassociated himself from the failed campaign when asked whether he was comfortable with the message of the highway advertisement.

"Well, I just learned about it after the fact," said the board member, who asked not to be identified.
While Heartland has taken its billboard down, it has not apologized for the ad campaign, and the language is still featured on its website.
In a statement issued Friday the Institute attempted to put a positive face on the departure of its insurance project:
"We're convinced this will be a win-win situation for Heartland as well as Eli Lehrer and his team of very skillful and devoted policy experts. We urge any individual, foundation, and corporation with an interest in insurance and related finance issues to contribute to Eli's new organization once it is up and running. We look forward to working closely with Eli in the future."
Heartland's seventh International Conference on Climate Change, featuring Czech President Vaclav Klaus and Rep. Jim Sensenbrenner (R-Wis.) -- who indicated in a statement to the Washington Post last week that he would not participate in the conference if Heartland continued its ad campaign -- is scheduled to take place in Chicago in two weeks, and already two speakers have withdrawn.
REAL LIFE. REAL NEWS. REAL VOICES.
Help us tell more of the stories that matter from voices that too often remain unheard.
BEFORE YOU GO