Anyone who has undergone eye surgery for removal of cataracts will remember the stark change in their vision on the day following the operation. What seemed like peering through a glazed or frosted window was transformed into a visual field of crisp clarity. Colors that, in recent months, had appeared muted, were suddenly bright and vibrant.
Sometimes that kind of change can happen to one's understanding of a particular story. A tale that has been perceived as a classic may have left a person cold or unmoved for a long, long time. Upon experiencing it through a new lens, the story suddenly pulls together and becomes a convincing dramatic narrative; the kind of riveting and dynamic experience that finally makes sense and grabs hold of one's imagination.
I've had this problem for many years with Alban Berg's two operas, Wozzeck (1925) and Lulu (1937). I finally experienced some kind of a breakthrough with Lulu last July when the San Francisco Silent Film Festival screened Pandora's Box with a spectacular live musical accompaniment by the Matti Bye Ensemble, Georg Wilhelm Pabst's stunning direction, Gunther Krampf's photography, and the radiant performance of Louise Brooks finally allowed me to appreciate the tragedy of Lulu for the first time in my life. Not only was I able to remember all the characters from previous outings in various opera houses, I found myself transfixed by the acting of Franz Lederer (Alwa), Carl Goetz (Shigolch), Alice Roberts (Countess Geschwitz), and Gustav Diessl (Jack the Ripper).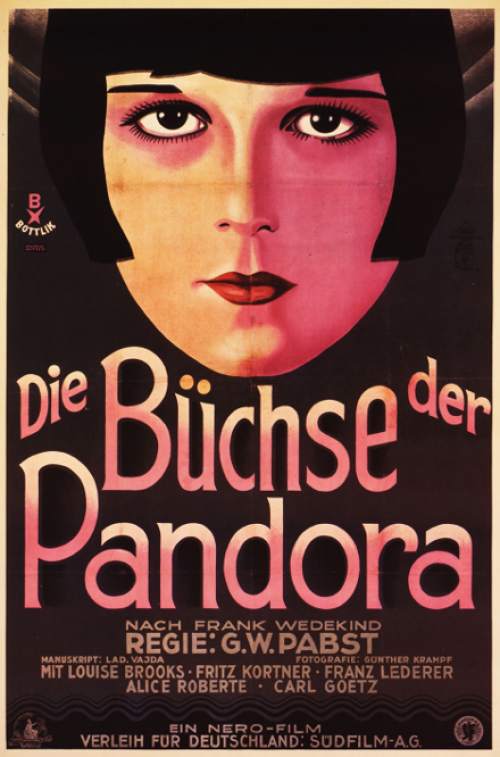 Poster art for Pandora's Box
Last month I had a similar breakthrough, thanks to a new production of Woyzeck at the Shotgun Players that was based on Robert Wilson's concept (with music and lyrics by Tom Waits and Kathleen Brennan). Written in 1836 by Georg Buchner (two decades after the Napoleonic Wars ended), Woyzeck was published posthumously in 1879 and first performed at the Residenz Theatre in Munich on November 8, 1913 (barely nine months prior to the outbreak of World War I).
Buchner's protagonist is the type of unfortunate Everyman whose body and soul are crushed by the military, and abused by so-called medical authorities. Cursed with poverty, betrayed by his common-law wife's infidelity, consumed by jealousy, and lacking any chance of social mobility, Woyzeck ends up murdering the mother of his child (the protagonist is based on a wigmaker in Liepzig, in 1821, who was beheaded after murdering the widow with whom he had been living).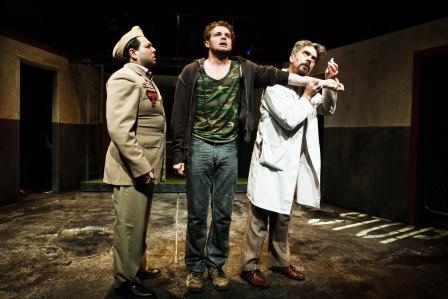 Anthony Nemirovsky (The Captain), Alexander Crowther (Woyzeck)
and Kevin Clarke (The Doctor) in Woyzeck (Photo by: Jessica Palopoli)
Bottom line? Woyzeck is the poor schmuck who -- orphaned as a teenager, demoralized as an adult -- simply can't catch a break. However, by framing Woyzeck as a soldier with post-traumatic stress disorder, director Mark Jackson has found an interesting hook which gives Buchner's story a startling new relevance. As Jackson explains:
"Those of us without soldiers in our lives rarely think about the stress they face upon returning home. Yet these people are re-entering our communities steadily. They are our neighbors. We may not even know what they're going through because they might be ashamed to talk about it. In preparation for Woyzeck, I conducted research into the experiences of returning soldiers and their families. I feel fortunate to have not experienced this trauma first-hand. It takes great strength and years of adjustment -- and some people don't survive it. My hope is to create a piece of theatre that compels its audience to think about the difficult circumstances soldiers and their spouses face when they must reacquaint and readjust to one another after the tour of duty. It's a trial that many relationships don't survive."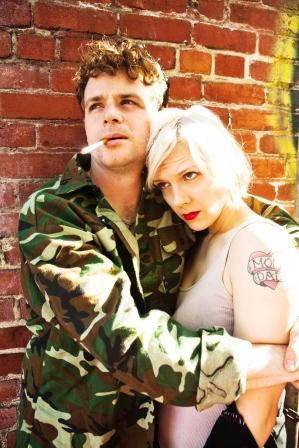 Alexander Crowther was Woyzeck with Madeline H. D. Brown
as Marie in Woyzeck (Photo by: Jessica Palopoli)
One of the strongest elements of this Shotgun Players production is its music. New orchestrations by David Moschler for his band (Bob Starving and the Whalers) include music for vibraphone, filing cabinet, harmonium, toy piano, alto melodica, and tenor ukulele in addition to the usual brass, wind, and percussion instruments. The resulting sounds can range from ghastly to comical, from nightmarish to vaudevillian in nature.
The opportunity to experience works like Woyzeck, The Threepenny Opera, Rise and Fall of the City of Mahagonny, and The Beggar's Opera in an extremely intimate theatre like the 100-seat Ashby Stage (as opposed to the 4,000-seat Metropolitan Opera House) make them far more gritty and accessible. With song titles like "Misery's The River of the World," "Diamond In Your Mind," and "God's Away on Business," the score's curdling cynicism provides an appropriately rancid sort of theatrical glue to Woyzeck.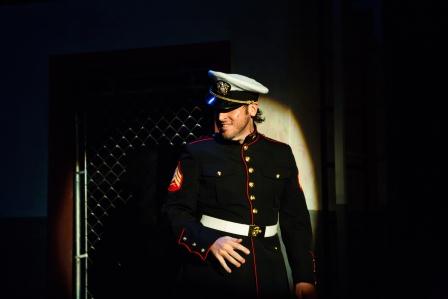 Joe Estlack as The Drum Major (Photo by: Jessica Palopoli)
"Music is the universal language that articulates feelings which words alone can't get their tongue around. Of the many approaches to Georg Buchner's Woyzeck I've experienced, only Tom Waits and Kathleen Brennan's has moved me and helped me understand why Buchner's jarring shard about the lives of the poor has continuously struck the imaginations of people around the world for close to 200 years. The deceptively simple songs by Tom Waits become more powerful the more I listen to them. The music is gut-wrenching in its simplicity and directness. The music seems to set something free on a poetic level that straight translations of the text alone have never done for me. Woyzeck's tragic love for Marie and, through her, the society he fought for and is now spurned by, becomes quite palpable."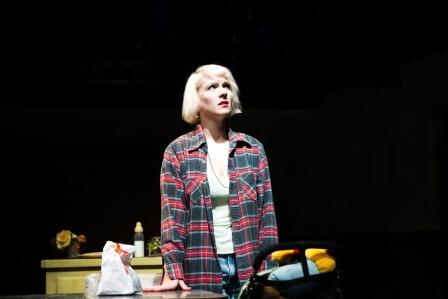 Madeline H. D. Brown as Marie (Photo by: Jessica Palopoli)
Nina Ball's crude set (which features one of the niftiest pools of blood you'll ever see on a stage) helps to keep the action down and dirty. As the Drum Major who seduces Marie, Joe Estlack performs "Another Man's Vine" with the gleeful lust of a military stud who takes great joy in his sexual prowess. Kevin Clarke nearly steals the show as a buffoonish doctor. In supporting roles, Anthony Nemirovsky (The Captain), Kenny Toll (Andres), Andy Alabran (Karl, an Idiot), and Beth Wilmurt (Margaret) add grit and humor to the proceedings.
At the center of the production are two beautifully etched performances by Alexander Crowther (Woyzeck) and Madeline H.D. Brown (Marie), whose exhausted duet ("Coney Island Baby") captures their shattered dream of a post-war life with a rare sadness and resignation. Performances of Woyzeck continue at the Ashby Stage through January 13.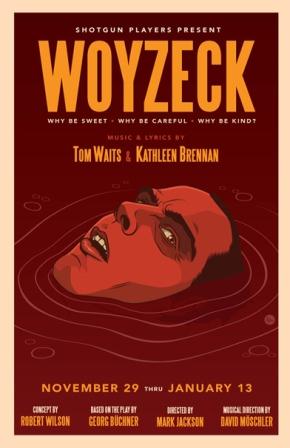 Poster art for Woyzeck
Calling all HuffPost superfans!
Sign up for membership to become a founding member and help shape HuffPost's next chapter