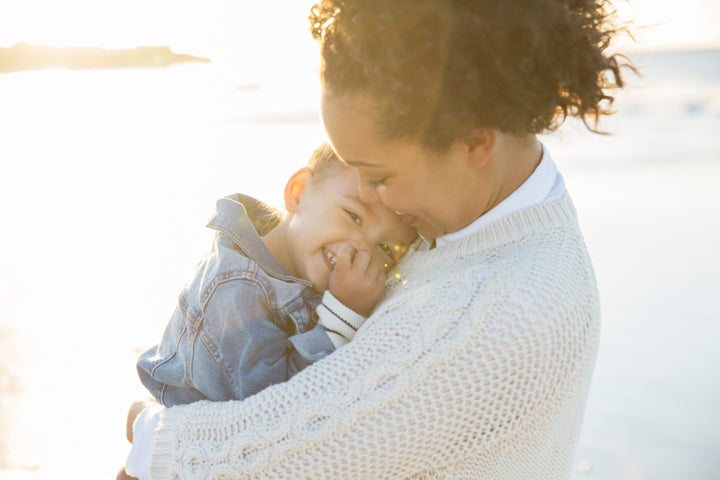 Mama's boys: begone; if you want a good tug on the heartstrings, there's nothing like a classic mother-daughter story.
In the ongoing spirit of Mother's Day, we've teamed up with SK-II and rounded up seven incredibly touching moments between mothers and daughters from around the world, celebrating the profound and unique bond shared between generations of women. Let us know if you have dry eyes at the end of this one. We certainly don't.
1. When an Indian beauty queen thanked her mom for saving her life
When Pooja Chopra took the stage to be crowned Miss India-World in 2009, no one was prepared for what she said in her acceptance speech: "When I was 20 days old, my mother was asked to make a choice. It was either me -- a girl child -- or her husband. She chose me. As she walked out, she turned around and told her husband, 'One day this girl will make me proud.' That day has come."
Now a Bollywood star, Chopra remains in awe of her mother, whom she described in her speech as the biggest influence on her life and career, "my light, my mentor, my driving force."
"She IS my life," Chopra told The Huffington Post.
2. When this mom decided the only way to make her daughter feel comfortable was to create dolls that looked just like her
A run-of-the-mill car trip became a life-changing moment for mom Angelica Sweeting when she realized just how uncomfortable her 3-year-old daughter, Sophia, was in her own skin. "She pretty much hated how she looked because she didn't look like the doll that she constantly sees or the characters that she sees on TV," Sweeting has said.
The 27-year-old mom from Miami and her husband hunted for a doll that looked like their daughter, but couldn't find one. So the family took matters into their own hands and developed the Angelica doll, with natural, washable curly hair, brown eyes, and fuller facial features -- sculpted from photographs of mother and daughter.
"She is here to expand our spectrum of beauty and to give little girls more, so they're able to see that beauty comes in different shades," Sweeting told the Today Show after she quit her job to start Naturally Perfect Dolls.
Sophia, now 4, is much happier and more confident in how she looks – the perfect gift from mother to daughter.
3. When this Australian mother heard her daughter sing -- for the first time in 30 years
As Sydney mom, Sue Grimwood, sat waiting for the big band to take to the stage, she knew she was going to hear something that would change her life, but what happened next was totally unexpected.
Grimwood had been deaf for three decades. She thought she was at a concert in Canberra to test her newly fitted cochlear hearing device and give feedback. Then, her daughter Kim Mustac, whom Grimwood hadn't heard sing in 30 years, surprised her by taking to the stage to perform "Somewhere Over the Rainbow" accompanied by the Canberra Symphony Orchestra.
4. When this Ethiopian mother and daughter were reunited after 18 years of separation and war
In 1998, as a young mother who'd been abandoned by her husband, Lemlem made the heartbreaking decision to leave Ethiopia to find work across the border in Eritrea. She never expected that she wouldn't see her then 2-year-old daughter, or her homeland, again for nearly 20 years.
But Eritrean-Ethiopian border clashes turned into a full-scale war, and the conflict has continued for two decades.
As Lemlem recently told the Red Cross, "I saw her for the first time two years ago in the photos she sent with a Red Cross Message. When I got her pictures, I felt like she was right beside me,"
Last year, she decided that photos were no longer enough. With the help of the international aid organization, she finally returned home. "I was emotional and started sobbing the whole day from the moment I met my daughter and sister," Lemlem said. "When I was in Eritrea I was constantly thinking about my family. I never imagined I would meet them all again after such a long time."
5. When this mom made it possible for her daughter to dance to her favorite song
Taylor Florence has cerebral palsy, but nothing was going to stop her from dancing to Taylor Swift.
When her mother, Dana Florence, was given the opportunity to road-test a new device that would help the 6-year-old shake it off (and then some) for the first time, she wisely pulled out the camera.
The video of the moment was an instant hit -- Taylor and Dana's joy is truly infectious. "I was just so overjoyed to see my daughter dancing in that way," Dana told HuffPost. "When you have a child with a disability, so many times you are told what they can't do -- Taylor's dance reminded me to focus on what she CAN do!"
6. When this beauty blogger allowed her 2-year-old to do her makeup
British beauty vlogger Georgia Rose has gained fans around the globe for her DIY makeup tutorials. But perhaps her biggest fan is her daughter Lily.
"Every time I do my makeup, she always stands by my desk on her tiptoes watching me and pretending to do her eye makeup or lipstick," Rose told HuffPost.
Rose was interested in how much the toddler had picked up. So, in a brave move, she decided to let Lily try out her skills. Like any good makeup artist, she blends concealer under the eyes and some foundation. But then she goes rogue! The gloves are off when it comes to blush and eyebrow pencils.
Lily is now 3 and -- surprise surprise -- she still loves makeup. "She's learned so much more and loves to try and sneak some of my lipsticks out of my drawer!" Rose said.
7. When this mother and daughter saw each other for the first time in 82 years
As "Love Actually" fans will confirm, airports are the No. 1 destination for a good emotional reunion. And the reunion to end all reunions occurred in January at New York's Binghamton airport when, after five decades of searching, Betty Morrell, 82, finally reunited with her 96-year-old birth mother, Lena Pierce.
Pierce had given birth to her daughter in 1933 when she was just 13 years old. Pierce was a ward of the state at the time. After six months, her baby was taken and given to an adoptive family. But Morrell didn't learn she was adopted until a neighbor told her, prompting a decades-long search for her birth parents. "I had sort of given up when my granddaughter Kimberly signed me up for Ancestry.com," Morrell said.
At the reunion in January -- two decades after Kimberly began helping with her grandma's search -- Morell and her mom had an instant connection, she said. "I looked her right in the eyes and hugged her and smiled. It was like I had known her my whole life."
There's no bond like the one between mother and daughter. Join SK-II in continuing to celebrate all mothers who have touched our hearts and lives with this video and a limited edition Facial Treatment Essence.
REAL LIFE. REAL NEWS. REAL VOICES.
Help us tell more of the stories that matter from voices that too often remain unheard.
BEFORE YOU GO
PHOTO GALLERY
17 Precious Moments From The Celeb Moms We Love