The Miami Heat's herculean win in Game 6 of the NBA Finals masked yet another poor performance by Dwyane Wade, who remains severely ineffective thanks to his right knee. Naturally, we are focusing on Ray Allen's season-saving 3-pointer and Miami's shocking 103-100 OT win -- an instant classic and one of the best NBA games in history -- but let me remind you that this series is not over. Wade, after all, is LeBron James' sidekick and arguably the most important member of this team.
With the exception of his 32 points in Game 4 -- the first time he reached the 30-point barrier since March 4 -- Wade has found himself mired in a struggle to get to the foul line and score with the same ease and veracity we have become accustomed to seeing. Perhaps Erik Spoelstra started Allen over him in the third quarter because of the knee, or perhaps he wanted to spark his veteran sharpshooter, but as I previously reported, the 31-year-old is averaging the fewest minutes, points, field goal attempts and -- perhaps most telling -- free throw attempts of his nine playoff appearances.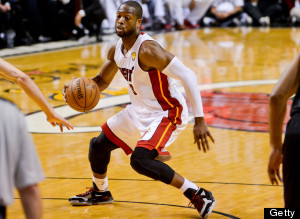 Wade is averaging the fewest points of his postseason career. (Getty Images)
Come Game 7, when the Spurs load up on James with extra defenders at the rim along with lock-down artist Kawhi Leonard on the ball, we have to wonder where Miami's secondary offense will come from. We cannot expect Mario Chalmers to give double digits again, and Chris Bosh remains an enigma. Allen has played well, and this series would be over if it were not for his corner triple. But, once again, I circle back to the fact that Wade -- at least when he's feeling good -- is the only guy other than James who makes the Spurs truly have to account for every possession.
According to ESPN Stats & Info, Wade and Bosh shot a combined 61 percent from inside the paint during the regular season. In the postseason, however, that number has plummeted while both have struggled mightily even getting to the rim. San Antonio guard Danny Green has not only broken the all-time Finals record for 3-pointers made, but he has also thwarted Wade away from the hoop and done an excellent job of contesting jumpers. Remember, this is the same guy who held a red-hot Stephen Curry to 23 percent shooting in six games against Golden State. Even when he's not making shots, Green has won his individual matchup with Wade throughout this series.
Heading into Game 7, we are faced with a litany of questions -- namely centered around why Popovich subbed out Tim Duncan and Tony Parker late in Game 6; how in the world the league's most consistent team and well-run organization choked away a surefire win; and whether or not either one of these teams has anything left in the tank. Maybe, though, the question we should be asking is what will Dwyane Wade provide for the Heat, because lightning won't strike twice.


Email me at jordan.schultz@huffingtonpost.com or ask me questions about anything sports-related at @Schultz_Report. Also, be sure and catch my NBC Sports Radio show, Kup and Schultz, which airs Sunday mornings from 9-12 ET, right here.
REAL LIFE. REAL NEWS. REAL VOICES.
Help us tell more of the stories that matter from voices that too often remain unheard.