The Miami Heat let the players in the Los Angeles Clippers organization know that they're not alone. In an act of solidarity, the defending NBA champions reproduced the Clippers' silent protest against team owner Donald Sterling.
After emerging from the visitors' locker room at Time Warner Cable Arena in Charlotte on Monday night, LeBron James and the Heat players huddled up at the center of the court. Just as the Clippers had done on Sunday when they took the floor in Oakland, the Heat players all ditched team-issued, branded shirts to reveal that they were wearing warm-up shirts inside out to obscure the team name and logo.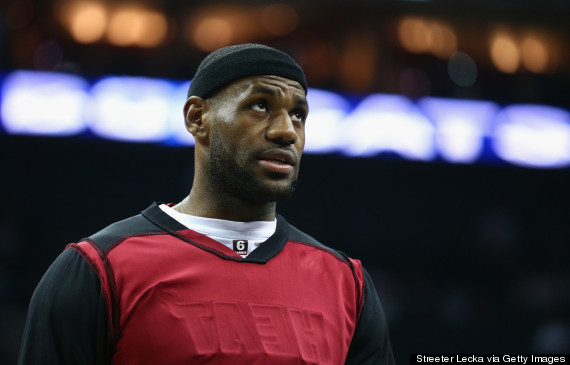 The Heat players left their logo-bearing tops in a pile and went about preparing for Game 4 of their opening-round playoff series against the Bobcats. As noted by sideline reporter Rachel Nichols during the TNT broadcast of the game, the discarded shirts were initially cleared off the floor up by a member of the arena staff. That staffer was then instructed to return the shirts to their spot near midcourt to make sure the gesture was noticed. Since TMZ first released an audio recording of a man identified as Sterling making racist comments during an argument, the Heat organization has been vocal in its criticism of such remarks.
"There's no room for Donald Sterling in the NBA. There is no room for him," James said Saturday night.
In another act of silent protest, the Houston Rockets and Portland Trail Blazers wore black socks during Game 4 of their playoffs series on Sunday night.
"I just wanted to do something to support our brothers," Portland star LaMarcus Aldridge told TNT.
Related
Popular in the Community