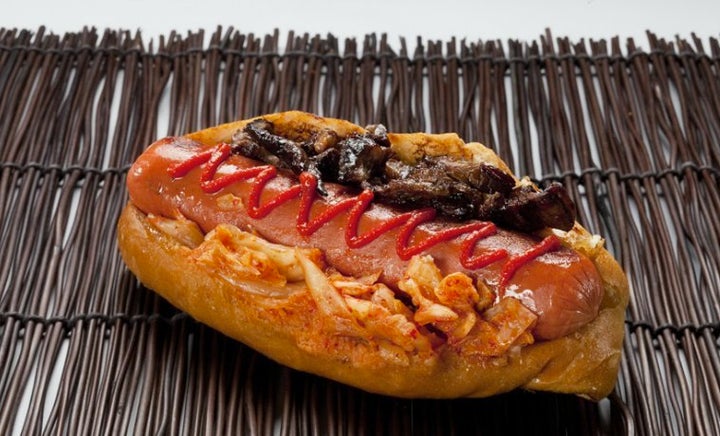 WASHINGTON -- If you dropped by hot dog shop DC-3 on Capitol Hill's Barracks Row on Tuesday, you likely witnessed quite a scene. Food Network show "Heat Seekers" spent a day camped out in the tiny space filming a segment featuring the restaurant on 8th Street SE.
The show, which features mouth-scorching cuisine, was lured by two spicy items: The Q's Seoul bulgogi and kimchi dog, topped with marinated rib-eye bulgogi, pickled kimchi and hot Sriracha sauce; and the Three-Alarm Cruncher, a take on D.C.'s famous half-smoke wrapped in bacon, split and filled with jalapenos and covered in spicy chili.
DC-3 is run by the folks behind the popular Matchbox pizzerias. Co-owner Perry Smith said that although spice was what initially attracted the Food Network, it was DC-3's interpretation of the half-smoke that sealed the deal. "They were looking for regional specialties," he said. "The half-smoke is always on everyone's list."
On a 10-point scale, Smith put the bulgogi dog at a seven in terms of hotness. The Three-Alarm Cruncher, however, blows it out of the water. "I'd give it about an 11 or 12. It was so hot, but a lot of good flavor."
Also on hand during filming was D.C. Councilmember Tommy Wells (D-Ward 6), who dropped by when he heard cameras were rolling. He won't be featured in the episode, but he did hold sway in a corner of the restaurant, chowing down on a milder "Philly Cheesesteak Style Whiz Wit'" dog and sipping on a PBR.
"Being that I'm half-Norwegian, I'm not the best at spicy foods," he said. "I start sweating at the eyeballs." Dining preferences aside, he cheered Food Network's decision to feature DC-3.
"These are really emerging areas," he said of Barracks Row. "These are not chains -- they're people that are creating their own kind of vision or masterpiece ... I think that for the Food Network to see the latest creation of these guys that created Matchbox, which is wildly popular, is a natural."
The half-smoke, he added, is also a good way to give viewers a sense of the people who live here. After all, he said, "D.C. is the city of the squat buildings and half smokes."
In recent years, D.C. has gained more and more attention from the national food scene. Travel Channel's "No Reservations" stopped by in 2008 (the episode aired in 2009, and yes, host Anthony Bourdain tried a half-smoke), Food Network star Giada DeLaurentiis paid a visit in 2007 for her "Weekend Getaways" program, as did her colleague Guy Fieri, who brought the network's "Diners, Drive-ins, and Dives" to town in 2010.
The D.C. edition of "Heat Seekers" doesn't yet have an air date, but it will likely run sometime in February.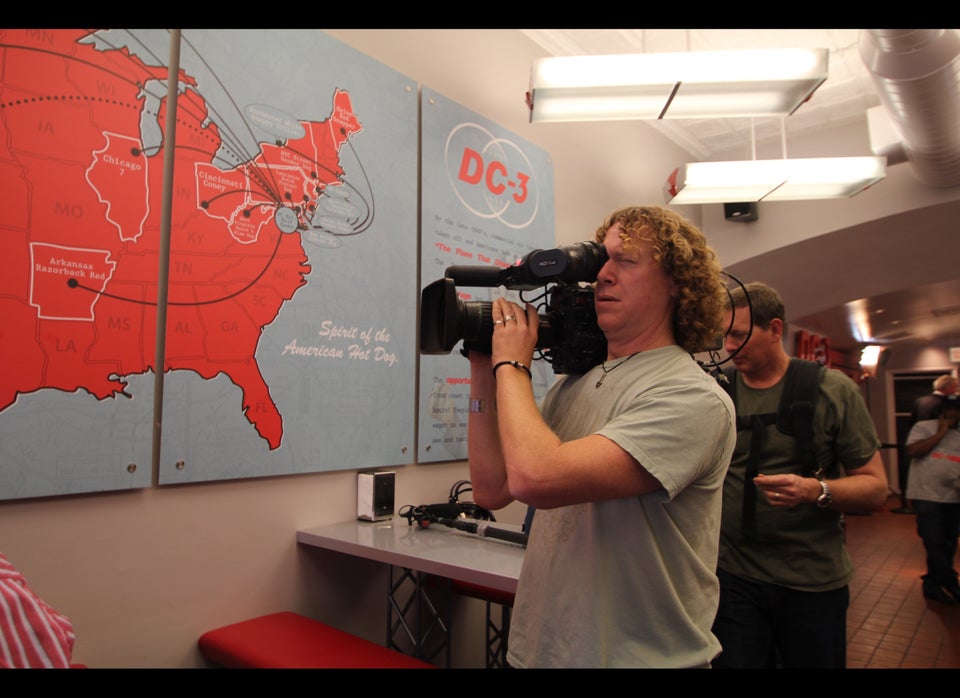 Popular in the Community