A massive heat wave roasting the central and eastern U.S. this weekend with temperatures that felt like the triple digits is expected to linger at least into the July 4th holiday, weather officials said on Sunday.
Thermometers are expected to soar 10 to 20 degrees above normal through Monday, with record highs potentially recorded from the Great Lakes region to New England, the National Weather Service said.
On Sunday, temperatures in parts of New York and Connecticut, were forecast to hit up to 100 degrees but appeared to settle in the high and mid-90s by the late afternoon. Monday is expected to see the searing heat and high humidity continue, with temperatures again nearing 100 in New York's capital of Albany.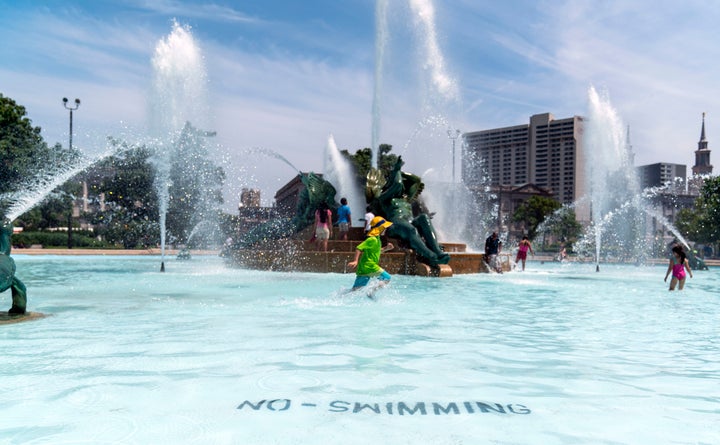 "Temperatures have not reached 100 F in Albany since 1953," said AccuWeather Meteorologist Tony Zartman, "but the city will flirt with that mark both Sunday and Monday."
Other areas may still feel like they're at or above 100 degrees because of the heat index, which indicates what the temperature feels like. For many communities, the heat index is forecast to reach as high as 110 degrees.
"The combination of hot temperatures and high humidity will combine to create a dangerous situation in which heat illnesses are likely," the National Weather Service said. "Drink plenty of fluids, stay in an air-conditioned room, stay out of the sunshine, and check up on relatives and neighbors."
Philadelphia, which hit 92 degrees on Sunday with a heat index of 105, similarly sounded the alarm to its residents and visitors about the dangerous heat. The heat index is forecast to rise to 107 there on Monday.
In parts of Ohio, where temperatures were expected to reach the mid-90s, July 4th firework shows planned for Saturday were canceled because of the extreme heat.
In Chicago, where heat indexes were forecast to hit as high as 110 degrees, city workers on Saturday had to hose down a bridge because the extreme heat could cause the steel to expand.
Calling all HuffPost superfans!
Sign up for membership to become a founding member and help shape HuffPost's next chapter