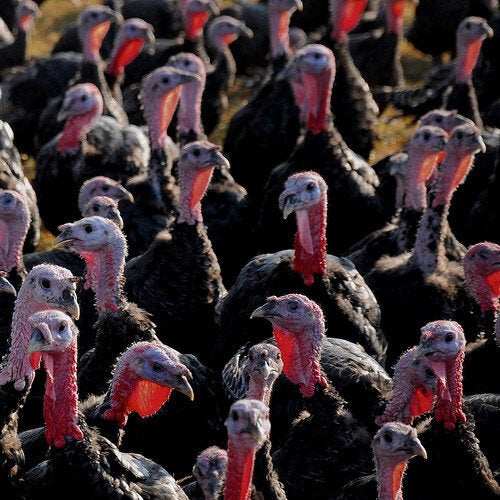 By ROXANA HEGEMAN, Associated Press
WICHITA, Kan. -- A heat wave that has pushed temperatures well over 100 degrees has killed tens of thousands of turkeys and chickens in Kansas and North Carolina and left farmers across the lower part of the country struggling to cool off their flocks.
In North Carolina, about 50,000 chickens died at a farm after the power went off for less than an hour. In Kansas, one couple lost 4,300 turkeys that took 26 hours to bury.
"It felt like a war zone. It felt like hell," turkey grower Holly Capron said.
The heat wave that started over the weekend has been spreading east. Four of the nation's top turkey-producing states - Arkansas, Missouri, North Carolina and Virginia - were under a heat advisory Tuesday. Arkansas and North Carolina are also leading chicken producers.
Temperatures in Kansas on Sunday reached 110 degrees, with a heat index of 118. It was 106 in the buildings near Columbus where Capron and her husband raise 22,000 turkeys for Butterball LLC. She said they've been running big fans and fog nozzles in their poultry buildings, and they've had a tractor pulling a spray wagon to water down the birds. They lost 140 birds on Saturday, but nothing prepared them for Sunday, when 4,300 died.
After receiving approval from state regulators, the Caprons, their workers and friends began digging a massive hole - 60 feet long, 40 feet wide and 10 feet deep - to bury the nearly 50-pound birds. They started at 11 p.m. Sunday, and the last turkey was buried 26 hours later. The crew worked around the clock. No one slept.
"It was literally overwhelming during the night," Capron said. "I honestly wanted to start crying. My husband was in shock."
A River of Waste: The Hazardous Truths About Factory Farms
She blamed the deaths on a heat spike that hit about 5:30 p.m. Sunday. The Kansas Department of Agriculture's Division of Animal Health confirmed that heat, not disease, caused the deaths, department spokeswoman Chelsea Good said.
In North Carolina, the heat wave killed about 50,000 broiler chickens at a Johnston County farm when the power went out for about 45 minutes, said Gary Rhodes, a spokesman for Colorado-based Pilgrim's Pride Corp., which owned the chickens.
Farmers in the Carolinas outfit their poultry barns with cooling systems that use fans to push mists of water over the birds or pull air through the sheds at high speed like an air tunnel. The cooling systems have prevented family-owned turkey growers Prestage Farms from suffering a mass die-off from heat for more than five years, said co-owner Scott Prestage.
"If outside the heat index is at 107, like it is right this minute, the bird in that house is feeling something that tends to be in the mid to high 80-degree range," said Prestage, whose operations produce more than 425 million pounds of live turkey a year in North Carolina and South Carolina. "We tend not to lose birds in those houses, not as long as all the equipment is operating properly."
A power outage, though, can be deadly.
"With the new ventilation systems in these houses, they can handle the heat pretty good," said Bob Ford, executive director of the North Carolina Poultry Federation. "Most everybody's converted their houses to that type of system, and you just have to keep your fingers crossed I guess."
John Bryan, spokesman for the Missouri Poultry Federation, a trade organization, said he hadn't heard of the heat causing similar problems in Missouri. But he said producers are vigilant during the summer, making sure the turkeys move around and get plenty of water.
"It's summer in Missouri, and they know the routine," Bryan said. "They're constantly out checking their flocks. They've got field managers and that's what they do every day. They all watch them a little more closely because it's such a heat wave. ... It's the same with the chicken people. They're out there watching."
One thing farmers watch for, he said, is making sure the turkeys haven't bunched up together in the heat, which can cause them to smother.
"A lot of them will just get in a pile," Bryan said "They do sometimes get by the doors, which maybe will have a breeze, and sometimes they'll just get in a heap."
Associated Press writers Maria Fisher in Kansas City, Mo., and Emery Dalesio in Raleigh, N.C., contributed to this report.
Related