Heath Ledger's former multi-million dollar home is on the market again -- this time for $2.995 million.
Known as "The Tree House," the Hollywood Hills home on Laurel Canyon served as a West Coast landing pad for Ledger, former girlfriend Michelle Williams and their daughter Mathilda until their break up in 2007, notes Rumor Fix.
According to Real Estalker, the home is currently owned by soap opera hunk Adrian Bellani, and before Ledger owned it, comedienne Ellen Degeneres held the deed.
The 1951 home has two bedrooms, two bathrooms, and encompasses 1,861 square feet, according to public records. The post-and-beam style structure has polished concrete floors, open floor plans, and glass walls. But it's the outside, not the inside of the home, that has us starstruck.
The property sits on almost a half-acre of sycamore groves and "wonderful lush grounds," according to the official listing, and interiors open up to a 2,500 square foot outdoor living room complete with a screening area, barbecue, and lounge spots.
The house is set back from the road and sports a covered outdoor terrace probably 80 feet long—perfect for entertaining.

And indeed when Ledger moved in he hosted a housewarming blowout with the traditional festivities and attendant cars, noise, etc. The neighbors cringed, wondering what they were in for.

The next morning, one of them told me, Ledger stopped by with a bottle of champagne, full of apologies. Nice guy.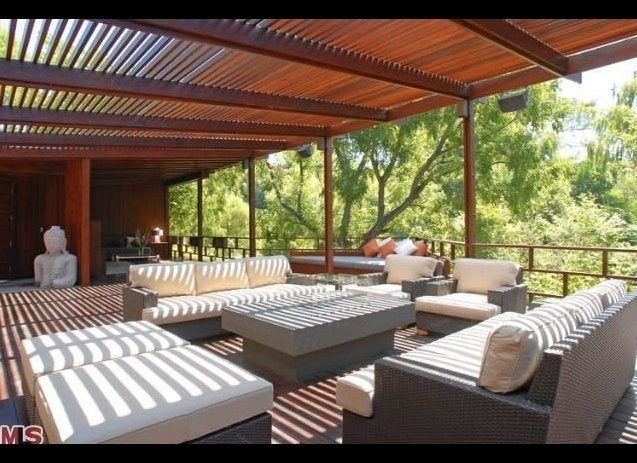 Popular in the Community