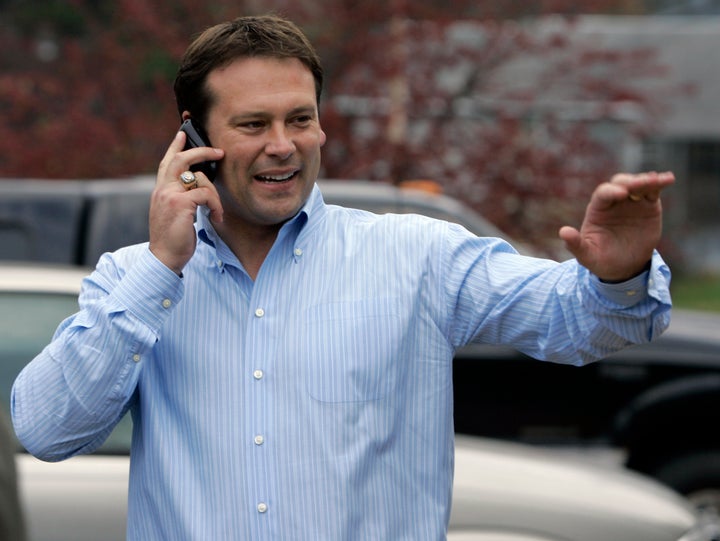 WASHINGTON -- When it comes to congressional alliances, progressive Rep. Dennis Kucinich (D-Ohio) and Blue Dog Rep. Heath Shuler (D-N.C.) aren't usually mentioned in the same breath. But last week, Shuler was among the 93 House lawmakers who voted for Kucinich's ill-fated resolution calling for the speedy withdrawal of U.S. troops from Afghanistan, one of the only conservative Democrats to do so.
Kucinich's measure, H. Con. Res. 28, would have invoked the War Powers Resolution and directed President Barack Obama to remove troops from Afghanistan "by no later than the end of the period of 30 days beginning on the day on which this concurrent resolution is adopted," or by no later than Dec. 31 if that proved impossible.
For critics of the president's strategy, the vote from Shuler -- who last fall challenged former Speaker Nancy Pelosi (D-Calif.) in her bid for the position of minority leader -- was among the most surprising and encouraging shows of new support.
"It would be a great service to our country if someone like Rep. Shuler, a centrist or Blue Dog Democrat, would take a greater role in providing the President with other options for our country in Afghanistan," said Afghanistan Study Group director Matthew Hoh, who resigned from his post as a Foreign Service officer in Afghanistan in 2009 after concluding that the United States could not achieve its objectives there.
Hoh, a former Marine captain, added: "If Shuler, who has proven himself already to be a leader within the Democratic Party, takes a bigger role or steps forward on this issue, he could bring along other centrist Democrats (and possibly Republicans) who understand that our current policy in Afghanistan costs far more than it benefits this nation."
Shuler could not be reached for comment for this report, but said in a statement on his website that his vote was motivated by concerns about the costs of the war and the use of U.S. national security resources.
"They [U.S. troops] have also worked tirelessly to develop a stable and responsive democratic government there," Shuler said in the statement. "That task, however, cannot be completed by American military action. It can only be accomplished by the Afghan people. Our nation is mired in debt and programs vital to the health and safety of American communities are on the budget chopping block. With more than $454 billion already spent on operations in Afghanistan and another $113 billion requested for the next fiscal year, the time has come for our troops to come home and for the Afghan people to stand up for their nation."
In July, Shuler also voted for a defeated amendment that would have required President Obama to develop a plan and timetable to withdraw troops from Afghanistan, although it did not specify a deadline or pace.
A large number of the new votes for Kucinich's resolution this year came from progressive Democrats such as Reps. John Conyers (Mich.), Mike Honda (Calif.) and Diana DeGette (Colo.) -- members who might have been expected to back a rapid withdrawal last year, as well. A staffer for one Democratic lawmaker who opposed the measure last year but now supports it said in an email, "Back then there were more options for progressives. Now, fewer options and we're closer to July date. Progressives getting fed-up, less tolerant."
The three new Republican votes came from Reps. Jason Chaffetz (Utah), Howard Coble (N.C.) and Dana Rohrabacher (Calif.), all of whom have been outspoken in their criticism of the war's direction.
Notably, both Coble and Shuler are from North Carolina, a state with a heavy military presence, including eight bases. Rep. Walter Jones (R-N.C.), who represents the district encompassing Camp Lejeune, has become one of the leaders of the effort on the Republican side to convince more lawmakers to explore alternative courses of action in Afghanistan.
"I was disappointed that not more Republicans voted for it," Jones said regarding Kucinich's resolution. "I hope more and more Republicans out in the country will contact their members of Congress and ask them to join in bringing our troops home. Yes, we did get more votes from the year before, but I'm very disappointed we didn't get 15, 20 Republicans."
Jones said he was particularly troubled by comments from Defense Secretary Robert Gates and Gen. David Petraeus indicating that U.S. forces will remain in Afghanistan even beyond 2014.
"I don't know how any member of Congress -- particularly Republicans -- who are so concerned about the financial shape of our country want to spend $7 or 8 billion a month to prop up a corrupt government," he said, referring to Afghan President Hamid Karzai's regime. "It just doesn't make any sense to me. More important than that is the kids that will be killed and lose their arms and legs."
Calling all HuffPost superfans!
Sign up for membership to become a founding member and help shape HuffPost's next chapter