Heather French Henry, a former Miss America pageant winner with strong political ties in Kentucky, is the latest Democrat to draw buzz as a potential contender for the Senate seat currently held by Minority Leader Mitch McConnell (R).
"I'm not saying no yet, but I'm not saying yes," French Henry said, telling The Hill that she wasn't sure if the time was right.
In a separate interview with The Lexington Herald-Leader she cited her two daughters, ages 9 and 11, as well as her fashion business and work as a children's author as reasons she would delay plans to run for office.
Whispers surrounding a potential French Henry candidacy have quickly led to reminders of controversy surrounding her husband, former Lt. Gov. Steve Henry (D), which began shortly after their 2000 wedding, when a state audit found that state employees had used personal leave to work on the wedding.
In December 2009, Steve Henry accepted a plea deal in Franklin Circuit Court for three misdemeanors related to misusing campaign resources during his failed 2007 run in the Democratic primary for governor.

He was sentenced to a $500 fine and $156 in court costs, plus 12 months in jail, with the jail time suspended on the condition that Henry avoid further criminal problems for two years.
According to the Herald-Leader, Henry was also forced to pay a large settlement in a federal lawsuit over alleged Medicaid and Medicare fraud during his previous work as an orthopedic surgeon.
French Henry is the latest candidate to be caught up in the wave of political speculation that has washed over Kentucky Democrats who see McConnell as a particularly vulnerable target in 2014. Earlier this year, actress and activist Ashley Judd turned down a run after weeks of expressing interest.
Secretary of State Alison Lundergan Grimes has been considering a potential run for months, and reportedly has the support of high-profile Democratic backers such as former President Bill Clinton.
Kentucky Republicans have wasted no time trying to take the air out of the French Henry trial balloon.
"Heather French Henry is just the latest bottom-of-the-barrel pick for Kentucky Democrats in their desperate search for a 2014 Senate race savior to replace their noncommittal star, Alison Lundergan Grimes," Kelsey Cooper, a spokeswoman for the state GOP, said in an email to the Herald-Leader. "The fact that Democrats are encouraging someone with such egregious political baggage and no applicable qualifications to run in one of the most important Senate races in the country is a true indicator of their abysmal recruitment efforts."
Before You Go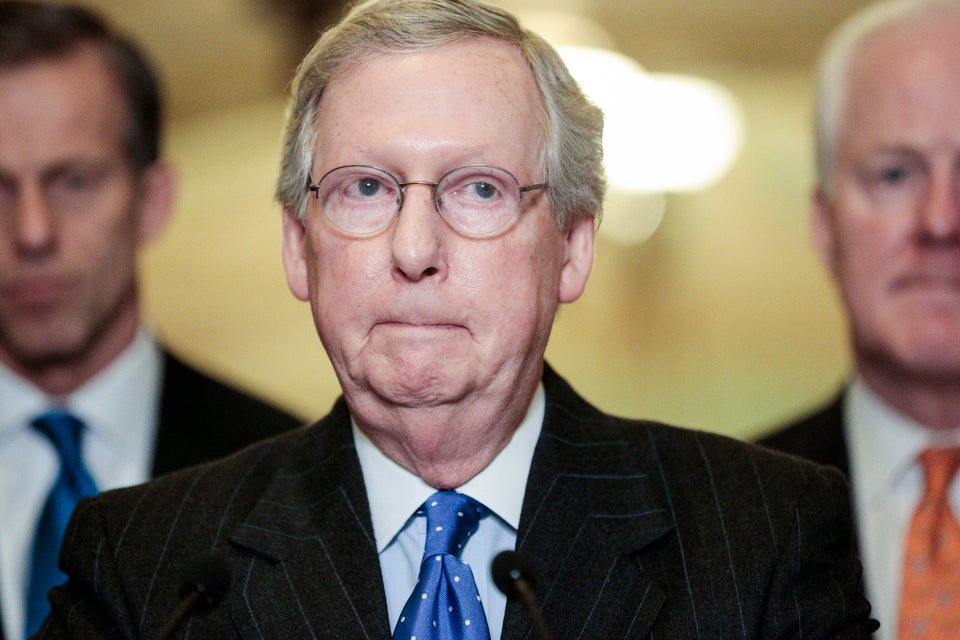 Say Cheese! Mitch McConnell Smiles
Popular in the Community