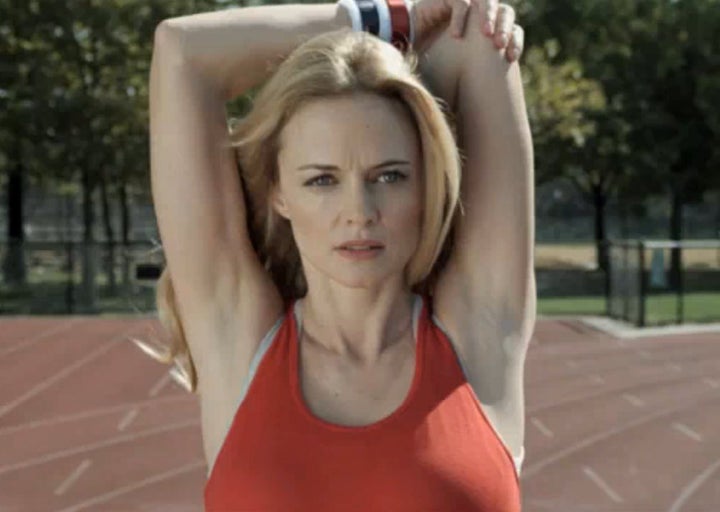 In a new frontier of the public option debate, progressives are getting a hand from movie star Heather Graham to pitch the much-discussed health care reform provision.
The actress is starring in a new television ad put out by the progressive advocacy organization, MoveOn.org, in what the group is calling a broader, week-long effort to target insurance companies.
Obtained exclusively by the Huffington Post, the spot casts Graham as a "public option" sprinter in race against "bloated" private insurers from CIGNA, Blue Cross/Blue Shield, United Health and Humana.
"Insurance companies have gotten lazy, bloated from the profits of raising our health care costs sky high while the health care crisis keeps getting worse," the script reads. "A public health insurance option is the key to quality affordable care for Americans. And over 70 percent of Americans want the public option. Some in Washington say this is unfair competition. But competition is as American as apple pie."
The actress, famous for her portrayal of Austin Power's sidekick and as Roller Girl in the film Boogie Nights, isn't the only famous character in the spot. MoveOn.org also solicited the work of Yaniv Raz (Graham's boyfriend and director of, among other things, Things Fall Apart) to put together the spot. The voice over, meanwhile, is that of acclaimed actor Peter Coyote.
The merging of Hollywood and progressive politics is a not uncommon affair. Though the alliance is normally saved for election year contests, not relatively wonkish policy disputes. Graham's openness to serve as a public option pitch woman truly underscores the extent to which the public option discussion has gone from a debate within the field of academia and think tanks to a national conversation fed (in part) by consistent cable news coverage.
Called "Track Meet," the ad will air on national cable channels, including MSNBC, CNN and Bravo in addition to a major push on the web. An official with the group says that they are putting "six figures" behind the purchase.
"The public option is our best shot at affordable health care for all, and I was honored to portray the public option," Graham said in a statement accompanying the ad's release.
Popular in the Community