There is a time in a friendship when you meet a lifelong friend and feel honored to have ever met her. I'm remembering the multi talented singer and actress Heather Mac Rae whom I have known since 1972. Heather plays a man in John Van Druten's great 1944 play I Remember Mama at the magnificent Two Rivers Theatre in Red Bank, New Jersey until June 26. "Mama" is a celebration of family values and about the birth of a writer. While it is a bit dated, the moth balls come off in the second act and a lively ensemble celebrates Mama and her bank account which never existed. It was invented by Mama to give hope and faith to a dirt poor family of Norwegian immigrants living in San Francisco at the turn of the century. Mama had never been inside a bank.
I was proud to see Heather play Nels, a role originated by a young Marlon Brando on Broadway. A group of ten actresses all over 60, play 25 roles about this Norwegian working class family. This version of the play was originally produced by the Transport Group Theatre Company and celebrated as one of the Best Theatre Productions of 2014 by the New York Times and The New Yorker.
Just last year Heather starred in a Hair Retrospective at Kansas City Rep. Heather played Sheila in the original Broadway version of Hair. She also had starred in Falsettos and numerous musicals, plays and Woody Allen's Everything You Ever Wanted to Know About Sex. Recently she won a MAC and a Bistro Award for her critically acclaimed solo show Songs for My Father. Her father is Gordon- Oklahoma!- Mac Rae.
This "Mama" ensemble includes Barbara Andres "Mama" (Cabaret), Alice Cannon (The Dead), Lyn Cohen (The Hunger Games), Rita Gardner (The Fantastics), Marjorie Johnson (Dot), Mia Katigbak (Awake and Sing), Susan Lehman (Girls), Louise Sorrel (The Days of Our Lives), and Dale Soules (Orange is the New Black). Jack Cummings III directs this masterful production in the splendid Two River Theatre, a modern architecture achievement which make a trip to New Jersey fun and inspiring.
"Mama" is about her daughter Katrin's struggle to be a creative force. Katrin (Mia Katigbak) tries acting all the while submitting her journalistic efforts to magazines facing rejection after rejection. Mama sees an article about a famous writer coming to town. She waits two hours to meet this snobbish writer (Louise Sorrel) whom Mama had read was into gastronomy. Mama offers to exchange her secret recipes if this writer will read her daughter's work. And thus Katrin becomes a published author of an article in which the introduction ends with, "But first and foremost, I remember Mama." The famous author tells Mama that Katrin's work is terrible, but sees her talent and says, "A writer must write about what a writer knows."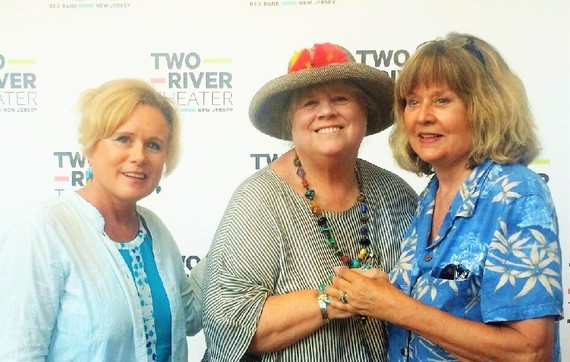 Audrey, Heather, and Carole
And so I want to write about Heather who was with me for my beloved poodle's death which signified the end of my engagement to Claude Picasso, Pablo's son.. Heather who sang Surrey with the Fringe on the Top with her awe inspiring mother Sheila Mac Rae to my ninety-five-year-old wheel chair bound mother in a café by Lincoln Center. Heather who lunched with my former mentor Norman Mailer and me and heard him preach, "A writer must write what a writer knows." Because of Heather's steadfast friendship, she is family to me almost as much as my niece Audrey Wright who also came to the Two Rivers Theatre. Therefore seeing this play about remembering who is important in your life, helped me to realize that I will always remember Heather Mac Rae.
Calling all HuffPost superfans!
Sign up for membership to become a founding member and help shape HuffPost's next chapter