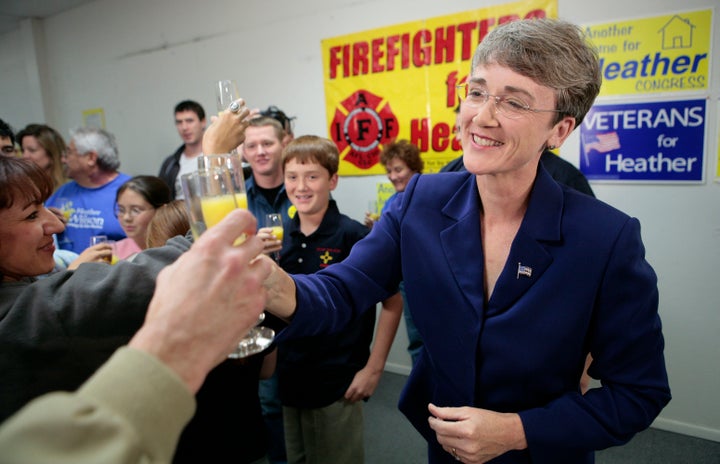 Republican Sen. Lisa Murkowski is flying from Alaska all the way to New Mexico to hold a fundraiser for fellow Republican Rep. Heather Wilson. Republicans are hoping Wilson will be able to take over a U.S. Senate seat for the party in that state.
The luncheon fundraiser will take place Tuesday in Carlsbad, N.M., and will cost at least $1,000 to attend, according to the invitation.
Both parties have high hopes for filling the seat of retiring Sen. Jeff Bingaman, a Democrat. Wilson is expected to compete against Democratic Rep. Martin Heinrich. Polls show a tight general election race between the two.
Murkowski recently made national headlines for criticizing her party for its focus on reproductive rights.
Murkowski, who is one of a dwindling number of pro-choice Republicans in Congress, also said that she would continue to support funding for Planned Parenthood. She criticized GOP presidential candidates for not condemning right-wing radio host Rush Limbaugh for calling Georgetown law student Sandra Fluke a "slut" and a "prostitute." Wilson's campaign did not return a request for comment about whether she agreed with Murkowski's comments.

Wilson recently came out against President Barack Obama's rule requiring religious organizations to offer birth control coverage on their health care plans, reaffirming in a blog post on her website that she is "pro-life." In the past, however, Wilson has also been attacked by the conservative Susan B. Anthony List, which said her record was "anything but pro-life.
Calling all HuffPost superfans!
Sign up for membership to become a founding member and help shape HuffPost's next chapter