Is it possible to die, take a quick look around, and come back to life to describe what you found? Seekers have asked the question for millennia, with the answers elusive and inconclusive at best.
A new film purports to give a glimpse into what people of all faiths -- and those of none -- frequently debate about heaven's defining features: angels, fields of green, tunnels of light and other common descriptors of life after death. It's reviving a conversation among not only the religious, but also the small and growing community of Americans who research and say they know first-hand about the near-death experience.
"Heaven is for Real" is a $12-million Christian drama about Colton Burpo, the 4-year-old son of a Nebraska pastor who comes close to death during an emergency appendicitis operation, only to recover and tell a tale of visiting heaven, where he speaks with characters from his family's history. They include the great-grandfather he never met and the older sister he never had (his mother miscarried before he was born, an agonizing ordeal his parents had kept to themselves). He also describes seeing John the Baptist and meeting Jesus, who rides a rainbow-colored horse and lets the boy sit in his lap.
The movie is based upon a best-selling book by the same name, co-authored with Colton Burpo's father Todd, the pastor. It has grossed an estimated $28 million since its Wednesday release.
"There's an incredible interest over the years in this idea of dying and coming back to life and having a peek into the heavenly," said Gary Smith, a history professor at Grove City College in Pennsylvania who wrote the book Heaven in the American Imagination. The film, Smith says, hits "a precise point of fascination and contention among Americans."
Smith cites past releases such as 90 Minutes in Heaven, a 2004 book by Don Piper that stayed on The New York Times best-seller list for four years, and 2010's The Boy Who Came Back from Heaven, in which Kevin Malarkey, a Christian therapist in Columbus, Ohio, writes about what his 6-year-old son described to him as a short visit to the afterlife after a paralyzing car accident. In 2012, Eben Alexander's book, Proof of Heaven: A Neurosurgeon's Journey into the Afterlife, garnered headlines for his recounting of being turned from an atheist to a believer during his seven-day coma battling meningitis.
The makers of "Heaven is for Real," which has so far received mixed reviews, say they aren't just producing entertainment, but hoping to spur a discussion.
"Churches should talk more about heaven," said Todd Burpo, a pastor at Crossroads Wesleyan in Imperial, Neb. He says he rarely studied or preached about heaven, and had doubts about near-death experiences before Colton's journey. "We seem to avoid talking about things like life and death until we are confronted with them, like at a funeral, but it can be comforting to know there is more out there. Still, heaven is so much bigger than one person or one story."
For that very reason, the film has its share of critics, and not only among skeptics of religion.
"For anyone who truly believes the Biblical record, it is impossible to resist the conclusion that these modern testimonies -- with their relentless self-focus and the relatively scant attention they pay to the glory of God -- are simply untrue," Baptist author and radio host John MacArthur wrote last month. "They are either figments of the human imagination (dreams, hallucinations, false memories, fantasies, and in the worst cases, deliberate lies), or else they are products of demonic deception."
Among those who believe in near-death experiences, there are also detractors. Nan Bush, a blogger on near-death issues, said she believes in Colton Burpo visited another place during his near-death, but said the story has become "more elaborate and more doctrinally focused as the now-teen has expanded on it over several years." Bush criticized the film's focus on "Christian exclusivity and holy warfare that puts Revelation imagery into the hands of human warriors resembling Marvel comic book heroes." (In the book, Colton Burpo is told that the righteous, such as his father, would be fighters in a last battle on Earth). Though "positive" near-death experiences get the bulk of media coverage, there are terrifying, dark ones that often are ignored, Bush writes in her book, Dancing Past the Dark: Distressing Near-Death Experiences.
On the other hand, the film has amassed a strong lineup of popular evangelicals supporting it, such as Rev. Samuel Rodriguez, president of the National Hispanic Christian Leadership Conference. "It speaks to the power of purity, how purity and innocence really carry the potential to see what others do not see. That's what I call … holy, integrity, righteousness," Rodriguez said in a recent video that called on pastors to take congregations to theaters. Christian message boards and blogs teem with praises of the film.
Rodriguez is one of many on a roster of A-list roster of pastors and big-name Christians gunning for "Heaven is for Real," including the couple behind HBO's "The Bible and Son of God" series, and Bishop T.D. Jakes, the pastor of Dallas-based megachurch The Potter's House. The movie comes at a popular time for faith and spirituality in Hollywood, from the recent release of Darren Aronofsky's "Noah" and the surprise hit "God's Not Dead."
Jakes, who co-produced the film, contends it was "never meant to be a movie on eschatology, but on a little boy's testimony." But at the same time, he added, "There's not one person who hasn't lost a loved one in some way and has a hope of reuniting with them."
"The fact that people [who have near-death experiences] experience it alone, by themselves, leaves us totally dependent on them because we can't corroborate. We have to trust people that say, 'This is what happened to me," Jakes said. "The story of Todd Burpo [and Colton Burpo] proves to us that faith, fear and doubt can cohabitate in the same human being, that those who preach don't always have the answers."
Every day in the U.S., an average of 774 near-death experiences happen, according to the Near-Death Experience Research Foundation, an organization run since 1999 by Jeffrey Long, a Houma, La.-based physician who specializes in radiation oncology and is part of a wide network of independent researchers on near-death experiences. In 1991, the last time Gallup polled Americans on near-death experiences, about 63 percent said they believed in they were plausible. A 1997 Gallup poll that asked if people had experienced a "close call" with death found that 35 percent had.
And even the term "near-death experience" is relatively new, having been coined in 1975 in psychologist Raymond Moody's book Life after Life: The Investigation of a Phenomenon -- Survival of Bodily Death. Of the nearly 800 testimonies that the Durham, N.C.-based International Association for Near-Death Studies has catalogued, about a quarter happened while people were clinically dead. The rest happened during moments of near catastrophe -- like Colton Burpo's operation, during which he didn't clinically die --- or at the other end of the spectrum, moments of intense meditation or hypnosis-like therapy intended to induce an out-of-body experience.
"The stories vary, though they usually involve something like being in a place of all-knowledge or a city of light, seeing a tunnel, heaven or angels, being out of your body and watching yourself or a very fast life review before people are told or have the feeling they need to 'come back' to life," said Robert Mays, a retired software engineer and former high school chemistry teacher who is a board member of International Association for Near-Death Studies. "The theory is that consciousness can separate from the body itself."
There's no way to prove that near-death experiences are real. Some scientists have suggested that they are
"Near-death journeys, perhaps more so than many other transformative personal religious experiences, are the closest thing to proof of God's existence [for many]," said Smith, explaining why they are so compelling in film, books and religious testimonies.
He said a culture of "wanting proof" of faith and proselytizing has increased the fervor around near-death stories. The American curiosity about the afterlife, he added, stems from a natural realization of adulthood.
"We all will die someday," Smith said, "and we want to know about what comes next."
Before You Go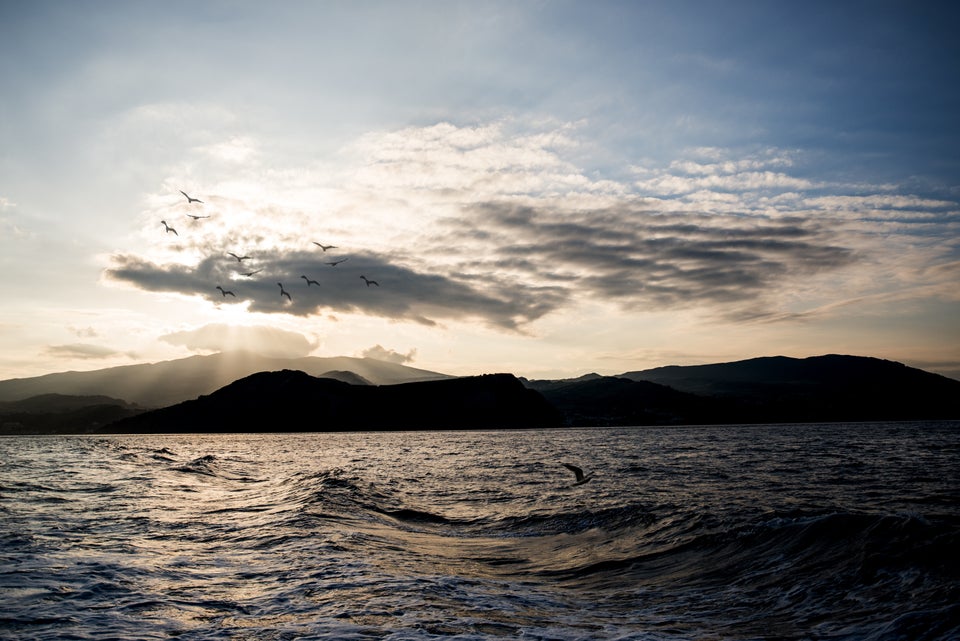 On Heaven
Popular in the Community