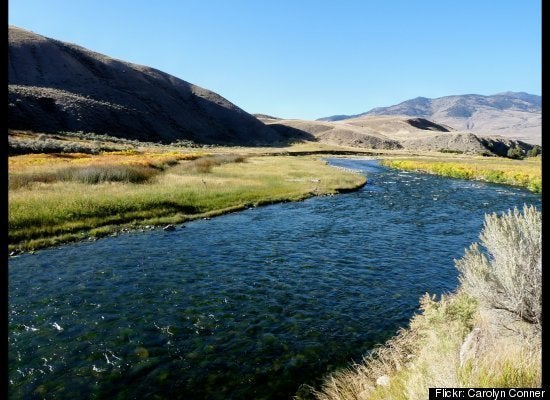 Symbiosis is the association of two different organisms that live attached to each other and contribute to each other's support. I wasn't expecting to read about symbiosis when I first opened Heaven on Earth: Stories of Fly Fishing, Fun & Faith, but as I read Andy Wayment's first book I realized that he tells a story of the mutually-supportive relationship he has with creek fish. Andy (or Ange, a nickname I borrowed from The Andy Griffith Show's Barney Fife and gave to Andy when we were in college) describes how important the outdoors and fly fishing are to his mental, spiritual, and family health. While pursuing his passion, Andy witnesses the destructive acts of humans that threaten the delicate ecosystems that support his cherished fly fishing. The book reaffirms that the things that matter to us require our attention, efforts, and resources.
Ostensibly, Heaven on Earth is a mostly-chronological series of feel-good stories about a man and his passion for fly fishing. Writing in a tone reminiscent of John Grogan's in Marley and Me, Andy provides a warm and welcoming look into his life from his earliest memories to his current status as a family man and successful attorney in Idaho. Despite Andy's admitted obsession with fly fishing, the book really isn't about a sportsman -- it's about a human and his relationships with others and nature.
Andy does not spare himself as he writes about triumphs, tragedies, challenges, and embarrassments that happen on fly-fishing outings or during his daily comings and goings. In the latter case, Andy often retreats to his favorite (or, at times, most convenient) fishing holes for comfort, solace, and new energy to face life. Andy reveals the integral role such outings play in relationships he has with family, friends, work associates, and beloved pets. Even family vehicles and treasured fishing equipment enter the complex web of relationships that come within the influence of Andy's fly fishing.
Andy's love for fly fishing has its roots in his early life. During that period, outdoor adventure provided him the opportunity to bond with his father, who, at the time, was mostly detached from his family. Those experiences gave Andy a love for the outdoors, which became an important part of his life. In fact, Andy recognizes that during a period of a few years of his youth, when he lived outside the Mountain West and lacked access to the outdoors he loves, he found himself wandering. The relationship he had formed with his parents (in part through outdoor activity) in earlier years helped him regain the direction that most suited him.
Andy rejoiced in the experiences he had with his father in the outdoors and joyously talks about how he was able in later years to further strengthen that relationship by introducing his father to fly fishing. Andy was then able to learn new aspects about fly fishing as his father trained his keen physician's intellect on the sport and shared his new-found knowledge with Andy.
Fly fishing also helped Andy cope with the stresses of law school and thrive in that environment. Andy entered law school ready to read and study the Constitution. He soon found that his law school's culture did not suit him. In particular, he found the petty competition among fellow students was against his personal constitution. Fortunately, attending law school in northern Idaho presented Andy with many opportunities to seek relief from the law school environment in the beautiful country in that region. Those outings helped Andy maintain perspective and, much to his classmates' surprise, appeared to help Andy excel in the law school's intellectual environment. Similarly, when Andy and his wife Kristin experienced the grief of losing a much-wanted near-birth child, Andy sought solace in his beloved outdoors.
Andy's father-in-law introduced him to fly fishing. Fly fishing provided the venue for the two to bond and share a mutual love for the outdoors. In later years, Andy's affection for his in-laws increased as they annually joined together for a major family camping and fishing trip. In fact, Andy reveals how the family bonded together on one such trip when they played the ultimate prank on Andy, the obsessed fisherman.
Indeed, Andy gives his stories legitimacy by laughing at himself and revealing his own flaws. For example, he shows how his passion for fishing helped him finagle a planned trip to a remote lake in the guise of a horse-riding adventure for his horse-obsessed daughter. Andy's passion for fishing compelled him to push the party forward with the horse-riding plan even though one of the horses had become extremely jittery following a night in the open in the proximity of a prowling mountain lion. After that jittery horse had thrown its rider twice, the party finally gave up on the idea of reaching the remote lake by horseback and set their sights on another lake. The changed objective only led to more mishaps as the party tried to maneuver an over-sized horse trailer through the tight roads of a lake camping sight. In telling these stories, Andy recognized his obsession caused the follies. These types of self-deprecating stories reveal Andy's self confidence and help us all feel a bit more comfortable about the mishaps we encounter in life as we pursue the remote reaches of our own interests and passions.
Despite his love for nature, and fly fishing in particular, Andy definitely does not present himself as a rugged individualist. To the contrary, he recognizes he is part of a complex web of relationships, one which includes all the trappings of his beloved fly fishing. Consequently, a person does not have to appreciate the outdoors (or fly fishing for that matter) to appreciate Andy's book. Andy does not push his interest onto others or attempt to convince us to adopt his passion. Nor does he overburden the reader with technical fishing details. He uses a pleasant style to give us access to places and events that would otherwise be beyond our reach.
I spent my childhood and college years in Idaho, but I don't particularly enjoy the type of outdoor activities that Andy describes (that might explain in part why I choose to live in Brooklyn, New York). Nonetheless, I thoroughly enjoyed Andy's tales and read the book through to the end with great interest.
I also appreciated Andy's recognition that failure to care for our delicate environment will destroy the activity that he loves. The fish and outdoors that provide so much for Andy require the support (or perhaps lack of interference) of humans. Andy recognizes that need and makes general observations to that effect. Indeed, as I read Andy's book I recognized the symbiosis he has with creek fish. The outdoors and fishing sustained Andy as he worked through law school and other challenges in life, helping him obtain the credentials, peace, and security he now enjoys.
With his position of influence as an attorney and his perspective as an avid outdoorsman, Andy is perhaps most suited to help preserve the delicate systems that creek fish require. A source of Andy's solace and spiritual strength is found in a system that cannot help itself. A symbiotic relationship requires the assistance of two organisms. The system that sustains Andy could be lost without his aid. Such realization should cause each of us to pause and consider the systems that support us and require our assistance.
I look forward to Andy's next book. The only request I would make for such additional volume is that it include photos of the beautiful locations he frequents to complement the wonderful stories and beautiful descriptions he provides in writing.

Related
Popular in the Community