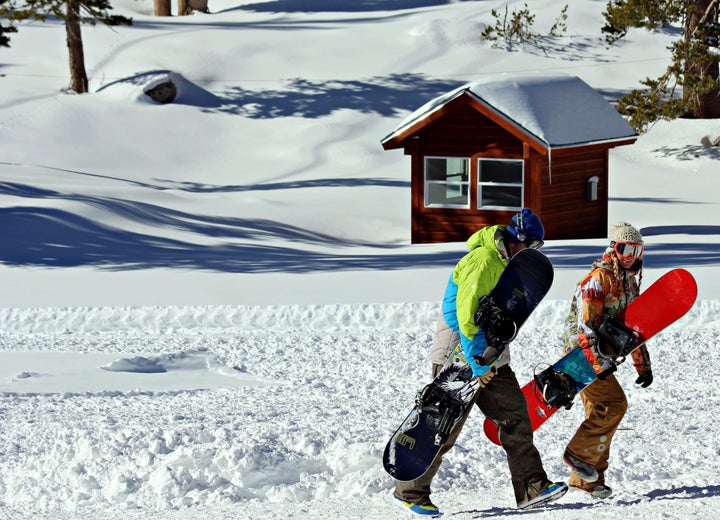 Heavenly Ski Resort in California is a popular destination for skiers and snowboarders. As part of a series on ski resorts, Huffington Post Travel offers our guide to Heavenly Ski Resort, featuring all the key information snow lovers need to know before they hit the slopes.
The Basics
Located near the borders of California and Nevada,
, with 4,800 acres of terrain, is one of seven resorts in Lake Tahoe. It is one hour from the Reno-Tahoe International Airport and two hours from the Sacramento International Airport. Heavenly Ski Resort offers some of the most beautiful views in the world, overlooking Lake Tahoe's azure blue water. Skiers and snowboarders alike can enjoy challenging steep runs, hidden glades, tree runs and terrain parks. The resort is open Monday through Friday from 9 a.m. to 4 p.m. and Saturday, Sunday and holidays from 8:30 a.m. to 4 p.m. It is located off three major highways, making it easily accessible.
The Mountain
The summit at Heavenly Ski Resort is the highest in Lake Tahoe. It is 10,067 feet, and it has the longest vertical drop in California -- 3,500 feet long. The ski season at Lake Tahoe generally is from mid-November (Thanksgiving is the unofficial kickoff weekend) through April, depending on snowfall. Heavenly Ski Resort has an average of 360 inches of snowfall a year and, because this is California, many days are Bluebird days with bright sun combined with fresh snow. On days when it doesn't snow, snowmakers and groomers ensure that the terrain has good conditions. Heavenly is home to the largest snowmaking system on the West Coast. The
shows which lifts and runs are open on any given day.
Trails And Lifts
Heavenly Ski Resort has
. Because of the size and varied terrain of the resort, everyone from beginners to experts can find a suitable area. Twenty percent of the trails are easy, 45 percent are more difficult and 35 percent are most difficult. The resort has magic carpets, a gondola, a tram, high-speed sixes, high-speed quads, chair lifts and surface lifts. Activities include Alpine skiing, cross-country skiing, snow tubing, snowboarding, three terrain parks for snowboarders and snowshoe trails. Snowboarders enjoy the 300-foot long super pipe with 13-foot walls.
In The News
To maintain its position as "Lake Tahoe's premier ski and snowboard destination," Pete Sonntag, vice-president of Heavenly, said that improvements made at the resort include upgrading the ski school to a
Three members of the ski school are from the Professional Ski Instructors of America's National Demonstration Team, and six members of the school are from the Western Demonstration Team. A 2,022-square foot kids' ski school is part of the addition that can cater to 100 kids at once. Kids can also enjoy a ski adventure zone called Black Bear Hollow, with meandering ski trails and wood carvings of animals. These improvements and more in other Lake Tahoe resorts are part of an effort to make a bid for hosting the 2022 Winter Olympics. The Winter Olympic Games were held in Lake Tahoe in 1960.
Cost
A one-day lift ticket for children 5 to 12 years old is $50. It costs $79 for teens 13 to 18, $88 for adults 19 to 64 and $79 for seniors who are 65 and older. There are also packages available for two days up to seven days. A seven-day lift ticket for an adult costs $588, a savings of $28. More details are available at the
page. Various
are also available.
are priced according to the package. A one-day sport rental package for beginning skiers, which includes skis, boots and poles, and the one-day snowboard rental package, which includes board, boots and bindings, costs $36.30. Prices go up, depending on what type of equipment is rented and for how many days. For an additional fee, a rental delivery service brings rental equipment to guests.
for adults and children are available and range in price. Interested parties select a location and a date and can see what is available and the price.
Apres-Ski
Nightlife in Lake Tahoe is no small-town affair. One might think of Vegas, but for an outdoorsy crowd. People can stay on the mountain for ski parties hosted at Tamarack Lodge, or they can take in a
, gamble at a
or party at a nightclub. Any sort of
is available, from a fancy sit-down dinner type to a casual place for families.
offers shopping, movies, dining and miniature golf.
WATCH: Heavenly Ski Resort
Whether it's skiing or snowboarding, both kick up some great powder at Heavenly Ski Resort.
Related