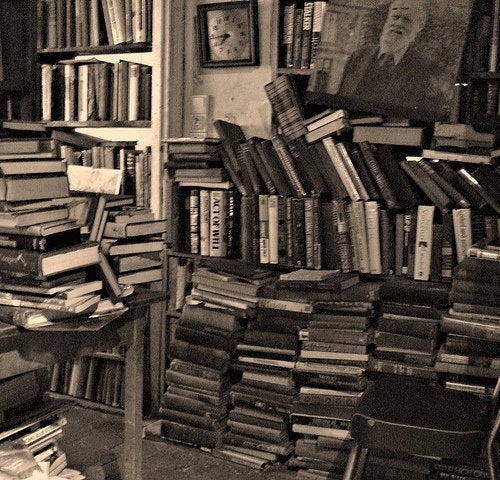 I set out for Princeton University last week with one question in mind: Why is romance fiction doing so well during our current recession? I was fascinated by a recent article in The New York Times which reported that "Harlequin Enterprises, the queen of the romance world" saw "fourth-quarter earnings [2008] up 32 percent over the same period a year earlier." But the accompanying explanation that "escapist urges" are fueling these sales wasn't satisfactory for me. Isn't all fiction escapist in some way? I wondered. And why are readers escaping into this particular kind of fiction?
Hence I headed for Princeton.
The university is known for its theories of relativity more than its theories on Harlequin novels. Last week, however, it hosted a unique two day symposium which promised to take romance fiction seriously. Bringing together scholars, romance writers, and reviewers, the symposium's specific focus would be "the multiple ways that romance novels--long the most maligned of literary texts--can provide rich critical insight for the study of American culture, politics, and society."
During the opening keynote panel, I thought my question about the recession-busting appeal of romance had been answered. Jennifer Cruise, a best selling romance author, argued that romance novels present an "emotionally just landscape;" a landscape in which a good, honest heroine will always be rewarded with her happily ever after - or "optimistic ending," as Crusie preferred to call it.
Although Crusie wasn't talking specifically about the appeal of romance in this recession, it struck me that these "emotionally just landscapes" are perfect antidotes for our current times. When shady Madoffs are making off with billions of dollars and banking executives are awarding themselves huge bonuses from bailout monies (while the rest of us watch our 401ks disappear like puddles in the midday sun), the appeal of a world where integrity and honesty are rewarded seems obvious.
But as the Princeton conference continued, I realized that it was too hasty to rush to this conclusion. Romances are not one kind of thing. Neither are their readers. And to draw fast conclusions about the genre and its audience is to perpetuate the kind of stereotyping which has always made romance the "most maligned of literary texts."
Over the next day and a half, speakers at the symposium made clear the incredible variety within the romance genre. Werewolves, vampires, shape-shifters, elves, Duchesses, sheikhs, bondage-lovers, bisexuals, gay men, slaves, ghosts, frontier women and evangelical Christians are all the stuff of romance fiction these days. Moreover, this heterogeneous cast of characters appears in an equally heterogeneous range of stories.
There is always a love plot and a happy ending, of course, but what happens around and prior to these things runs the whole gamut.

Beverly Jenkins, a best selling author of African American historical romances, for example, spoke of her book about a free man who goes back into slavery for love. Another author, Ann Herendeen, described her comical "bisexual regency romance" in which her heroine ends up married to a man - and his male lover. Professor Mary Bly, a Shakespeare scholar and bestselling romance author who writes under the penname Eloisa James, analyzed J.R.Ward's Black Dagger Brotherhood novels which feature a band of hypermasculinized vampires defending their race against their slayers.
Undermining the stereotype about the formulaic, bodice-ripping sameness of the genre, characters and stories in today's romance world are staggeringly varied.
"She's rather dim and kind of tubby - undereducated and undersexed - and she displays a distressing affinity for mom jeans and sweaters covered in puffy paint and appliquéd kittens."
But as Wendell pointed out to me at the conference (she was also a presenter) the romance audience is incredibly varied: "We are everywhere, but sometimes the books we love are the only thing we have in common." One in every five books sold is a romance so it's not really surprising that its readers come from every class, every race, and every educational background. These readers enjoy romance in different ways and seek it out for a whole host of reasons.
On a panel about romance fiction and sexuality, Professor Guy Mark Foster admitted to the Princeton audience that inter-racial romances held scholarly interest for him. But also, as an African American gay man in a long term relationship with a white man, he found reassurance and a refreshing engagement with issues of race within stories of black women falling in love with white men. Another professor, Sally Goade, described Sara Donati's historical romances about frontier women and admitted that, as a busy wife and academic, these stories about women learning to live in the wilderness tapped into her own "fantasies of freedom."
Romances offer very different things to very different readers, therefore, and to lump the genre and its audience together is short-sighted - and problematic. This point was driven home to me during Professor Emily Haddad's paper about the depiction of the Middle East in romances featuring sheikhs. Haddad drew on Edward Said's theory of Orientalism which describes the way the West constructs and "others" the East through its writings and discourses. For too long, romance has been the "East" and "other" of the literary world: talked about in generalities, pigeonholed, and not understood for its nuances and variety.
I may not have gotten my answer for why romance is selling so well in our troubled times, but the Princeton conference taught me that to rush to conclusions about romance fiction is to flatten out a rich, varied, and continually evolving genre. In the end, though, I did conclude one thing. People read and enjoy romance just as people deal with hard economic times: differently.

Support HuffPost
The Stakes Have Never Been Higher
Related
Popular in the Community