The other day I got into my car and threw my pocketbook onto the empty passenger seat. The "Fasten Your Seatbelt" alarm sounded and I was momentarily scared out of my wits. Was I living one of those YouTube clips that warn you to always look in the backseat before pulling away? I was either a daydreamer or someone with acute intuition (and paranoia) who sensed that there might be someone crouching in there. Thinking fast, I grabbed the plastic bag of quarters we keep in the door compartment and stuffed it under my seat. I was being cautious because ... well, you never know.
In full disclosure, here is the pathetic reality about the still-in-the-parking lot pandemonium taking place in my BMW: my pocketbook was so heavy that the seat registered it as a human being who needed to have their seatbelt fastened. The blaring questions are, "Why do I carry such a huge pocketbook; and why does it weigh as much as a third grader?"
I reflected back to grammar school when I carried a small white basket-shaped pocketbook that hinged close and was lined with blue gingham. There was a small bouquet of plastic mini-daffodils stapled on top, hardly adding a fraction of an ounce. In this little treasure box was what every healthy seven-year-old would need at any given moment: a hankie, a roll of fruit Lifesavers and a plastic comb. Life was simple. Life was good. Where had I gone wrong?
When I got to my destination, I poured it all out -- figuratively and literally. Most assuredly, there was nothing in my pocketbook that I couldn't live without. Except for three pairs of reading glasses in soft cases, a few (hundred) lip glosses in shades that could carry me from summer through winter palettes, my iPhone, my wallet and a few scroungy reporter's notebooks. There was no way I would throw away a pair of 3-D glasses. I might need them for the next eclipse or meteor shower. I snapped open a hard, black glass case. Wait, why is it empty? (And while we're here, has anyone seen my sunglasses?)
And why do I have a Christmas card that needs to be mailed to France and it's now July? Being that European postal services are often slower than ours, if I mail the card now, it will arrive by next Christmas (which will make me look like I'm completely organized with getting my holiday cards out on time).
By putting all the junk in my pocketbook on the table, I could see that it would do me well to chuck the large container contact lens solution, the three hairbrushes (one is enough), hand creams from hotels, shampoo and conditioner both in the 32 fluid ounce size (Note to self: save space and look for a product that is a shampoo-slash-conditioner), a dried mascara and a half-eaten granola bar covered in a rare genus of bottom-of-the-pocketbook mung. Two Moleskine journals, an old Vanity Fair, a full bottle of water, a copy of "I am Charlotte Simmons" (by Tom Wolfe), "Me Talk Pretty One Day" (by David Sedaris), dancing shoes for Zumba, water shoes for kayaking, one gym sneaker, a handful of highlighters in red, pink, green, orange and yellow ... the list goes on. Those are just the small things. I'm not even going to mention the other dispensable accoutrements that were part of my haz-mat clean up.
Are suitcase-like pocketbooks an over-indulgence? I decided to ask my sister, a minimalist artist.
"I never wanted to be a big-pocketbook person, but I think I've turned into one," she said.
Toujours chic, my sister was carrying a honking, high designer, soft leather pocketbook that was large enough for a two-week family vacation. It turns out, though, that the pocketbook's bark was louder than its bite.
"This thing weighs a ton," she confided, "and nothing is even in it. In fact, the actual bag weighs far more than all of its contents."
My sister turned her fancy-shmancy pocketbook upside down and out poured one lip gloss, a checkbook, a wallet, reading and sun glasses, a travel-size hand cream, Altoids and one pen.
I was ashamed that I was carrying so much junk and decided it was time for reformation.
See me walking down the street today and you will notice that my pocketbook is small and stylish. I don't schlep around half as much as I used to and I hope to never again set off a seatbelt alarm because my heavy pocketbook tripped the sensors.
In fact, in seeking to pack more sparingly, I am now going to make the bold move of calling my pocketbook a "purse."
There. I lost two syllables... I feel so much lighter.
Meanwhile, click through the slideshow below to see what's inside the Stylelist editors' purses and handbags.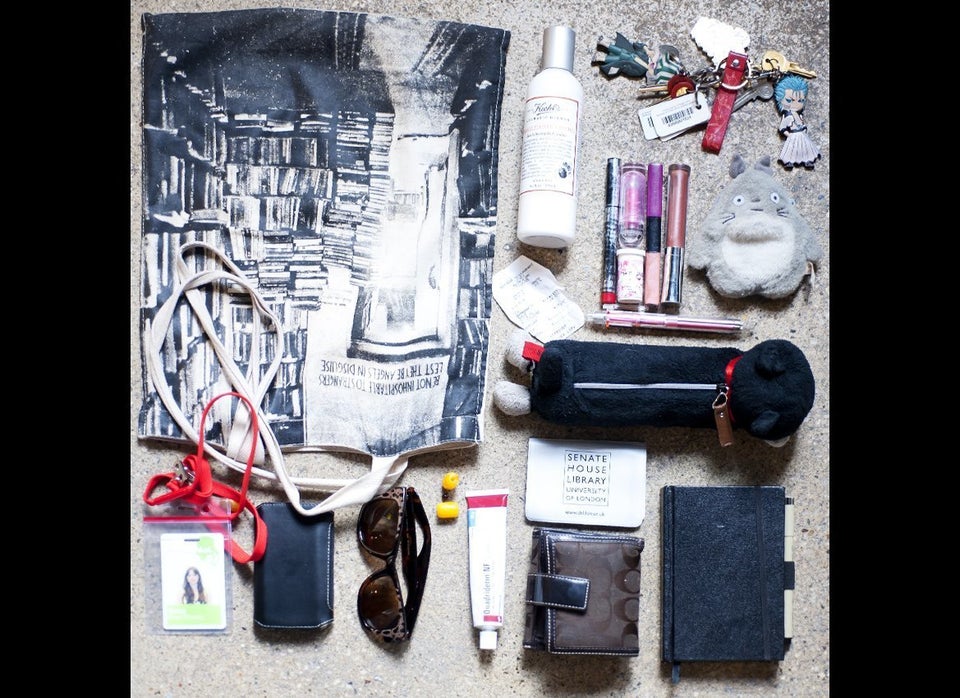 What's In Our Purses
Popular in the Community