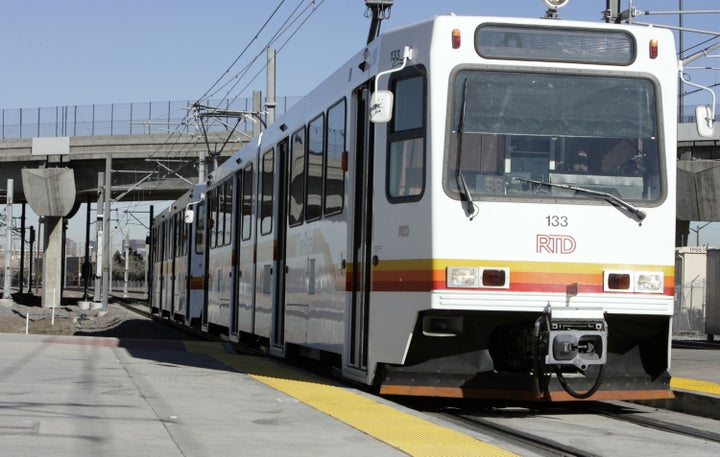 Denver Six Shooter is a bargoing blog for the literate, urban lush. Six Shooter writers hit six Denver-area bars in one night, have a drink at each, and write a story about it. Here, Six Shooter's Ewing Klipspringer does the only sane thing when he finds out that the light rail's D Line makes exactly six stops between his office and his final destination: He drinks his way home.

My choices as I step off the train under the Colorado Convention Center (14th & Stout) are Bubba Gump Shrimp Co., La Boheme, or the Corner Office. Not really a choice at all – there's only one place a guy without an expense account would go.
The Corner Office is retro, slick, and just a little homey, under the right circumstances. For some reason, this particular visit finds me not in the mood to chat with the tattooed hipster bartenders or the vaguely distracted waitresses. The drink is refreshing, though, consisting of Jim Beam, ginger ale, and freshly grated ginger. I've definitely had fun here before in larger groups, so maybe I'm just feeling antisocial after a day of staring at the computer screen.
Back at the light rail platform, I notice for the first time an interactive art piece that encourages viewers to attempt dance moves in front of a giant reflective screen. Some artist's subtle way of ridiculing tourists. The big blue bear stares longingly through the convention center windows like an underage drinker denied his first chance to use a fake ID. Poor sad, sober bear.


Beam with a PBR chaser, $7
I've seen this place when driving south on Kalamath, so I know it's the closest place to the Auraria stop (Colfax & Kalamath). It's either this or the nearby Hoffbrau Bar & Grill, but I've heard really bad things about that place, so Kazmos it is.
It's pretty much empty when I walk in; just a couple of patrons, bartender Gene, off-duty bartender Doug, and the owner, who is busy attempting to be polite to a couple of energy drink sales reps. Kazmos is a dance club at heart, and Gene tells me the place is usually packed after dark. They also have an early liquor license, so they open at 7 a.m. every Sunday and keep the music pumping for the crowd that just can't go home, even after the other clubs close and the after-hours joints call it quits. I didn't even know Denver had zombie culture.
The guys who run the place are fun, though, so I stay and chat, mostly about their various music nights, but also about the lack of a bar scene on this end of town. Funny, since it's only one stop away from the heart of downtown.
Ft. Collins Brewing Retro Red, $5
The Buckhorn is an oasis in a sea of low-rent apartments. It's like Devil's Tower standing solo on a buffalo-grass prairie. It's the only place within miles for a lonely drifter to get a cold beer and a platter of bull testicles.
The Buckhorn was old when the décor that inspired the interior of the Corner Office was cutting edge, but somehow I feel completely at home here amidst the mounted animal heads, the rifle displays, and the sepia-tint photos. I could spend a long night here downing whiskey and listening to the autoharp player, who looks like he could be Sam Elliott's grandfather.
I talk to an older couple who are visiting Denver for the first time. Part of me wants to apologize for the Old West theme, but I realize that this is not really a theme. It's just the way the place evolved. It's not corny, gimmicky, or crass. It's just a comfortable old bar that happens to fit a stereotype of Denver as cowtown. At least they are here instead of some soulless, corporate-owned version of a Western steakhouse.
I stuff about a bushel of breaded testicles in my mouth, wash it down with my beer and head out into the night.


Walking off the Alameda St. platform, I run into the overpowering stench of a welding warehouse that occupies the back side of this township-sized strip mall. It's a dizzying blend of animal urine and rust, as if the warehouse is a secret barn for robot cows made from the scraps of metal left over from the light rail construction project. I quickly cross a vast parking lot that is remarkably suburban in nature, despite the Broadway location. Beyond the K-Mart, the Albertson's, and the Pep Boys, I see the neon beacon of the Blue Bonnet, one of Denver's most undeserving icons of Mexican food. It's muggy and close inside as I squeeze onto a bar stool next to a couple of off-duty cops and a guy with enough gold on his fingers to supply a small branch of the Cosa Nostra with all its pinky-ring needs.
I chat with the bartender about the Rockies and the regulars here. He says that almost everyone in his field of view comes here several times a week. Platters of indistinguishable red glop hover past on the trays of waitresses who probably make more in a night than most of the customers see in a week. It's a busy joint, but I drink my margarita quickly and head out the door. The dry night air and the feral smell of arc welding return me to the reality of the corridor of warehouses that make up the light rail zone.

What potable joys await a weary commuter near the Broadway stop? What solace can a midnight cowboy find at this dark hour of the night? Ah, young and naïve pilgrim, do not look south to the desolate wreck of the Gates factory. Look north to a rainbow-tinted oasis called the Atrium. And then keep walking, unless you don't mind being the only straight guy at a gay club. The only clueless straight guy. The only guy who just doesn't get it, even after being chatted up, until the other patrons actually have to explain that it's a gay club. The regulars get a good laugh and I get a Jameson's, which tastes just as good regardless of the sexual preferences of the folks you're sharing a bar with.
New Belgium 1554 Black Ale, $4.50
The last stop, technically on Delaware St., is the only one that makes me feel like a commuter. Flying over the rooftops between Santa Fe and Broadway, the warehouses give way to rows of cottages, which give way to more warehouses, which in turn settle down into more houses. It's really only a few minutes from the last stop, but it's the edge of Denver and the borders of suburbs with different names are only a stone's throw away. The South Broadway Grill is only a few blocks from the train stop, but it's good to get back on Broadway, which carries Denver's aura deep into Englewood.
It's poker night at the South Broadway Grill and everyone seems to know each other. Between the card players and the group of girls out for a bachelorette crawl, I feel like I've stumbled into a private party. I sip my beer in peace until the bartender passes a round of free shots to everyone. We all toast like relatives at a wedding and then I return to pretending to watch the baseball game.
From here to the Corner Office is only about ten minutes on the train, but it feels like it's been a long journey, if only because I got onto a full train car and got off an empty one. Inside any bar is really not so different from the last. There's a different song playing, and the person staring at you in the reflection of the bar mirror may or may not have a beard and a biker jacket, but they are mostly there for the same thing. The commute is just about going home, but stopping at the bar is about finding one.
Related
Popular in the Community