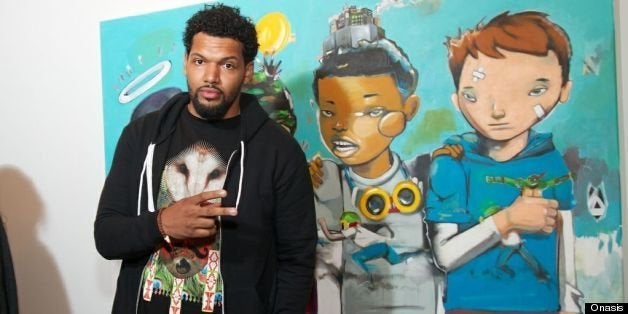 Just two weeks ago, the line stretched around the corner of the Lacuna Artist Loft Studios' Pilsen home as hundreds hoped to spend their evening commemorating the birthday of one of Chicago's most promising young artists.
The "Downtown 88 Presented by Hennessy Black" event was in honor of Hebru Brantley, the Lacuna's star resident whose work last December attracted national headlines when rap superstar Jay-Z made a $20,000 splurge on one of his paintings at Art Basel.
Though such A-List attention -- Lupe Fiasco is also among his high-profile fans -- could prove to be an ego stroke of head-bursting proportions for some artists, Brantley, a native of the city's South Side, seems to be taking what's come his way in stride. A peek inside his studio proved he is still working as fast and furiously as ever as he tries to keep up with the upped demand for his vibrant creations.
"I'm not an arrogant person by any stretch, but I knew this would come and it's something I've envisioned for quite some time. I've worked very hard to get here and beyond," Brantley recently told HuffPost.
As with any artist who achieves success in Chicago, though, we had to ask: Is he eyeing the exit door to head for a city -- such as New York or Paris -- more traditionally identified as an artistic hub?
"Chicago is my city and I love it. It's very much a city where things have to be proven to be successful. ... It will always be my home base," he said. "Chicago has taken a while, but I've pried her arms open and now she's embracing me back."
Where in the city do you live and how long have you lived there? I currently live in the South Loop and have been back home for five years now. I'm from the South Side, a cross between two neighborhoods -- Lawndale and, like, 103rd, so the Wild 100s as you'd call it.
What is your age? What is your occupation? 32. A professional hand model. Just kidding: a creator.
What was your first job in Chicago? That's easy: McDonald's. I was 15 years old. I lied on the application that summer because I was just 15. And it was.. McDonald's. It wasn't glamorous. Enough said.
Which Chicago "celebrity" -- living or dead, real or fictional -- would you have over for dinner? What would you talk about? Without a doubt, Michael Jordan. He embodies everything I believe in as far as perseverance, mental toughness and fortitude. The sort of attitude that there's nothing I cannot accomplish and achieve. I'm a kid from Chicago, so that's Mike. He's the god. I'd want to know where his mind was and his mental attitude in regard to certain games. I have 1,000 questions for Michael Jordan.
Where is your favorite place to grab brunch? Sweet Maple.
What are your go-to spots when you have visitors in town? That depends. If we're shopping, then probably Leaders1354 and RSVP. Around the Wicker Park area, Rodan. And, of course, the typical museums. The Art Institute and the MCA are always staples. I'm always dragging people there where they like art or not.
(Below, a selection of Brantley's work. Questionnaire continues below the slideshow.)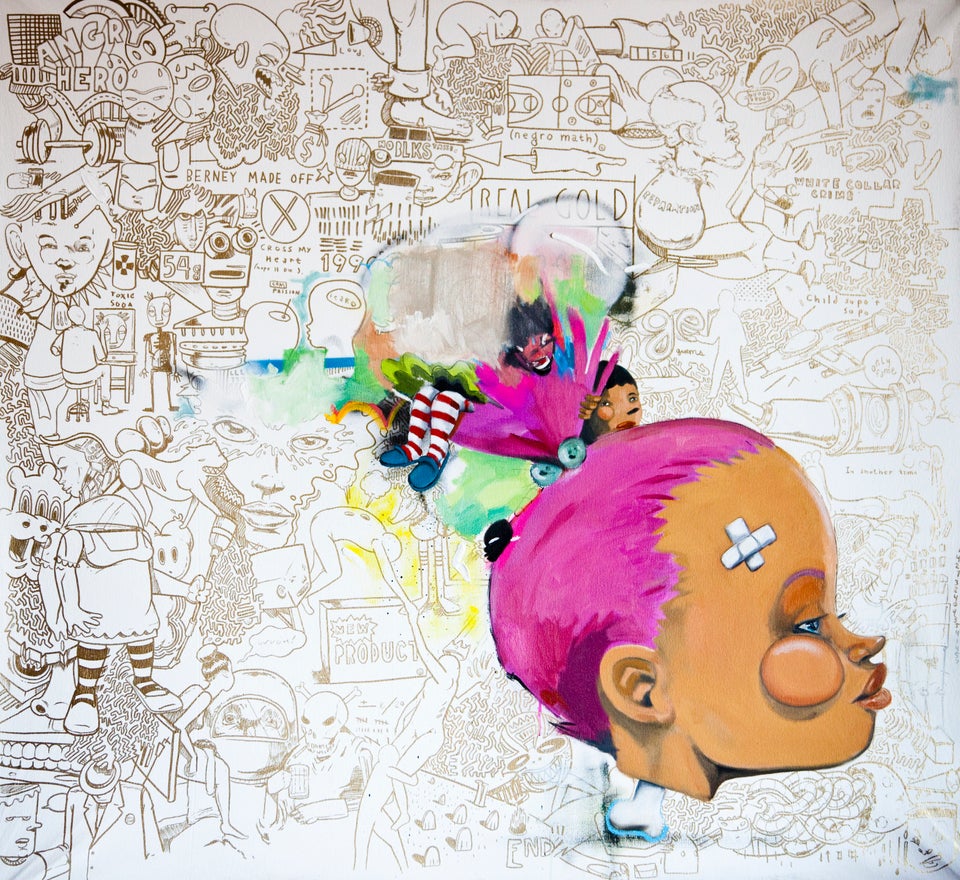 Hebru Brantley
What is the last cultural event you saw in the city? What'd you think? I think the last event that sticks out in my mind was the MCA fundraiser they had a couple of months ago. It was an interesting mix of people with artists, collectors, board members and everybody in there. It was one of those events where there was so much happening you're a bit perplexed because there is so much eye candy and so much going on that when it's over you're like, "Well, shit." It leaves you wanting a little bit more.
If you had to have your last Chicago meal for some tragic reason, where and what would it be? Ron of Japan. I'd do the shrimp and the lobster.
Cubs or Sox? I'm a South Sider so the Sox.
Wicker Park, 1993 or Wicker Park, 2013? I'm going to stay relevant, so I'll say Wicker Park today.
Chicago-style hot dog, Chicago-style pizza or Chicago-style politics? Hot dogs and Chicago politics go hand in hand: A lot of bullshit. So, pizza.
What advice would you give to a new Chicago transplant? Make sure you move here in the summertime.
What do you miss the most when you're not in Chicago? The skyline and the lakefront. Whenever I think of Chicago, they're the first things that pop into my head.
If you could change just one thing about our fair city what would it be? The violence. The young brothers and sisters killing each other. All the violence on the South Side, in Englewood and further south and west.
Describe Chicago in one word. Clean.
In 1951's "Chicago: City on the Make," Nelson Algren wrote: "Once you've come to be a part of this particular patch, you'll never love another. Like loving a woman with a broken nose, you may well find lovelier lovelies. But never a lovely so real." Through My Chicago, HuffPost is discussing what, to this day, makes the patch we call home so lovely and so broken with some of the city's most compelling characters.
Popular in the Community