Seeing three minutes of Homer Simpson on a Simpsons show might not seem like a big deal if the three minutes he's doing this Sunday weren't going to be live.
Yup, that's the plan. For the last three minutes of Sunday's 8 p.m. telecast, Homer will be answering viewer questions in real time.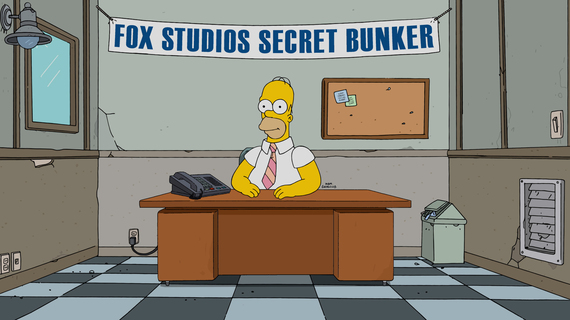 The decision to have Homer go live stemmed from the plotline of the show, executive producer Al Jean told TV writers Monday.
After bungling a speech to his coworkers, Homer decides to polish his skills by doing improv comedy. His three live minutes are life imitating art, with his improv answers designed to flow out of the prerecorded material.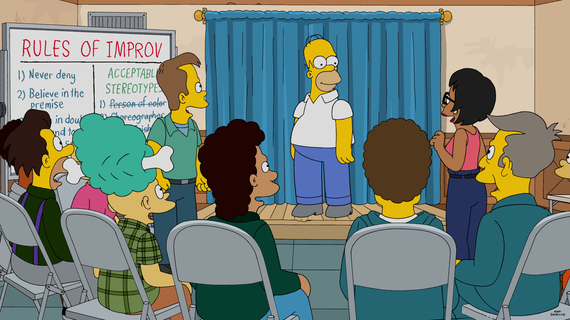 It helps, Jean noted, that Dan Castellaneta, the long-time voice of Homer, "does improv all the time. . . . He's terrific at it."
Castellaneta will do separate versions for the East and West coast feeds of the show, and Jean says the producers "will pick the funnier one" for media reruns. The other will be made available later, probably online.
To get in on the action, viewers can start calling 888-726-6660 a half hour early. They will propose questions and the show's writers will pick the most promising candidates.
"There are just a few rules," says Jean. "You have to be over 18. And the question can't be about Dan. It has to be for Homer."
Castellaneta has done a few trial run-throughs, and "the first two," Jean said, "were a little rough, which you expect from a rehearsal. Then we kind of got the phone lines down smoothly."
That doesn't mean it will sound slick. This is Homer, after all.
"If Dan is [trying to] find an answer as Homer it's almost funnier than having an answer," said Jean. "The way he stumbles over words and gets to something and you never see where he's going, it's great."
Castellaneta has prepped only in broad areas. "Obviously, we've talked about what people might be likely to ask," Jean said, "like what the heck, are people voting for Donald Trump?"
Purely from a TV production perspective, a comedian doing a couple of minutes of improv Q&A isn't nearly as impressive as creating live, on-the-fly animation.
The process by which this can be done, said Jean, is called "motion capture" and was only honed to its present level over the last couple of years.
"It was in existence actually as long ago as 2000," he said. "We considered doing a 'live' appearance by Homer on The Tonight Show in 2007 to promote The Simpsons movie, but what we saw didn't seem to have smooth enough animation.
"Now it's advanced to the point where we think we can do three minutes."
Castellaneta will be in a booth speaking into a microphone, and Jean said, "He's not hooked up by electrodes or anything. His motions are captured and translated into Homer's moves, which will then appear in the animation. It will look like the normal show.
"We have background animation that's been pre-animated with several jokes but everything Homer does, the center of it, is live."
It's a production departure, since Simpsons episodes ordinarily are produced six months in advance or more.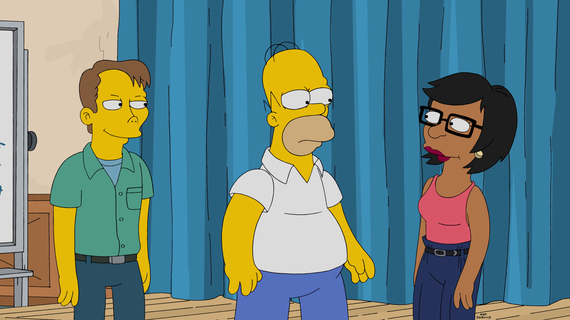 But it's not quite working without a net. A backup three minutes has been filmed in case something catastrophic like a zombie apocalypse renders the studio unusable.
Jean is optimistic that won't happen.
"I'm very lucky," he said, "to be on a show where nothing's really gone wrong for 27 years."
REAL LIFE. REAL NEWS. REAL VOICES.
Help us tell more of the stories that matter from voices that too often remain unheard.