This is Hector the pit bull, a former Michael Vick dog, who lived the first couple of years of life in hell and the seven after proving -- over and over and over -- that dogs rescued out of fighting deserve the very best this world has to offer.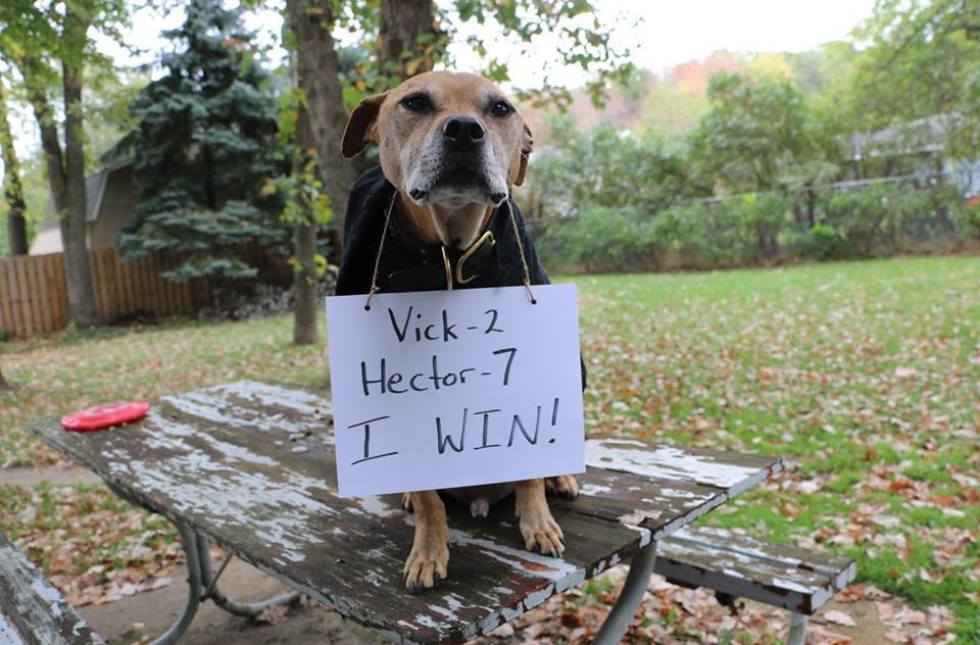 Hector's owners put this picture up on Hector's Facebook page earlier this week.
Sadly, Hector isn't doing very well health-wise. He has cancer, and his prognosis isn't good. But the dog has had quite the journey.
Shortly after being rescued, Hector became a therapy dog. He has traveled with his human parents, Roo and Clara Yori, all over the country, helping to break stereotypes about his kind of dog.
As I prepare to pass and say good-bye, I want to thank all the people that were responsible for giving me the chance I deserved, and all the people that help save other dogs from similar circumstances. Thanks to you, after a couple of really crappy years with Vick and his buddies, I was able to enjoy 7 years of love and fun adventures! I was able to meet all kinds of really cool people, and prove that even dogs saved from horrendous situations should get a shot to show what they are made of. Ideally, it would have been nice for Vick to reconcile with me and all the other dogs from that time, but that didn't happen. That's his choice, and that says something in my opinion. My choice, though, was not to allow that past to dictate who I am. As a result, I can say this in regards to my life: I Win!
You win, Hector. And we are very glad for it.