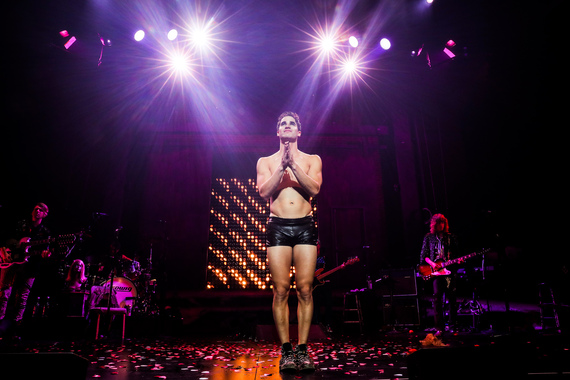 Darren Criss at the Pantages Curtain Call Opening Night, Photos by Chelsea Lauren
The world is not new to being in shock on November 9th. In 2016, the worldwide shock was that Donald Trump could garner over 59 million votes and even though getting less votes than Hillary Clinton, seal the Electoral College and become President Elect. In 1989 the world sat with mouths open as one symbol of communism, oppression, of dictators fell, the Berlin Wall. Yes, the irony of Trump claiming victory on the day the Berlin Wall fell is not lost on me, nor would it be on Hedwig.
Hedwig and the Angry Inch is currently on tour and has stopped at the Pantages Theatre in Hollywood until November 27th. In fact, I have seen deals at various outlets giving as much as 30% off tickets for the rest of the extended run, so there's no time like the present if you're in Southern California.
I almost didn't want to see it. My history with Hedwig is long and meaningful; and the play holds a very dear place in my heart. In 1999 I was the soundtrack editor at Billboard Magazine, doing a weekly column on movie, TV, stage and all sorts of soundtracks. I got CDs daily to review. One day one came in without much hoopla. It was from a play that was yet to open in New York, written by John Cameron Mitchell and Stephen Trask. Neither were big names in music or theatre at the time. When I put it on and the blaring Rock began, I instinctively tuned out. I'm not a big rock fan. Especially Punk Rock. But my late husband Andrew Howard loved alternative music and insisted we listen. And listen. And listen. And soon I was singing along. Soon we were having a time with the songs, the lyrics about this poor person who had become a "gender of one." The songs became part of my life.
Late-early-to-mid-1998-1999 Andrew and I had big jobs in afternoon radio at KFI AM 640 Los Angeles and were making OK money. We decided to go to NYC and see the play. And see it we did, in the basement of the hotel where the Titanic survivors were taken. John Cameron Mitchell and Stephen Trask were in the play and it was beyond sublime. It spoke to anyone that had ever been on the outside; anyone that had ever experienced great love and loss; it spoke of identity and how we tie it to various things, like our gender. It was brash and brazen for the era and the hard-edged music matched the raw emotion and sentiment of the play. The theme of duality, of being one once we've found THE one, sitting next to my husband, my on and off air partner, my life, being history-making openly gay people in traditionally straight media...the play spoke to our cores.
We would see it again with Michael Cerveris, and then, in 2001, Andrew would die unexpectedly. I felt so lost, so like the characters Hedwig sings about in Origins of Love that I had a tattoo from the artwork in the play and subsequent film, two halves, split in two, forever apart, forever searching. My half had been cut from me not by Zeus' lighting bolts but by mistakes ending in a hospital emergency room in Long Beach.
And every time I hear the music, I think of Andrew, of the time. I think of the fight I had to change the laws so domestic partners could sue...I thought of Hedwig's battle to have both sides of her loved.
Hedwig was a small play with a huge voice, a large heart and a soul, the souls of John Cameron Mitchell and Stephen Trask. When it went big time in 2014 on Broadway, I had my reservations. Was it meant to be a slick production with major stars? Was Hedwig the play, to become like Tommy Gnosis, the character, the slick, produced, soulless sellout that leaves behind the gritty, real, earthy true Hedwig?
I went with my friend Daniel Charleston, 29, who had not seen the play. He loved it. The Pantages knows how to throw a red, or in this case, pink carpet. Demi Moore showed up, Taylor Lautner, John Stamos said hello to me and asked if he knew me. I said probably not, but he does know my friend James Mulligan who had introduced us before. Yes, that's it. I was the envy of every girl, and some men, around for speaking with him. How funny, I thought, during the original run off-Broadway bodies of dead junkies were taken out around those in line. Now, there's Hollywood elite lined up.
Darren Criss, of Glee fame, is Hedwig this time out (he's done it before). Again, how did I feel about a non-gay person playing Hedwig? Broadway had Neil Patrick-Harris, America's favorite gay. But also Taye Diggs and Michael C. Hall; each, if the internet is correct, brilliant in their own way. Well seeing how Hedwig is indeed a gender of one, it means any one of any gender or sexuality should and could play Hedwig. In fact, the Tony-winning star Lena Hall, famous for playing Yitzhak in the play, often plays Hedwig. So I quickly got over that.
How would a one-man-glam-punk-rock-musical (because it basically is a one man(?) show) that could easily be seen at CBGB (if still open) play at one of the grandest theatres in the world to an audience of Glitteratti? Coco Peru was there, The Sisters of Perpetual Indulgence, heck, me!
Effortlessly. It appears Hedwig's personna is so large it can fill any theatre and still make it seem like it's all just for you, that you are, in fact, at a Sizzler or some diner watching this spectacle unfold.
The plot ? Just a typical love story about a young man yearning for freedom, living in the oppressive world of a split Berlin, behind a wall over which he cannot escape. He's gay, we think and finds a sugar daddy who wants to marry him and take him to the USA. Except HE has to become SHE. The surgery goes horribly wrong, thus the angry inch, or the "one inch mound of flesh, where my penis used to be where my vagina never was, it was a one inch mound of flesh...." It becomes "what he has to work with..."
But leave Hedwig does, to a trailer park in the Midwest where she's abandoned for another man and a year later the wall falls and none of this would have been necessary at all. Along the way there's the story of a young teenage soon-to-be-heart throb, Tommy Gnosis. Tommy sells out after being taught rock's basics by Hedwig who learned them in an oven in a kitchen in Berlin over armed forces radio...and Hedwig is bitter. Hedwig is married to Yitzhak, an illegal immigrant, and exerts power and control over him; a sense of control Hedwig has no where else. But Yitzhak isn't Hedwig's true love, Tommy is. But who is Tommy, really? And Yitzhak? And Hedwig him/her self?
The music is still as raw, emotional and shocking as it was in 1998 when it was written and auditioned at the local drag punk bar in NYC by Mitchell and Trask. And as Trump was claiming victory, the themes of the play rang even more true. In fact, between their last production of "Cabaret" and now this, the Pantages is bringing theatre so extraordinarily relevant to our times to the public. Add in the upcoming "Hamilton" and who says Broadway can't spread social messages?
Criss, who has played Hedwig before, camps his way through the monologues just enough, because Hedwig's biggest defense mechanisms are wit and tongue combined. Hedwig's observations and commentaries are biting and often tragic and as he almost screams and demands his way to love and acceptance the audience gets a feel for the vast loneliness that can inhabit a soul.
And perhaps the biggest moment of freedom of the evening comes when Lena Hall's Yitzhak finally has acceptance and love from Hedwig, and from inside, and blossoms on stage from caterpillar to butterfly. Hall has played this enough time sot have it down as second nature, and it provides one of the most moving moments of the evening.
Hedwig redefined the stage and film version of the Rock musical. Now that it is one of the touring productions, the multi-million dollar big-ticket shows, it hasn't lost the small theatre honesty and the music remains some of the best written for theatre, ever. The production value is increased, with moving sets and bigger animations for "Origins of Love" but the heart, and soul, has remained.
Watch Karel: Life In Segments weekly on Free Speech TV on ReallyKarelTube. To hear this or other interviews get the FREE Karel Cast App, subscribe in Spreaker to the Podcast or simply go to the most incredible website on all the planet, save this one, ReallyKarel
Calling all HuffPost superfans!
Sign up for membership to become a founding member and help shape HuffPost's next chapter