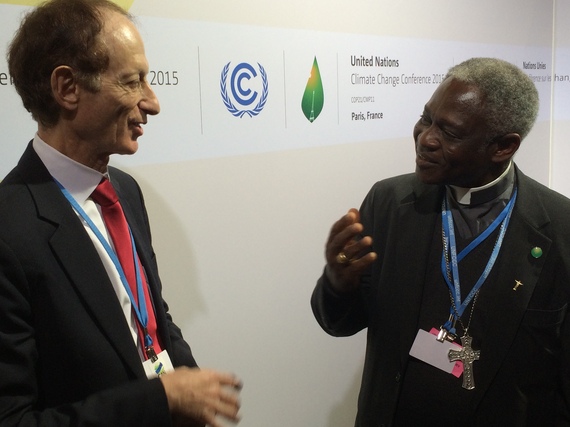 Walking through the conference areas at COP21, I've been struck by the religious presence here. You probably wouldn't equate the environmental movement with religious ideologies, but the Vatican is represented here, I've met an Episcopal lobbyist from Washington, and at dinner last night someone from the Sierra Club encouraged me to read the Pope's recent Encyclical on the Environment, Laudato Si. So I did. And so should you.
One thing is clear: Pope Francis is an environmentalist. I say that lightly, because according to U.S. standards that would mean that Pope Francis is a tree-hugging hippie of the strongest kind. But really, his call for environmental conservation comes from a place of moral responsibility -- to our earth, to our fellow man and to future generations.
The Encyclical is an environmentalist's gold mine for quotes. I will highlight three as the framework for sharing my day with you:
Our common home is like a sister with whom we share our life... This sister now cries out to us because of the harm we have inflicted on her by our irresponsible use and abuse of the goods with which God has endowed her.
You do not need to be an audiologist to listen to Earth cry. Maybe no noise is made, but in other ways She is crying out at the warming trends, the species lost, the sea level rise and the habitat destruction we are causing. The list is long; She has been weeping for a while now. Why are we not listening? Why aren't we comforting Her?
Young people demand change. They wonder how anyone can claim to be building a better future without thinking of the environmental crisis and the sufferings of the excluded.
Today I had an opportunity to go with my fellow Climate Generation Education Ambassadors to the U.S. Embassy and meet the science advisor to the President, Dr. John Holdren. In this meeting, all of the teachers read position statements from our students, expressing their hopes and concerns around COP21 and climate change. Then something extraordinary happened. The gravity of the situation was weighing upon us, and things became emotional. After hearing all of these quotes from students, a teacher friend of mine, with tears in his eyes, said, "if we are not at an agreement on Saturday we need to lock the doors. We need to lock the doors."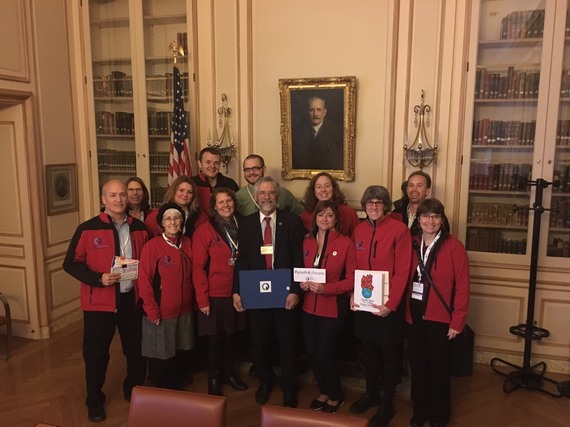 Regrettably, many efforts to seek concrete solutions to the environmental crisis have proven ineffective, not only because of powerful opposition but because of a more general lack of interest.
In the United States, we are so disconnected from nature. We do not depend on the seasons to provide us with certain, specific kinds of food. We can go to the grocery store and by a strawberry at any time of the year. We are not on the front lines and therefore we do not have the interest in climate change that people with a more direct connection to nature feel. I told Dr. Holdren today that we have no standards for climate change education in Minnesota high schools. I mentioned to Dr. Holdren today that we need more climate education initiatives in our schools. It is our moral obligation, and it is my answer to how I will take action to protect our future environment.
Minneapolis-based nonprofit, Climate Generation: A Will Steger Legacy, is leading a delegation of 10 Education Ambassadors to COP21 through their Window Into Paris program, December 5-11. These 10 teachers -- representing diverse subject areas, grade levels and school communities from Denver, Atlanta, upstate New York, western North Carolina and Minnesota -- are connecting their students to climate policy in action, helping to build both climate literacy and the relevance of this issue in their students' lives. Follow their stories via their blogs and daily digests.
REAL LIFE. REAL NEWS. REAL VOICES.
Help us tell more of the stories that matter from voices that too often remain unheard.