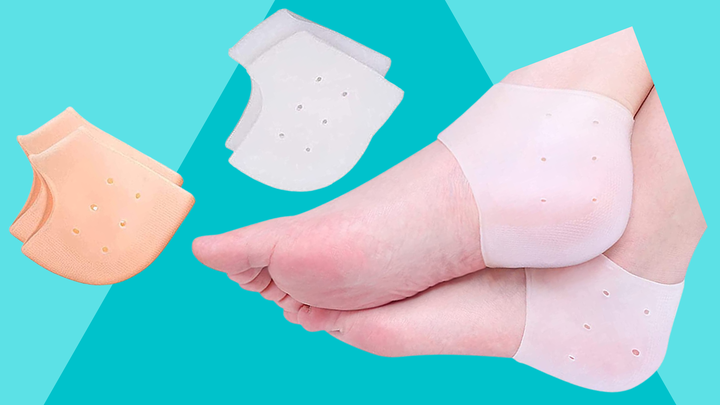 HuffPost receives a share from retailers on this page. Every item is independently selected by the HuffPost Shopping team. Prices and availability are subject to change.
I recently spotted a stylish stranger wearing the exact pair of Dr. Marten platform combat boots that have always given me horror movie-level blisters — and what's more, she looked totally comfortable. She was walking with ease, as though wearing perfectly broken-in sneakers. I needed to know: How on God's green earth was she wearing those boots so freely? At the risk of being a total creep, I approached her and asked.
Within seconds, she whipped open her Amazon app to gleefully show me the heel protectors that keep her walking on air despite wearing boots that are notoriously rigid and hard to break in. Calling them "foot condoms" with a smile, my new best friend told me about these silicone micro-socks she wears every day. She found them in a long Twitter thread about the perils of breaking in Dr. Martens (but really, they'll work for any stiff boot).
These silicone heel cups are stretchy and easy to slide on and in shoes, and are meant to be worn directly on your foot, under socks, to protect and cushion your heel from the hard back of unforgiving shoes. They're reusable, washable and fit into boots, sneakers, loafers, clogs and anything else that makes your heel feel like it's doing battle with uncompromising construction.
Reviewers say these not only prevent new blisters, but also help protect existing and popped blisters and can even help lessen heel spurs and relieve pain from achilles tendonitis and plantar fasciitis. They can keep your heels soft and protected, helping you avoid cracked heels and callouses.
As the weather calls for boots and warm leather shoes, stock up on heel cups to keep you from blistering and pain. They come in sets of two (one tan pair and one clear pair) in one, stretchy elastic size designed to fit many sizes of feet. They're also soft, reusable and can be washed by hand.
"I am currently in college doing a lot of walking. I have gotten there worse blisters of my life, larger than quarters. I found these and decided to try them out. They work like a charm! So soft and flexible. Perfect under those uncomfortable sandals or inside rainboots. Socks fit right over them! Highly recommend." — Olivia

"These are the bomb. I ordered them because I was (and still am) breaking in new paddock boots. These have saved me. My boots are little torture devices where I'd have to take longer breaks between rides because the blistered were so bad. These helped prevent new blisters and protected existing ones. I got bold and rode my horse without them and bam. GIANT blister. The next ride I wore them and I didn't even notice the bandaid I had on it had unstuck but the heel protectors were still gentle on my then-open blister. I now wear them each ride. They're squishy and add extra cushion. I've tested these in South Carolina heat and they have been amazing. I'm still on my first pair but love there's a second just in case. Highly recommend!" — Jenny

"These have saved my life from a 2 years (off and on) of trying to break into Chanel loafers. I no longer have blisters, after a week of wearing this product with shoes, the back of the loafers are now soft. Will be purchasing another pack for my kid sister." — ACA

"I have bone spurs, I have plantar fasciitis, I also am INSANELY prone to blisters. Every closed toe pair of shoes I have ever worn give me blisters. I also ride horses so I wear boots often. Today, before these arrived I wore my new pair of boots for 30mins and ended up with a nice open wound on my heel. These arrived right before a training session I had to attend. I slipped them on once I got to my client's home. I PUT THEM ON OVER AN ALREADY POPPED BLISTER and gave a lesson, rode a horse, and then spent 2hr walking around Costco!!!!!!" — Amanda

"I bought these to help heal some really bad, open blisters on the back of my heel. I put them on under a pair of socks & slept in them. I was absolutely blown away with how they worked just overnight. I also got an added bonus of all the cracks on the bottom of my heel being gone the next morning too." — Shawnee Grant
Before You Go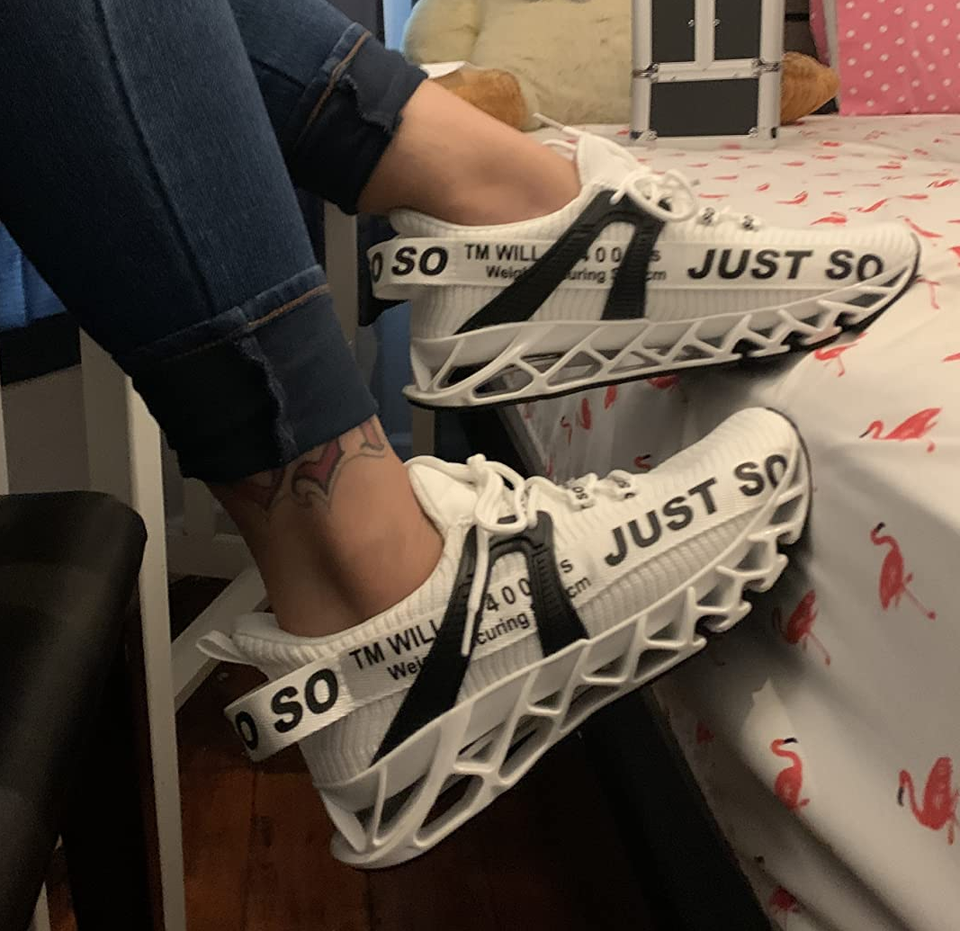 20 Shoes Reviewers Swear You Can Comfortably Wear For Hours And Hours