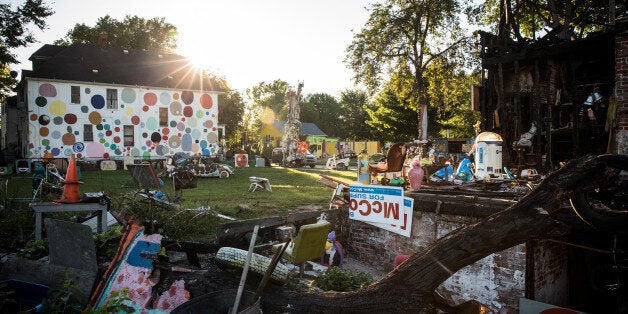 The Heidelberg Project has won worldwide acclaim for its vibrant and poetic reclamation of abandoned Detroit homes, turning a street on the city's east side into a colorful art installation. Though artist Tyree Guyton has faced many obstacles in the last two decades, this year has brought one of the most difficult challenges yet: arson.
On Tuesday, "House of Soul," a Guyton homage to Detroit's Motown legacy that was covered in thousands of vinyl records, became the latest part of the installation to catch fire.
The Detroit Free Press reports that fire crews spent two hours in the early hours of Tuesday morning battling the blaze at "House of Soul," which reportedly had no wired electricity inside. While "House Of Soul" couldn't be saved, another Heidelberg home that nearly touches it only has minor fire damage. The Detroit Fire Arson Unit will investigate the blaze, although Fire Captain Charles Simms wasn't yet ready to declare that an arsonist is targeting the installation.
"If we got another one tonight, I might become a little more suspicious," Simms told the Detroit Free Press. "I wouldn't necessarily say it's targeting Heidelberg at this point."
In May, the project's "Obstruction of Justice" house, known as "OJ," was damaged in a fire that was deliberately set, the project leaders say. In October, what was left of "OJ" was utterly destroyed in another fire. The Detroit News reports that two other small fires were reported this year, both which only caused smoke and minor fire damage to the Penny House and Numbers House -- the Heidelberg's gift shop and welcome center for guests.
Confronted by a neighborhood that had become progressively more empty -- a reflection of the city's woes as many of those who were able to, fled -- Guyton transformed the street's vacant homes into an outdoor art project that has welcomed Vogue photographers, MTV, famous tourists like Ryan Gosling and Beyonce, countless documentary crews and visitors from every corner of the globe. Some structures have found objects affixed to them; painted with dots or murals; thoughts and messages abound. Every home and sculpture has its own story to tell.
More than just art, the Heidelberg organization also runs an emerging artists program, offers art education and curricula on Heidelberg and Guyton, hosts lectures and supports Young Adults Of Heidelberg, an incubator for local art initiatives in the city.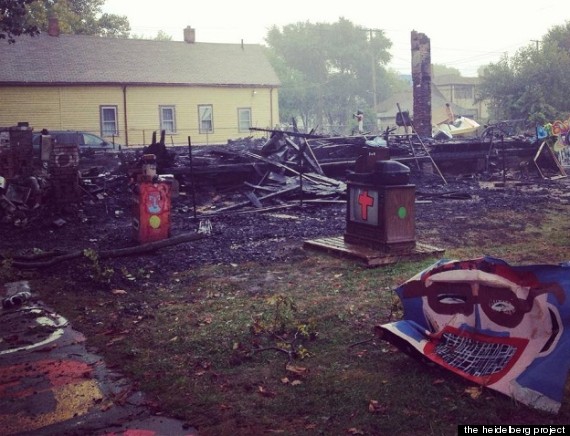 The remains of OJ after the second fire destroyed the home in October. Photo courtesy of The Heidelberg Project.
And while those who create and maintain the Heidelberg Project may be discouraged by the obstacles they come across in spite of widespread community support, they've remained positive and empathetic. After the second fire in October ultimately destroyed the "OJ" house, they released a statement on the fire obtained by The Huffington Post. It read, in part:
This fire was indeed set intentionally, the second "suspicious fire" targeting the OJ House installation in six months. Unfortunately, Saturday's fire was an act of arson committed by the same young man that set the fabled OJ House ablaze in May of this year, only this time the structure was leveled. For this young man, we have a message:

We want you to know that we understand your pain. We realize that all you've grown to know is destruction and that you see no way out. This is precisely why we are here. Our work is not about tangible "things," it is about the Power of the Human Spirit. We recognize that there is a fire in you and we are here not to extinguish it, but to offer you a better reason to fuel it. Though you have tried, you cannot destroy the Heidelberg Project; it's bigger than all of us now. Instead, we invite you to join our family in creating a better neighborhood, a better Detroit, if not for anyone else than for yourself. As Tyree has said, "If you believe, you can change it…" We believe.
Fire is not the only element that threatened the Heidelberg Project's vitality. Guyton withstood two Detroit mayors -- Coleman Young and Dennis Archer -- who both ordered several of the homes demolished for "urban planning" purposes in the 1990s. After more than 25 years in existence, it still survives. In a recent essay published on The Huffington Post, blogger Paul Ruth wrote:
The Heidelberg Project has never been a presence on Detroit east side just sustaining against the elements both natural and man-made. It has always been a presence growing to multiple city blocks and over 275,00 annual visitors. As a work of art to me, it is the story of us in the struggle of society where rebirth comes from within. The Heidelberg Project has drawn many in awe, controversy, and destruction, which is a testament of rebirth because it lets the world know that it is alive. It lets the world know that Detroit is alive.
You can find out how to support, volunteer or stay connected to the Heidelberg Project here, and look below to see more photos of the art installation.
Related
Before You Go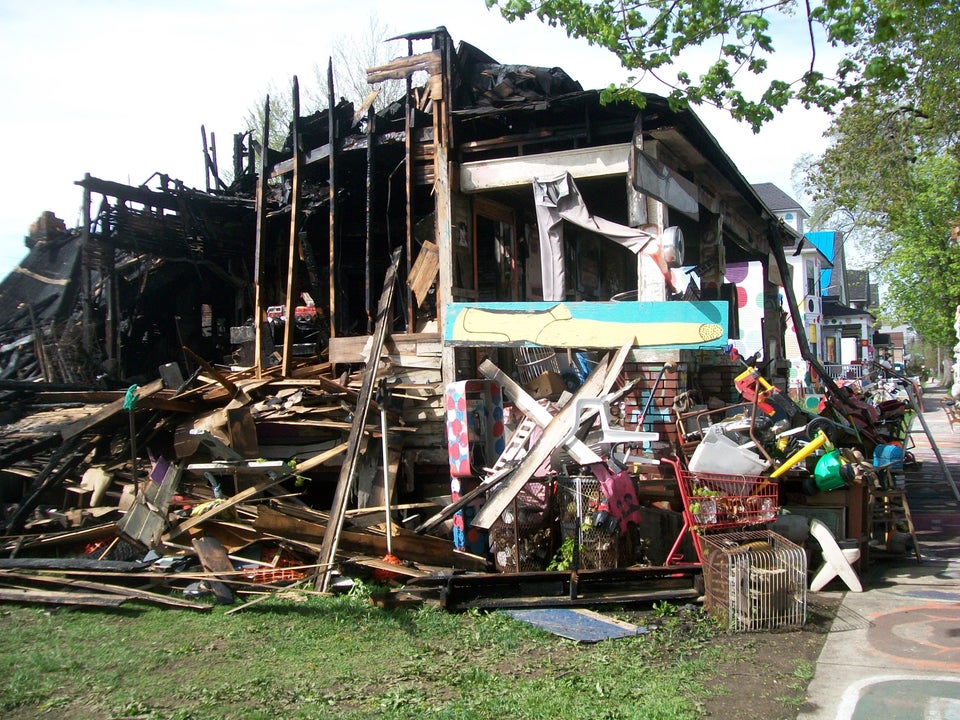 The Heidelberg Project In Detroit
Popular in the Community