Artist Tyree Guyton's Heidelberg Project, which won world renown and acclaim for its re-purposing of abandoned homes on Detroit's East Side, burned early this morning in a suspected arson.
Tyree Guyton was on site Friday morning after the fire, seemingly upbeat. "This is the real world, and I think as an artist I have to make the best of it," he told The Huffington Post. "I have to be an optimist and turn it into gold."
But he told The Huffington Post that fire officials had informed him that the fire was deliberately set.
(Scroll down for photos.)
Heidelberg Project Executive Director Jenenne Whitfield told The Huffington Post that fire investigators found evidence of gasoline and have told Mrs Guyton, Tyree's mother, that the house was purposely set on fire. Mrs. Guyton lives in the Dotty Wotty House on Heidelberg Street.
"Obstruction of Justice," also known as "OJ," burned last night, she told The Huffington Post.
The house and the artwork were destroyed, Whitfield said. Many of the organization's tools and the sound system which played music throughout the campus were also lost in the fire.
"It's disheartening," she told The Huffington Post. "It's disheartening, and what I love the most, is this -- what we've learned is that you cannot stop this work. Heidelberg has been twice destroyed by the city of Detroit and it didn't stop it."
While she lamented the loss of "Obstruction of Justice," Whitfield said the process of reclaiming homes is Heidelberg's main asset.
"We're not so much interested in things as were are in recycling the human spirit," she said. "We will not be deterred."
Donations and other information available at heidelberg.org. The organization will release an official statement later today.
The project has survived other catastrophes, namely demolitions ordered by former Mayors Coleman Young, Jr. and Dennis Archer. This passage comes from a Huffington Post feature on the Heidelberg Project's 25th anniversary in 2011:
But it hasn't always been roses and polka-dots for the Heidelberg Project. The program has faced innumerable obstacles over the years - including the destruction of some of its trademark Heidelberg houses - and the continuing economic and social hardships that face the city (and by default, the project) have played a role in delaying some of the HP's more ambitious goals, such as expansion into other parts of Detroit. But as Williams stated, "The demolitions and attacks on the life of the Heidelberg Project have simply strengthened the endurance and tenacity of The Project." One could even say that the Heidelberg Project is in fact a testament to the credo 'whatever doesn't kill you, makes you stronger.' Williams agrees; "Simply put, The Project has fed on the demolitions and grown into a healthy, young 25 year old."
Jenenne Whitfield, executive editor of Heidelberg, included this passage in a recent blog post she authored for The Huffington Post.
This is one of the most basic yet compelling principles of the Heidelberg Project (HP). Hardship and challenges have taught us not to take our mission--changing lives and communities through art--casually. Before I get into a concrete example, I feel it's important to make a disclaimer: It's not that we are so smart, have found a magic bullet or studied at some major academic institution that has lead to such gripping outcomes. Over the years--27 to be exact--we had to learn patience and allow ourselves to be taught. After all, we were at ground zero; there was no place to go but up. In the midst of all our trials and challenges, there was always a flicker of hope--something or someone waiting to be discovered--that kept us forging ahead.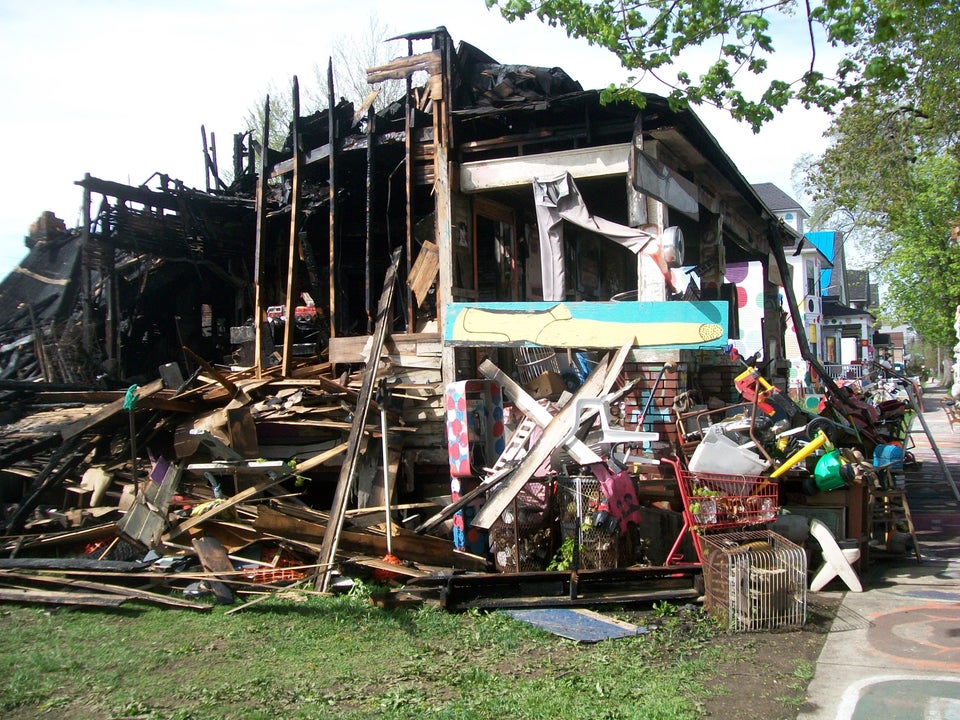 The Heidelberg Project In Detroit
Popular in the Community