WASHINGTON -- Sen. Heidi Heitkamp (D-N.D.) has signed on to cosponsor the Employment Non-Discrimination Act, which would expand workplace protections to LGBT individuals.
Sen. Jeff Merkley (D-Ore.) introduced the bill in the Senate on April 25, and with the inclusion of Heitkamp, there are now 49 cosponsors.
Heitkamp quietly signed on as a cosponsor June 7, with no public notice. A Democratic aide confirmed Heitkamp's inclusion to The Huffington Post. Her office did not immediately return a request for comment.
Sens. Susan Collins (R-Maine) and Mark Kirk (R-Ill.) are the only two Republican cosponsors of ENDA. The Democrats who are not currently signed on are Sens. Tim Johnson (S.D.), Joe Manchin (D-W.Va.), Bill Nelson (Fla.), Mark Pryor (Ark.) and Jay Rockefeller (W.Va.). Senate Majority Leader Harry Reid (D-Nev.) does not cosponsor bills, but he is a vocal supporter of the legislation. Sen. Angus King (I-Maine) also signed on as a cosponsor on June 3.
Reid said on Monday that he expects the Senate will "soon" take up ENDA. The bill has been reintroduced in several Congresses and has gotten some hearings, but it hasn't had a vote on the House or Senate floor since November 2007, when it passed the House by 235-184. Merkley and Rep. Jared Polis (D-Colo.) introduced ENDA in the current Congress.
When asked for reaction to Heitkamp's inclusion, Merkley spokesman Jamal Raad said, "Support for ENDA is growing. It has more cosponsors than ever before, and senators who have never cosponsored before are signing on this time around. The time is now for the Senate to end LGBT employment discrimination. Senator Merkley thanks Leader Reid for committing to move ENDA forward soon and for his leadership on LGBT issues."
He added that they expect a markup in the Health, Education, Labor and Pensions Committee soon after Congress reconvenes following the July 4 recess.
Until recently, Heitkamp was one of only a handful of Democratic senators who did not support marriage equality. But on April 5, she came out in favor.
Speaking with The Huffington Post in the Capitol, Heitkamp said her cosponsorship of ENDA rose out of her "long history of favoring state legislation that would prohibit discrimination in housing and employment."
Heitkamp tied her comments to the reason she came out for same-sex marriage and the repeal of the Defense of Marriage Act, saying she wanted to stop discrimination against lesbian, gay, bisexual and transgender individuals.
"I don't believe in any form of discrimination. It's not about gay rights, it's about the constitutional rights that human beings have," she said.
When asked why she decided to cosponsor with so little fanfare, she replied, "I had a conversation with Jeff Merkley, he asked me to consider it. I didn't even know the bill was there. I told him absolutely, I would. And we signed on the bill. And we sign on bills every day and don't make public announcements about them. ... I didn't think it was that, you know, earth-shattering."
On Monday, The Huffington Post also caught up with some of the senators who have not yet signed on. Several of them seemed unfamiliar with the details of the legislation.
Manchin said he was looking at it "very favorably" but said he had not yet gone through the bill in detail. Rockefeller said he would "like to have a chance to look at it."
Many LGBT activists have been frustrated that President Barack Obama has refused to issue an executive order to bar discrimination by federal contractors based on sexual orientation or gender identity, while ENDA remains stuck in Congress.
This post has been updated with additional comments from senators.
Jennifer Bendery, Ryan Grim and Danielle Schlanger contributed reporting.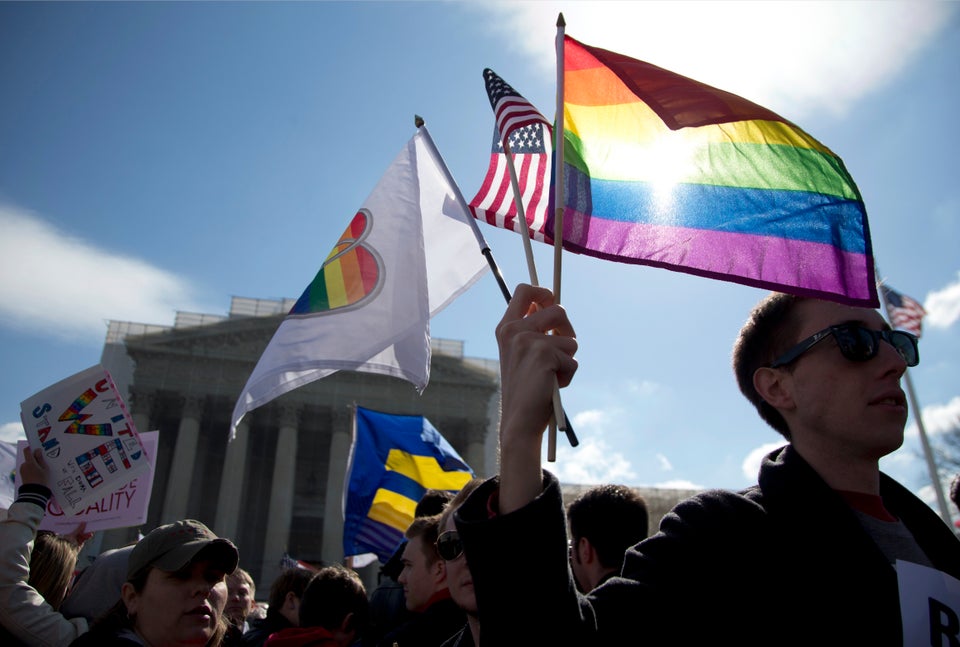 Supreme Court Proposition 8 Case
Popular in the Community