WASHINGTON -- "Do I need an ID or something?"
It's Thursday morning and North Dakota's senator-elect Heidi Heitkamp is about to depart her transition office in the Dirksen Senate Office Building to be sworn in on the floor of the United States Senate.
Heitkamp's aides laugh and tell her that won't be necessary: members of Congress are allowed to pass security checks without an ID or a trip through a metal detector. In fact, Capitol Police are required to know her face by heart.
This being a temporary workspace, there are none of the decorative flourishes found in most congressional offices: no photos of grinning VIPs, no framed images of military bases, no wooden display cases with triangularly folded American flags. The scene is more reminiscent of a call center off the highway than the august place of business of a United States senator. Also missing is most of Heitkamp's staff, which remains decidedly skeletal. When representatives from an advocacy group enter and ask for the aide in charge of foreign policy, two staffers exchange glances. "I'm actually everything right now," Whitney Phillips, Heitkamp's communications director, says with a chuckle.
"Nothing's ever seamless," Heitkamp says of her transition from former state attorney general to U.S. senator. She adds that former North Dakota Sen. Byron Dorgan and outgoing Sen. Kent Conrad have provided invaluable assistance. "I've secured the services of two great free consultants," she says.
As Heitkamp makes her way through Dirksen's corridors to the Capitol building, she is congratulated by staffers and fellow lawmakers. At one point, she turns and sees a familiar face.
"Hi senator!" she says to a passerby who looks uncannily like Sen. Bob Casey (D-Pa.).
"Actually, I'm Pat, his brother," the man replies.
"Oh! You look just like him, only you have more hair. Tell him I said that."
Two months ago, very few people expected Heitkamp to be here today. Most observers expected North Dakota's conservative voters to choose Republican Rick Berg, the state's at-large representative, as their next senator. Even The New York Times' polling guru Nate Silver, who correctly predicted the outcome of the electoral college and every other Senate race, gave Heitkamp a dismal 8 percent chance of victory.
"I knew that in a state like North Dakota that tended red that they were going to vote for someone they trusted and liked and who got them and that is just Heidi to a T," Sen. Patty Murray (D-Wash.), the outgoing chairwoman of the Democratic Senatorial Campaign Committee, told The Huffington Post.
Now that she has defied expectations and been elected, Heitkamp says she most looks forward to passing a farm bill, legislation that is crucial to her largely rural state. She secured a spot on the Senate Agriculture Committee, an assignment she had publicly coveted.
As she rattles off components of the bill that would set the nation's agriculture policy for five years, Heitkamp runs into a former colleague from her days as North Dakota's tax commissioner. After a few moments of excited chitchat she is introduced to the new staff director of the Senate Finance Committee, one of the Senate's most powerful committees, and one that is extremely attractive to potential campaign contributors.
"I didn't get Finance!" Heitkamp says with pronounced disappointment. "I figured I would've been the most qualified freshman ever!"
Heitkamp is the quintessential Midwesterner: warm, affable and to the point. She speaks with a distinctly regional accent, all rounded Os and drawn-out As. And then there's her name, which may as well have been concocted by a focus group outside a Grand Forks grain silo.
Not surprisingly, Heitkamp campaigned as a homespun pragmatist who eschews partisanship -- her television ads featured her strolling around in cornfields, extolling her parents' prairie values and promising her political independence.
Indeed, it is unlikely that she'll vote in lockstep with her caucus. She has criticized parts of the Affordable Care Act, but largely supports the measure. She has shied away from the issue of gay marriage, calling it a "distraction" and stating that it's a matter for states to resolve. She has close connections with North Dakota's fossil fuel industry, having served on the Dakota Gasification Company's board of directors from 2001 until her election.
But today the thing most troubling to this North Dakotan's existence is her limp, which she developed after injuring her back.
"I somehow hurt my back yesterday!" she says. "You must have wondered, 'What the hell is with that woman, she's hobbling!' My husband, who's a physician, said, 'Just go with it for two days, and if it doesn't get better you've got a bad deal.'"
Phillips chimes in: "Well in about twenty minutes you can go see the Senate doctor!" she says, checking her watch.
"Yeah," Heitkamp replies skeptically, "he'd probably be as helpful as the doctor I sleep with."
Heitkamp is well aware of the historical importance of the 113th Congress, which will have 20 female senators, the most in history. "We're hoping that number continues to grow because it's critically important that we include everyone in the category of people who can serve this country," she says. "I think it will change the way things are done and I'm anxious to see those changes."
Walking to her ceremonial swearing-in, held in the Old Senate Chamber, she points to her surroundings as a sign of America's progress toward gender equality. "If you want to know about the number of women, look at the walls," she says, referencing the dozens of portraits and statues of bygone male legislators lining the walls of the Capitol.
It is during the ceremony that Heitkamp and her husband encounter one particularly outspoken male legislator, Vice President Joe Biden.
"Spread your legs, you're gonna be frisked," Biden jokes while Heitkamp and her family stand for photos.
"Drop your hands to your sides," Biden continues, vamping on the photographer's commands to Heitkamp's husband, Darwin Lang, to keep his arms straight. "You say that to somebody in North Dakota, they think it's a frisk. Drop your hands to your side, y'know?"
Biden turns to Lang, looking for someone who gets the joke.
"They think you're in trouble, right? You drop your hands to the side..."
Lang remains stiff and nods his head ambivalently.
Biden shrugs it off with a big smile. "Ahhh, I'm a little formal, I know."
Later, asked by The Huffington Post what he thinks of Heitkamp, the vice president responds with his typical bravado. "I think she's incredible. I can hardly wait to work with her," he declares, surrounded by a crowd of admirers. "You know why? She and I both speak plain English."
Ryan Grim contributed reporting.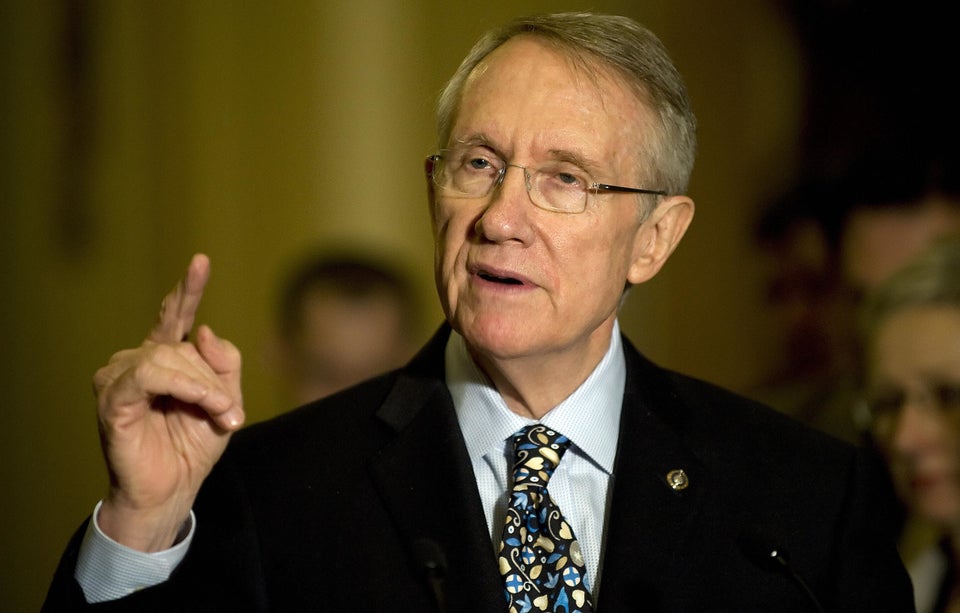 Senate Majority Leaders Through The Years