Heidi Klum is famous for many things -- "Project Runway" judge, legendary supermodel, and jewelry designer are just a few of her many titles. But haircare expert? That's a new bullet point for her growing resume. The natural brunette has been tapped as the face -- and hair -- of Clear Scalp and Hair Beauty Therapy. During our interview, Klum took one look at my wavy, ombre locks and said, "You must use the Damage and Color Repair shampoo and conditioner. I use it everyday and it works!" It would be silly to disobey Klum's orders, as her hair always manages to look shiny and healthy, even while running errands.
Other than haircare advice, Klum revealed to Stylelist whether or not she'd let her daughters dye their hair pink, her weird, time-saving beauty trick and her plans for Mother's Day.
You looked stunning at the Met Gala the other night. Any picks for best-dressed?
There were a lot of interesting outfits there, right? But I loved Renée Zellweger, she looked very sophisticated. I also liked Gwyneth Paltrow and Emma Stone, they both looked cute. But there were a lot I didn't like. And I actually embrace people who push the envelope, but some of those looks didn't match their personalities. It's like, all of a sudden because it's a fashion ball, they dress completely different.
How do you get ready for such an important evening?
I was invited by Escada, and they created this custom-made lace dress, which for me, was very sophisticated. It wasn't what I would normally wear, it was a little bit quieter.
But we definitely saw your personality come through with the accessories.
Oh, yes! I called Lorraine Schwartz and was like, "Lorraine, I need lots of bling!"
What's your favorite red carpet hairstyle?
It depends on the dress. The dress always comes first. For example, if the dress is really sweet, I would wear a harder and more structured 'do. But sometimes, even before the dress, the jewelry comes first! At the Golden Globes, my Lorraine Schwartz necklace was first -- I asked Francisco Costa [of Calvin Klein] if he would do a dress for me around the necklace. He's a big wig, and most of time it doesn't work like that, so I thought that was very cool.
How do you combat a bad hair day?
Everybody has bad hair days. If it's really bad, I usually throw my hair into a bun or I wear a hat. But sometimes, I just don't care because the days of having your hair perfect are over. Sometimes when I wake up in the morning, I don't even brush my hair. My trick is to wash my hair at night and fall asleep with my hair wet. Then I roll around in the pillow and I wake up and my hair looks perfectly messy.
Pink is the hottest hair color trend at the moment, would you ever dye your hair pink?
No, no way! It's an age thing -- if you're a model and 19 or 20 or doing a photo shoot, it's easy to pull off. It wouldn't be age-appropriate for me, it would look weird and people would think I lost my marbles! But I would let my daughters try it!
How do you keep your hair looking healthy after lots of teasing and hairspray from photo shoots and events?
I wash my hair everyday with Clear Damage and Color Repair shampoo and conditioner -- it makes my hair feel soft, but not limp. It's the same with makeup, too. Sometimes I see girls wearing the same false eyelashes from two days ago and I'm like, "What the heck is that?" I can't do that, I have to wash it all off. I also get my hair trimmed every six weeks to keep it looking healthy.
What are your plans for Mother's Day?
To just be with my kids. We go out a lot. We went to The Ivy just last week, and it's a lot with four kids. So sometimes it's nice to just be home and hang out by the pool.
What's the best beauty advice you received from your mother growing up?
My mom would never go out of the house without lipstick on. Me, I'm not like that. But she did teach me to age naturally and be happy.
Meanwhile, check out Klum's favorite red carpet looks: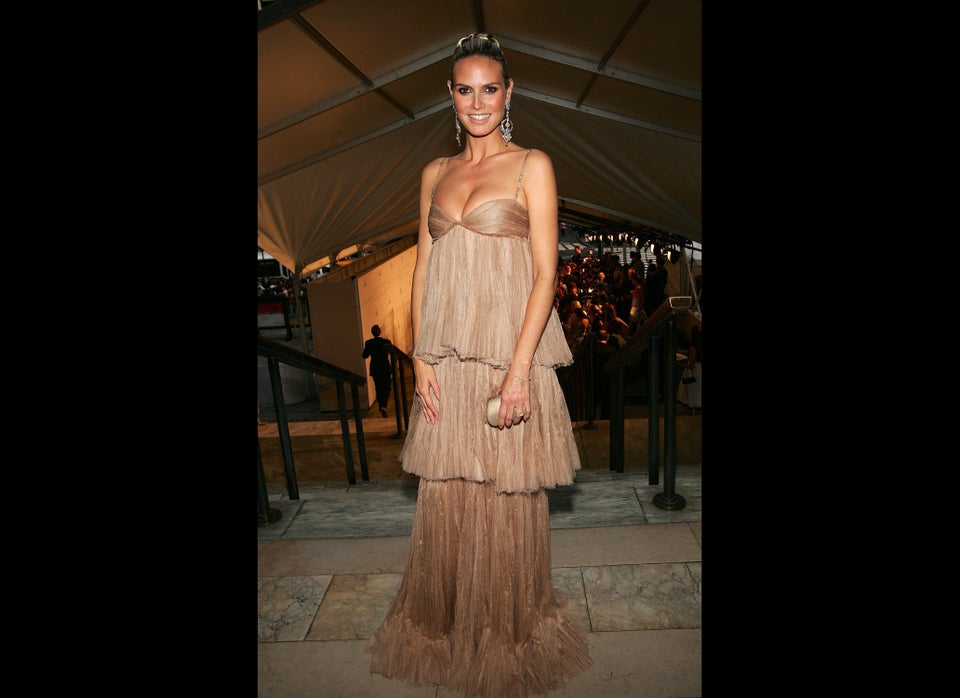 Related