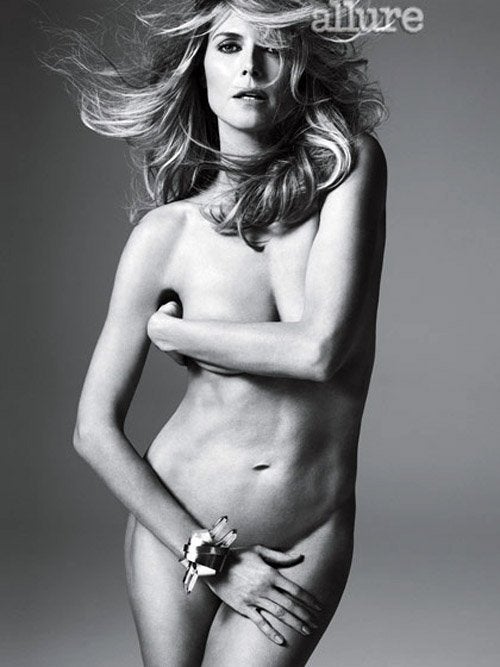 If you hadn't been paying attention to Heidi Klum recently (although honestly, how could you not?), here's something to grab your attention: the German model posing totally naked in Allure's May 2012 issue.
And, wonder of wonders, she looks amazing. 38-year-old Klum stripped down for photographer Norman Jean Roy, wearing nothing but a Hervé Van der Straeten bracelet on her right wrist (conveniently placed over her lady parts). Not that she's got anything to hide. Heidi tells Allure that she came to terms with her body a long time ago:
"I was too curvy and too busty and a little too short... And I was a little bit self-conscious about it. But I was by no means heavy, I just -- well, you have hips and boobs, and that's it. Haute couture, you don't really see girls with big boobs."
Needless to say, Heidi found ways to make her body work for her -- and she doesn't plan on changing it anytime soon. When asked the inevitable question about plastic surgery (Ed. note: when will lady mags stop asking female celebrities about this hackneyed topic?), she dished:
"Everyone has a view of what's pretty and what's not pretty, and [surgery] just doesn't look pretty to me. Especially when I see it on really young girls. I don't want to name names, but it's like, Wow, I remember you five years ago, looking to me so beautiful, and now it's like... who is this person? And I know girls half my age who do it. What are they gonna do at 40 or 50, when the s-h-i-t really hits the fan?"
Any guesses who Heidi's talking about?