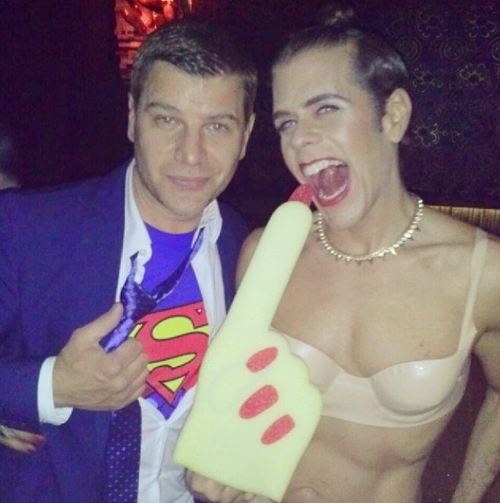 Photo courtesy of Tom Murro
Last Thursday night Supermodel and TV Host Heidi Klum threw her 14th Annual Halloween Bash at Marquee Nightclub in NYC.
The undisputed heavyweight champion of Halloween, Heidi Klum, arrived in an Antique 1940's Rolls Royce limo suitable for a 2013 pimp (no, I don't mean Kris Jenner). Heidi was without her new boyfriend/bodyguard, Martin Kristen. Maybe Martin was busy playing Jason Statham with hair at another Halloween bash, or maybe Heidi just didn't want to hurt Seal's feelings since Halloween was once their special thing. I have to admit I secretly prayed Seal would show up dressed up as Julianne Hough, unfortunately that didn't happen.
Heidi hit the red carpet for this year's bash looking completely unrecognizable similar to past year costumes of ape, cadaver and alien. Her costume was a geriatric version of herself, complete with a walking cane, yellowed-teeth, age spots, random varicose veins, grey hair and a turkey neck. Many guests thought her costume was meant to be Joan Rivers without all of the surgeries.
It was slim pickings for any big named celebs considering this was 'The Party' of the night and thrown by Heidi Klum. A list or not, there were some fun and interesting people on the VIP list, including, a Crack Head Barbie, a few Black Swans and even Actor Richard Kind, who is currently the voice of a large yellow and red dragon named Pongo on a children's cartoon series (works in his pajamas).
Then there was the very fit Perez Hilton, who was dressed as a half naked Miley Cyrus -- foam finger and all, (and all did not include a broken heart, a cheesy dad and a molested sledgehammer).
Bethenny Frankel hit the red carpet with a mystery man who was dressed as Joe Dimaggio and she was Marilyn Monroe ( I can barely type that without laughing). Bethenny looked about as much like Marilyn Monroe as Meg Ryan looks like Meg Ryan.
Ice-T and Coco were also there. I'm not sure what Ice was (other than still intimidating enough to not make fun of) and Coco's rear end looked a bit smaller but still Cocolicious.
Upstairs I chatted with a sexy undercover sister rocking a Pam Grier style afro named Nichole Galicia, who I learned played Sheba in Django Unchained( the D is silent you know?) I'm not sure why, but we somehow ended up talking about the late great martial artists Jim Kelly and Bruce Lee (maybe because they were both badass like her).
Heidi stayed in character all night upstairs in the heavily guarded VIP area right until heading out at around 1a.m. One could guess her arthritis was kicking in, or maybe she needed to catch a late night episode of Golden Girls, either way, this lil ole' lady knows how to throw a party, and showed us that age is just a number, even if the number can be counted in fake wrinkle lines.
PHOTO GALLERY
Heidi Klum's 14th Annual Halloween Party in NYC
REAL LIFE. REAL NEWS. REAL VOICES.
Help us tell more of the stories that matter from voices that too often remain unheard.