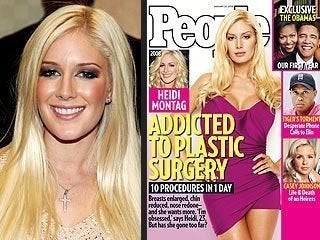 Many moons ago in the dark ages of the '80s, an upstart soul singer by the name of Terrence Trent D'Arby claimed that he was destined to be as big as the Beatles. Thirty years since their break-up, the Beatles are still one of the top-selling acts in music history, and an inspiration for anyone looking pick up a guitar or write a song.
Where's Terrence Trent d'Arby now? He goes by the name Sananda Maitreya and is playing some gigs in Switzerland. The lesson? Be careful who you compare yourself to.
Heidi Montag should heed this lesson well. Her debut album, aptly titled "Superficial," is in stores this week. According to the pop music gate crasher, "Superficial" cost her the significant sum of $2 million. Montag told Entertainment Weekly that she expects to make her money back in the first week because her "songs will make an impact in pop history" and the album is as good as Michael Jackson's "Thriller."

Do you take Heidi Montag seriously as a musician? [Poll]
Sounds like the gloved gauntlet has been laid down.
As a reminder, "Thriller" was released on November 30, 1982, cost $750,000 to record, sold a million copies per week soon after its release, and has currently sold more than 110 million copies worldwide.
I look forward to presenting you with "Superficial" sales figures next week. I hope Heidi's "Hills" checks keep coming. Maybe Sananda Maitreya needs a backup singer in Switzerland.
Calling all HuffPost superfans!
Sign up for membership to become a founding member and help shape HuffPost's next chapter