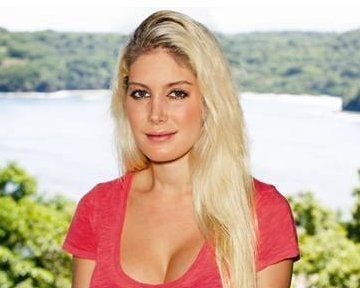 On Thursday Radaronline.com published new photos of Heidi Montag frolicking in a bikini in Costa Rica with a mysterious bandage on her nose. Aside from the bandages, her face looks relatively normal, compared to earlier this year when she was unable to move it. The swelling has gone down, her lips are a normal size and she has a few faint lines in her forehead.
Heidi tells Life & Style that she did not have another nose job as Radar suggested, but she simply has to keep the tape on so her face doesn't "fall off like Michael Jackson's."
Life & Style's press release follows:
After new photos of Heidi Montag surfaced today showing the reality star in Costa Rica with surgical tape on her nose, rumors quickly spread that she may have gotten more rhinoplasty. But Heidi Montag reveals exclusively to Life & Style that the suspect strip is just another drawback from her 2009 marathon surgery, when she had her nose tweaked for a second time. (The first was in 2007.)

"Except for filming and a few photo shoots, I've had my nose tape on 24 hours a day since November," she tells Life & Style. "It takes a year for your nose to heal. This is just the first photo that anyone has seen of it."

So she's simply following orders from her plastic surgeon Dr. Frank Ryan, who tragically died in a car crash on Aug. 16. "The last time I didn't wear tape after surgery and my nose changed shape," she explains. "The tape is supposed to keep the swelling down and hold my nose in place the way Dr. Ryan sculpted it. Dr. Ryan always said I was his best, most cautious patient, and I'm not taking any chances now that he's gone. I don't want my face to fall off like Michael Jackson's."
Calling all HuffPost superfans!
Sign up for membership to become a founding member and help shape HuffPost's next chapter